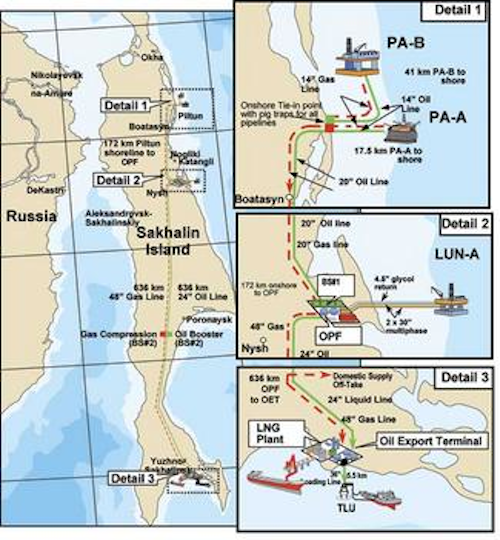 Beating best practices on the biggest project ever
William Furlow
Editor-in-Chief
In an example of the role experience plays in applying the latest deepwater technology, Shell International E&P has established a center of excellence for major project design and execution in the form of EP Pro-jects. This group, comprising some of Shell's most experienced managers and engineers, has been established to support Shell operating units in delivering challenging and high profile projects.
David Greer, who is the director of EP Projects, explained that his team does more than advise: it gathers and makes available the company's best practices, shares these experiences with project teams all over the globe, and deploys experienced teams of project practitioners to execute EP projects. The organization operates out of four hubs in New Orleans, Houston, Aberdeen, and Rijswijk in The Netherlands.
Frontier projects
EP Projects was established about a year ago and inherited the responsibility for $15 billion worth of active and planned projects for Shell. Most of these are deepwater or in frontier areas where the industry as a whole has limited experience. Greer said the team is set up to systematically improve project performance by doc- umenting lessons learned and applying these best practices across Shell's EP company.
The list of projects the group oversees is impressive. It includes everything from Na Kika, to Bonga, to Bijupirá-Salema, to Nigeria onshore projects, to the massive Sakhalin Island Phase II project. What these projects have in common is that they involve applying cutting-edge technology or working in an area that presents geographical, economic, or political challenges.
Overcoming these challenges is largely a matter of experience. The establishment of a single, global team to advise on several key projects at once makes the most of the experience the company has and allows the accumulation of valuable information on how processes can be improved and standardized across the company.
In advising teams on these diverse projects, EP Projects also assists in the development of a wide range of employees, who learn from these best practices. While most of the projects this group is involved in are big-ticket and high profile, Greer said this team of specialists is available for smaller, remote projects as well. The team can also advise on projects in which Shell has a stake, but which it does not operate. Greer said the level of experience this group represents is world-class and can benefit any company. As long as there is an acute need for their experience, EP Projects will get involved.
Greer emphasized, however, that EP Projects is not just about sharing technology. A major component of this concept is developing relationships with stakeholders such as global and local contractors. In working with contractors and vendors, Shell manages its projects consistently across markets and with a variety of contractors and seeks to leverage and standardize as many aspects of the relationship as possible. At a basic level, for example, it simply doesn't make sense for Shell to have dozens of different contracting forms. It is more efficient to standardize the language and forms used in these contracts.
Four key areas
Greer named four areas where many of the improvements are made: standardization, simplification, sharing, and speed.
EP Projects identifies best practices, then standardizes these across the company. Standardizing also extends to lessons learned. Once a best practice is identified, it is applied to all Shell projects, not just those EP Projects is involved in. IT and knowledge management systems are in place to allow project managers anywhere in Shell to access best practices and apply them to their situation.
Similarly in the design process for equipment, efficiencies are gained using software that updates an entire system when any design changes are made. This software identifies any conflicts that arise from a change and alerts the entire design team that a change has been effected.
Malampaya
Greer's first challenge heading up EP Projects was the fast track Malampaya Deep Water Gas to Power project for which he was project director. His team brought in the project on budget and on time in a country where there was virtually no supporting infrastructure. The project posed huge challenges. It was located in a frontier environment and used frontier technology. It has acted as a benchmark for the EP Projects approach.
Greer led the core project group. Other engineers and services were recruited from The Philippines and around the globe making this a truly global approach to a regional project. Greer explained that the gravity structure, topsides, and subsea systems were designed and built in different parts of the world, but all used global support activities.
IT and logistics were the chief enablers in this approach, and this is something that EP Projects has learned from and invested in. While communication technology plays an important role, Greer stresses the importance of people. Face-to-face meetings help keep all team members motivated, whatever their grade or location. He explained that people are much more willing to go the extra mile for someone they have met in person than for an anonymous email or remote voice on the phone. Keeping things personal meant a lot of travel for team members, while the use of teleconferencing and video conferencing required keeping odd hours to accommodate overseas team members.
Stakeholders at the heart
One of the key lessons from Malampaya that is applied to all projects within the EP Projects portfolio is that stakeholders are at the heart of the project and must have a voice. This is always beneficial, but in areas where E&P is a new industry it becomes critical that the local population be involved in a real and sustainable way.
In addition to the focus on stakeholders, Greer explained that EP Projects has had great success applying a standard set of directives to its work. First, it is important to have clear cost estimates for operating in a frontier area. This includes estimating, managing, and reporting progress on the job and making adjustments as things move forward. Sometimes it is difficult to have a clear understanding of costs in an area with a limited history, but the more projects of this type that are documented globally, the better idea Shell will have.
A critical component to controlling cost is scheduling. This is even more important in a frontier area often where supplies and personnel come from elsewhere and the local contractors may be working on a project that is a first of its kind for that region. There is often a variance in the approval process for such projects depending on where they are being conducted, but this process can affect the project schedule, so it must be understood.
Sustainability
Sustainable development is a priority that offers benefits to both the local community and the company. Developing and maintaining a reputation as a good global neighbor, makes it easier for the company to gain the trust and cooperation required from the local community for a smooth start-up. It also improves the quality of life in the frontier area. This, in turn, has the added spinoff of building up a more prosperous and better-educated work force that is willing and able to participate in future projects with the company.
A strong record in sustainable development is an incentive the company can offer a host government when negotiating on a project. While most projects support themselves economically, they have a fixed life cycle. It is more attractive to a government to count on long-term benefits from such deals rather than the one-time concessions brought by a single project.
Greer said it is critical to protect the physical, social, and economic environments of frontier areas where the company wishes to operate. The goal of reducing cycle time and turning in projects under budget only works if the facilities actually deliver as advertised. It doesn't matter how fast a project is brought on line if it does not meet its production targets or has to be worked over in the short term. These facilities have to be producing with a minimum of downtime to justify the expense of putting them in and the cost of applying new technology.
null
Health, safety, and environmental (HSE) issues are likewise part of the framework for such projects. Injury or environmental damage in the development of a project trumps any gains made in time or the budget. This is particularly challenging in frontier environments where the workers may not be familiar with Shell's way of doing business and environmental or safety standards may be lax. This is why EP Projects insists that all contractors adhere to the Shell business and HSE principles.
Greer said the company has had great success in coming up with innovative ways of dealing with its stakeholders in frontier areas. He said the key is to empower the local people and see what they are capable of. This worked well on Malampaya, for which the concrete gravity based structure was fabricated locally. Greer said the people had no experience working on such a project, but turned it in on time and did an extraordinary job. Without such support from the people, a project runs the risk of being marginalized.
Bigger challenges ahead
If Malampaya was a first of its kind, Sakhalin II will without a doubt be the largest of its kind for some time to come. Now that the final investment decision on this $10 billion project has been made, Shell is already working hard with the Russians to optimize participation. The project will be operated by Sakhalin Energy Investment Co., of which Shell holds 55% along with partners Mitsui, 25%, and Mitsubishi, 20%. This massive project includes oil and gas development as well as an LNG facility. One of the project requirements is that it includes 70% Russian content.
A Russian group has been established to devise a candidate list of contractors with the necessary qualifications and background to work on the project. In addition to the in-house capabilities of such companies, joint ventures will be considered with international companies. This will ensure that the best available technology is used on the project and will facilitate a transfer of technology to Russian firms for future application.
According to Greer, there is already a considerable amount of civil engineering expertise available in Russia, and this makes a good starting point for the skills needed on Sakhalin. This project will have a life of 30-40 years, so it is critical to promote the development of skills required for this project within the domestic Russian labor force.
While Sakhalin II will be a major undertaking, Greer said, none of the technology itself is new to Shell. Part of how the EP Projects group evaluates its role in such undertakings is to consider what the local operating unit of Shell has to offer. These capabilities are then enhanced by the global EP Projects staff. Shell has broad experience in LNG projects for example. The company also has extensive surface and subsurface expertise. Still, the operating unit will certainly need additional manpower and may require technology that it is not familiar with. These are areas where EP Projects will help.
Another example of how EP Projects interacts with the rest of Shell is the group's involvement on the Bonga FPSO offshore Nigeria. This FPSO was a huge technical step change for Shell's Nigeria operation. Greer said the company had to assess its capabilities in that country. The decision was made that the technical expertise was held by Shell in Houston. So it was necessary to transfer this knowledge to the Nigerians who would be operating the facility.
While the industry continues to lament the small number of new engineers who choose a career in E&P, programs like EP Projects ensure that the new recruits who do come in will have the support they need to succeed and a variety of fascinating challenges to help them develop. EP Projects' future is filled with opportunities.