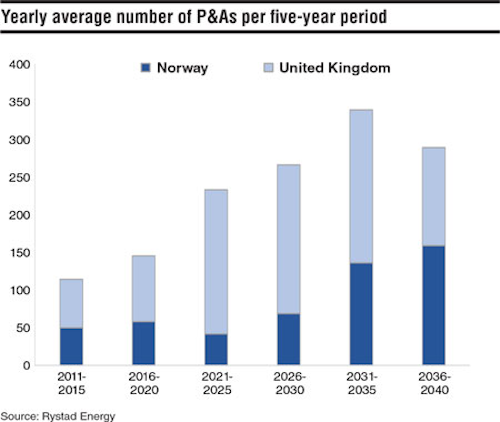 An opportunity at the end of the road

The process of removing platforms, pipelines, subsea equipment and P&A'ing wells is becoming increasingly important, marking the beginning of a new phase for North Sea operators and service companies. This work will be costly for the operators, but for the service companies it is a huge opportunity.
The North Sea came into prominence as a major oil region in the 1970s, with developments such as Statfjord, Forties, Ekofisk, and Brent. These fields have proven their stamina, producing oil and gas for some 40 years. With the planned decommissioning of the Brent structures, we are no longer just building the North Sea oil industry, but also removing old structures and restoring the seabed. The Brent structures are not the first decommissions in the North Sea, but they are important in that it marks the start of this new phase.
The North Sea is also special in that the structures are enormous; the Brent D topsides, for example, weighs 24,000 metric tons (26,455 tons). What was a huge engineering accomplishment when built is requiring a similar effort when it is time to remove it. Service companies have seen the opportunity; thePioneering Spiritis expected to commence operations this summer, removing the Brent D topsides. This is the first vessel capable of performing single-lifts of these massive topsides, and will solve an important problem for many operators.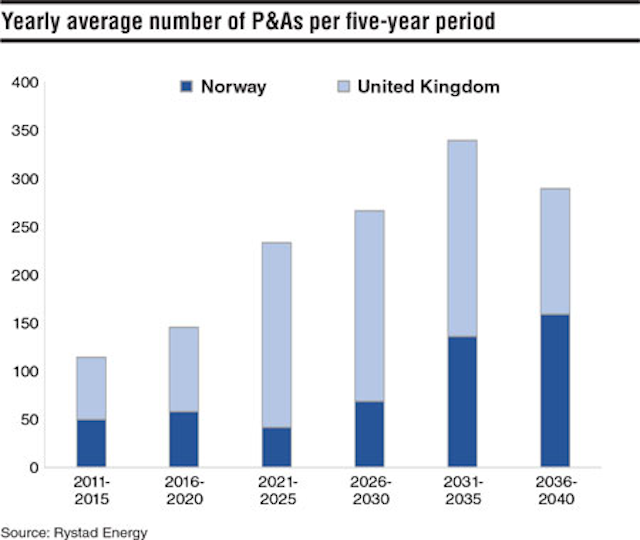 The number of wells to be plugged and abandoned is a key driver of decommissioning cost and effort. In the UK, about 65 P&A's per year were performed between 2011 and 2015. This number is expected to grow to about 220 P&A's per year in the mid-2020s as fields are being shut down fully or in part. On the Norwegian side, activity is expected to stay largely flat at about 50 P&A's per year over the next decade, with an increase up to about 140 P&A's per year in in the mid-2030s.
The P&A operation is a major headache for the operator; not only is it a large part of the total decommissioning cost, at around one-third of the total, but it is also highly uncertain one. A P&A operation can take anywhere from 10 to 100 days, with very little visibility for the operator ahead of actually getting downhole. Oil service companies are developing new technology to simplify and reduce the cost of P&A.
The opportunity for operators and service companies lies in the large cost savings that can be made. Actually realizing the potential of these new technologies is something that requires an industry-wide effort. This should serve encouragement for all stakeholders to fund, develop, and qualify technologies, as they stand to benefit greatly in future.
- Tim Bjerkelund, Rystad Energy