OFFSHORE EUROPE
Britain's oil and gas sector will have shed around 5,000 subsea jobs by the end of this year, claims industry body Subsea UK, as a consequence of the lower oil price.
Jul 7th, 2016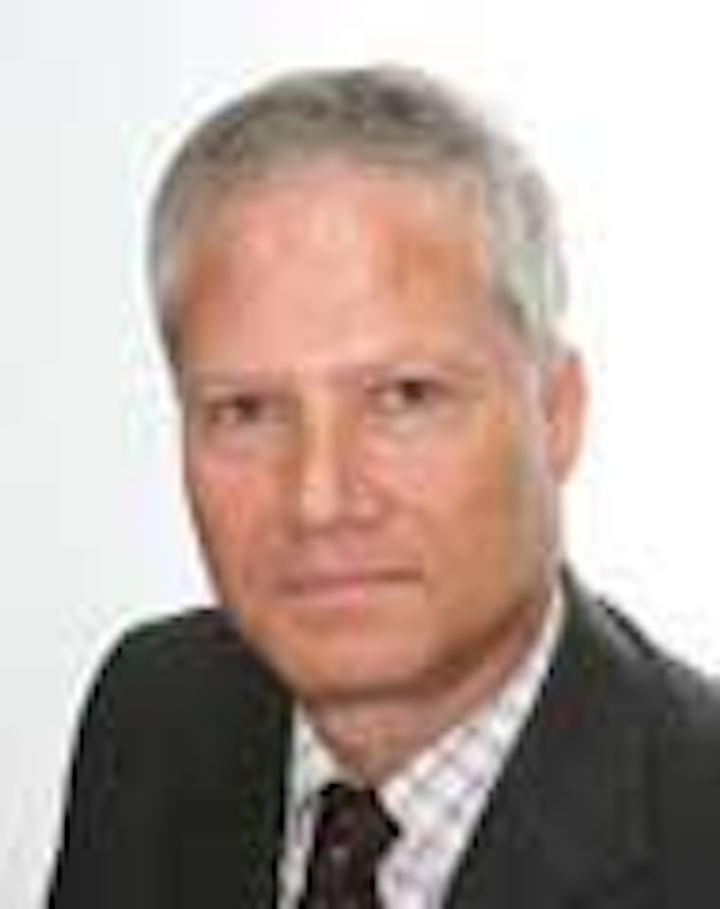 | | | |
| --- | --- | --- |
| | | Jeremy Beckman London |
UK industry seeks more government intervention
Britain's oil and gas sector will have shed around 5,000 subsea jobs by the end of this year, claims industry body Subsea UK, as a consequence of the lower oil price. The association was due to meet members of Parliament in London last month to lobby support for new North Sea initiatives after a recent survey revealed that more than half of UK subsea companies had suffered a serious slump in sales - more than 50% in some cases - since the downturn began in 2014.
Subsea UK CEO Neil Gordon pointed out that in better times the industry generates £9 billion ($12.8 billion) in revenues of which more than £4 billion ($5.68 billion) are export-related. "The good news," he said, "is that our subsea businesses are continuing to invest in research and the development of new technology, which is vital to maximizing economic recovery in the North Sea, prolonging its life…" However, the UK subsea industry urgently needed government support and R&D funding, he added, and greater incentives to stimulate fresh exploration off Britain's shores. This, he said, should include new models for exploiting the smaller economic pockets of hydrocarbons.
A Price Waterhouse Cooper (PwC) survey, based on interviews with 37 senior executives from oil and gas companies active on the UK, Norwegian and Dutch continental shelves, called for more innovative thinking on both sides to sustain the North Sea's future.A Sea Change claimed that the right measures could extend production by several decades, but would need to be enacted quickly for this to happen.
Alison Baker, PwC's UK and EMEA oil and gas leader, said UK respondents to the survey called for the Department of Climate Change and the Oil and Gas Authority to be more attuned to the needs of the industry, from majors down to small oilfield service companies. New approaches some put forward to re-invigorate the basin included the formation of a "super joint venture" that would consolidate smaller and fragmented offshore assets in the UK North Sea under one sole operator. This could drive greater cost-efficiencies, improve bargaining power with suppliers, and lead to more co-ordinated decommissioning of the asset pool. Another suggestion to drive more projects forward was consortium financing with collective counterparty risk, focused on area-based rather than asset-based outcomes.
Some Norwegian respondents voiced concerns over wage levels for employees on the Norwegian continental shelf (NCS), in some cases 85% higher than the UK equivalent, while Dutch respondents called for more urgent planning for decommissioning now that low gas prices are accelerating the demise of the southern North Sea gas basin.
Pipelines attract investors
Another report from advisory firm Deloitte predicts more North Sea infrastructure deals as established players scale back UK offshore interests to cut costs. Pipelines are among the more attractive assets, theEuropean Infrastructure Investors survey found, offering strong rates of returns over the past five years. Private equity firms and specialist energy infrastructure funds are the most likely buyers, looking to build a portfolio of pipeline interests. Antin Infrastructure Partners was one example last year, acquiring BP's stake in the Central Area Transmission System gas pipeline system in the UK North Sea for $469 million.
Stewardship changes could be positive for the sector as whole, Deloitte claimed, with the investors looking to maximize potential from these assets (i.e. through attracting third-party production) before selling them on to another investor.
One of the UK's more active transactors, Independent Oil & Gas (IOG), has agreed to acquire Oyster Petroleum and its 100% interests in four southern North Sea blocks containing the Vulcan satellites, with combined reserves of 320 bcf. IOG is negotiating export routes for planned hubs here and at its Blythe field development to the west. The company may also need an offtake solution at the Skipper oil field in the northern UK sector, having gained clearance to drill an appraisal well this month using the semisubmersibleSedco 704. Aside from Skipper, IOG hopes to prove more oil by deepening the well into the untested lower Dornoch and Maureen formations.
BP, Det norske form 'super' independent
BP has agreed to merge the activities of its Norwegian subsidiary, BP Norge, with Det norske oljeselskap to form what would be Norway's largest E&P independent. Assuming regulatory and shareholder approvals, the new company will be named Aker BP, with Aker owning 40%, and BP/Det norske each holding 30%. BP CEO Bob Dudley said the deal demonstrated how his company was prepared to adapt its business model in order to remain competitive.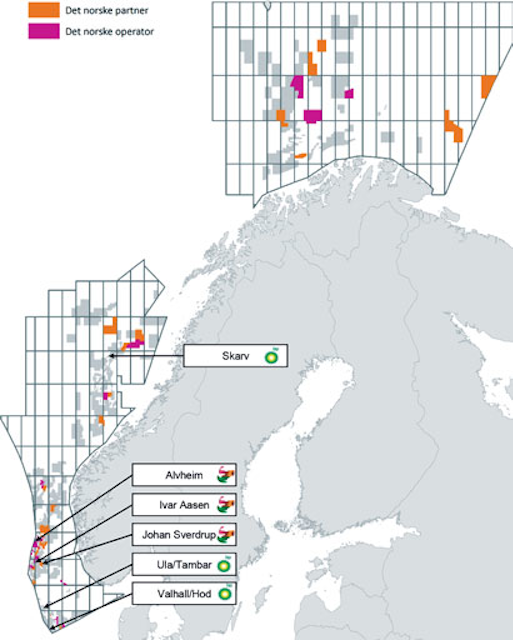 Aker BP's field and exploration interests offshore Norway. (Map courtesy Det norske oljeselskap)
Aker BP will have 97 licenses on the NCS, 46 as operator; an estimated 723 MMboe of P50 reserves; and projected production this year of around 122,000 boe/d, potentially more than doubling to 250,000 boe/d in 2023. It will operate major production centers at the Alvheim, Hod, Ivar Aasen, Tambar, Ula, and Valhall fields in the North Sea and at Skarv in the Norwegian Sea, and will be a partner at Johan Sverdrup in the North Sea. It will also have near-term platform decommissioning liabilities at Ekofisk and Valhall.
Karl Johnny Hersvik of Det norske, set to be named CEO, said: "We will implement simple processes across the combined entity and build a fit-for-purpose organizational structure…we expect to realize significant cost cuts and synergies… in close co-operation with employees and suppliers."