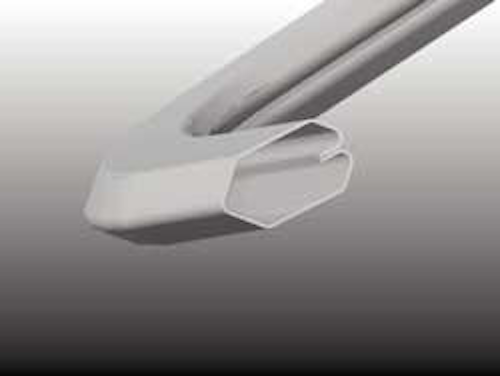 A process developed by AvestaPolarlit Prinox enables complex shapes to be formed from HyTens ultra-high strength stainless steels. The difficulty of shaping and working with high tensile steels had previously limited their application offshore, despite the advantages that they can offer.
The new, patented process provides good formability for steels in tensile strengths up to 2,000 N/mm2 and in thicknesses up to 2 mm. "This makes it possible to manufacture components and structures that are incredibly strong yet light in weight," explained Eric Sörqvist, business development manager of Prinox, the special unit recently created to further application of HyTens.
The new treatment has been developed by the AvestaPolarit subsidiary Prinox in Mariestad, Sweden. The process is known as BlancForm and enables sheet steels to be formed into their required shape, despite the material's hardness.
A 0.5mm thick sheet of 2,000 N/mm2 stainless steel would be largely unworkable because of its strength. However, the new process - which during preparation for forming decreases the strength where it is to be bent - aids hardening by altering the crystalline structure of the metal during the forming process. That allows shapes to be created with very sharp bends from a corrosion resistant material that has the highest yield strength of any metal currently available. The yield strength of HyTens exceeds that of titanium, but is around one-tenth the cost. The Prinox team envisages uses for the metal in situations where the light weight and extreme corrosion resistance of titanium would amount to over-specification for the job.
Offshore hand rails
Prinox has demonstrated the capabilities of the new process by manufacturing a HyTens product in a patented formed tubular design. Described as a closed, openable profile, its hexagonal shape achieves angles and bending radii that would previously be considered impossible in 2,000 N/mm2 stainless steel. The result is a corrosion-resistant shaped tube that is immensely strong yet, because of the relative thinness of the metal, is also light in weight. The formed tube is being marketed as Hex-A-Beam and is considered suitable for offshore applications such as hand rails as its strength is greater than that available from carbon steels. Yet it is significantly lighter and, as an important long term benefit, it does not require any maintenance. Polarit has also taken the Hex-A-Beam design further by introducing an easy method for slotting and securing components into the tube.
Prior to the hardening process, the Hy Tens product exhibits considerable flexibility and ductility. This has permitted the development of an expanded mesh that is suitable for a wide range of applications. Significant weight savings can be achieved without loss of strength when it is used for footways, for example. The mesh does not require any surface treatment after manufacture, and there is the additional guarantee of maintenance-free resistance to corrosion throughout its operational life.
Laminated structures
The potential structural uses of HyTens sheeting are thought to lie with applications demanding the combination of very high strength with light weight. The metal has been demonstrated as being suitable for lamination with other materials such as wood or fire proofing and can be used to reinforce and provide rigidity to decorative surfaces. Layers of wood can, for example, be bent to provide a decorative surface while containing a layer of 2,000 N/mm2 stainless steel. Prinox believes this offers potential for a wide range of structural applications.
Prinox is currently seeking partner companies to help develop applications for HyTens in the offshore sector. This is already being accomplished in the automotive industry where the metal is being used on Volvo trucks. The benefits of HyTens for tool manufacture have also been demonstrated with the production of a vehicle wheel wrench made entirely from thin sheet steel. The result is a tool that can be used to apply significantly more torque to a recalcitrant wheel nut than its carbon steel equivalent, yet is 75% lighter. Prinox believes that remotely operated vehicle manufacturers could benefit from this metal that has potential for tooling as well as for ROV structural components.
For more information contact Eric Sörqvist, AvestaPolarit. Tel: +46 501 139 71, Fax:+46 501 139 73, Email: eric.sorqvist@avestapolarit.com, www.avestapolarit.com.