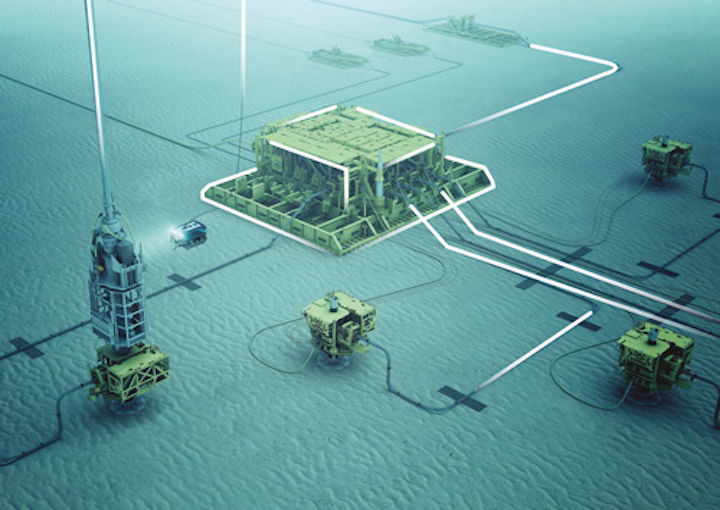 Advances can exploit currently 'wasted' offshore data
Sebastien Condom
BHGE Digital
Optimizing productivity and efficiency today is essential to remain competitive: "Digital" is the game changer for the oil and gas industry and the foundation for its future.
At last month's SPE Offshore Europe Conference and Exhibition in Aberdeen, the theme was "Embracing new Realities: Reinventing our Industry." Topics such as digital technology, the need for innovative approaches, the drive for greater productivity, and the benefits of collaboration among industry players were all firmly on the agenda, demonstrating a change in conventional thinking. Until relatively recently, the focus in this industry has been on increasing production, forging forward into new geographical locations and new types of reservoirs. Yet in the current, cost-constrained environment, lowering operating expenditure safely and enhancing flexibility while boosting productivity and efficiency have become the top priorities.
Meeting the world's growing energy needs is not going to be easy, and changing market realities and uncertainty mean the industry will continue to face pressures from all directions. Oil and gas companies are striving to satisfy these demands against a background of major external challenges. Rising production costs challenge the bottom line while fluctuating prices challenge the top line. Squeezed margins require fresh thinking and this opens the door for Big Data and analytics.
The constant pressure offshore operators face requires them to examine all the available tools and resources at their disposal to navigate today's demands and to build a sustainable, prosperous long-term future for oil and gas.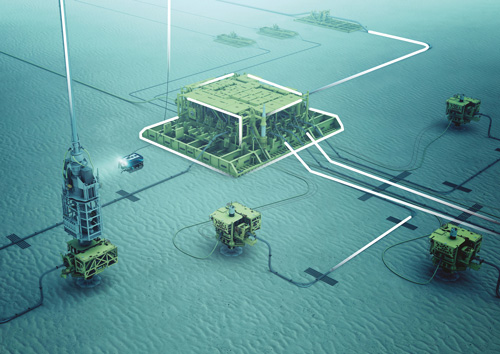 With only a fraction of oil and gas assets digitally connected, there is significant potential for productivity and efficiency gains to obtained through digitizing offshore operations. (All images courtesy BHGE Digital)
Sustainable approach
When it comes to embracing fresh concepts or technologies, the industry has traditionally been rather conservative, and not always enthusiastic about adopting anything "new." Oil and gas producers, in particular, have a tendency to seek "tried-and-tested" before entertaining thoughts of commitment to "shiny and new."
But, across the entire oil and gas value chain, reinventing the industry requires a re-definition of the relationship between industry players, with an emphasis on supplier-led solutions and the introduction of new commercial approaches and business models. It is imperative to identify smart, disruptive technology, anticipate trends and stay up-to-speed on products and solutions development while actively seeking opportunities for simplification. And the industry must drive the digital revolution.
To accomplish this, a sustainable approach is needed to the introduction of new technologies, ensuring the end-users not only understand the benefits to their operations – increased production, reductions in downtime, optimized maintenance – but also are fully engaged and invested from the very beginning.
From what BHGE heard at Offshore Europe, some of the largest players in the industry are talking about these issues and are increasingly open to the adoption of new technology, commercially-innovative business models and collaboration. Hesitancy remains and the road ahead is a long one, but progress is being made.
So, what does "digital" mean? Depending on whom you talk to, it has different meanings, but for BHGE, digital is both what we deliver and how we deliver – the digital thread is the connectivity and flow of data from the company's customers, through its suppliers, internal operations, and customers again.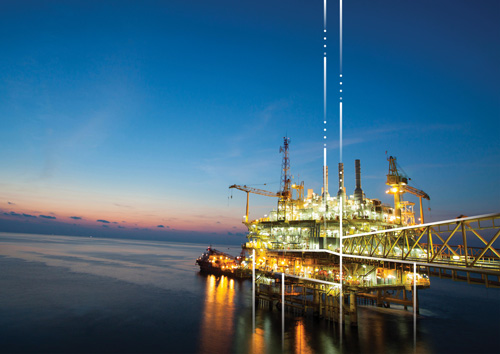 Big Data and analytics can transform the way offshore operations are run.
Data gathering, management and analysis have always been crucial for exploration and production, yet only 3-5% of oil and gas equipment is "connected," in terms of the amount of data the equipment generates that is actually captured and made available for review by the operator. It is estimated that less than 1% of the data is used to make decisions, so, there is a very real opportunity for companies to tackle servicing and maintenance costs, optimize operations and production while cutting unnecessary downtime – so long as they have the means to collect the data and analyze it and thereby make more informed decisions.
Unplanned downtime
The challenges facing the industry today provide an opportunity for oil and gas companies to reshape the way they work and think, and to fully digitize their operations. Big Data and analytics are playing a defining role by reducing costs and increasing productivity. A recent study by market research and analytics firm Kimberlite found that unplanned downtime costs offshore operators on average $49 million annually. For the worst performers, the negative financial impact can be more than $88 million annually.
Yet, the effective use of digital technologies in the sector could reduce capital expenditure by as much as 20% and cut upstream operating costs by 3-5%. That's according to another recent report by consultancy group, McKinsey. As is well known, even marginal gains in volume have a transformative effect on operational financials: BHGE estimates that the industrial internet will bring productivity gains of $8.6 trillion for industrial companies during the next decade – more than twice the future value of the consumer internet alone.
The prize available from increasing productivity was demonstrated particularly well in the run-up to Offshore Europe, following the publication of the UK Oil and Gas Authority's (OGA) annual production efficiency report, covering North Sea operations in 2016. The review found that production efficiency (PE) rose for the fourth consecutive year, reaching 73%, and contributed to an extra 12 MMboe of production. But it also identified "significant scope" for efficiency gains. The OGA believes the potential exists to increase PE to 80% and had that improvement been made in 2016, an extra 220,000 boe/d would have been produced.
In an offshore environment, there is any number of opportunities to bring digitization to operations. Retrofitting equipment with sensors, for example, can reduce maintenance costs and improve reliability. As stated earlier, only 3-5% of oil and gas equipment is currently connected, so by retrofitting with sensors, companies can reduce manual servicing and support very significantly.
Tackling production losses requires a collaborative approach from all players, but also a combination of sharing best practices and developing smart, disruptive technology and solutions.
Data graveyards
Today, the data that is collected from upstream operations is typically used only for issue detection and control, not for optimizing the performance of the operation and the assets. In fact, the average offshore rig has on average 30,000 sensors, all generating data, yet an almost inconceivably small fraction of that data is captured and analyzed. Instead, the data becomes stuck in "data graveyards," lying dormant and unanalyzed.
To address this shortfall, BHGE developed an asset performance management software which connects upstream assets to the digital world.
The software is designed to capture, manage and use the data generated by sensors. By using sensors and connecting equipment, companies can apply insights to not only automate their processes but also improve maintenance, reliability, and productivity. Machines and equipment can be monitored digitally, and analytics from the data generated can be used to learn, predict and diagnose issues early. This allows the operators to implement analytics-based work management programs, using predictive maintenance to repair vital equipment before it breaks down, in turn reducing downtime and increasing production. The same Kimberlite study referred to earlier found that operators applying a predictive, data-driven approach to maintenance can experience 36% less unplanned downtime and achieve average annual savings of $17 million by making use of these insights.
Similarly, "Digital Twins" are providing data insights and capabilities that are helping to grow a new economy around the sharing and capitalization of industrial data. A digital twin is effectively a digital model of an individual machine, system or process. It is designed to increase productivity and achieve better outcomes for operators through their ability to continuously learn throughout their lifecycle. Just as a person accumulates knowledge through experience, so too can a digital twin.
Digital twins run on apps, which are used by engineers, scientists and other industry operators to improve management of their machines and processes. Each of these is designed to achieve a specific outcome. The twins can see, think and act like a person, and can communicate not only with the user but also with other machines. They can help change the way the industry works with new products and services that simplify, speed up and ensure accurate decision making
Conclusion
One of the messages coming across loud and clear at Offshore Europe was that companies are open to investing more in digital solutions during this downturn, not only to manage the challenges of today, but to optimize their operations for tomorrow.
New and disruptive technologies, structural simplification, and the opportunities offered by digitization could potentially transform offshore operations as well as enhancing productivity from existing capacity, making the industry more productive, more agile and more prepared for a sustainable future.
The author

Sebastien Condom is VP Sales Europe, Russia & CIS, with BHGE Digital.