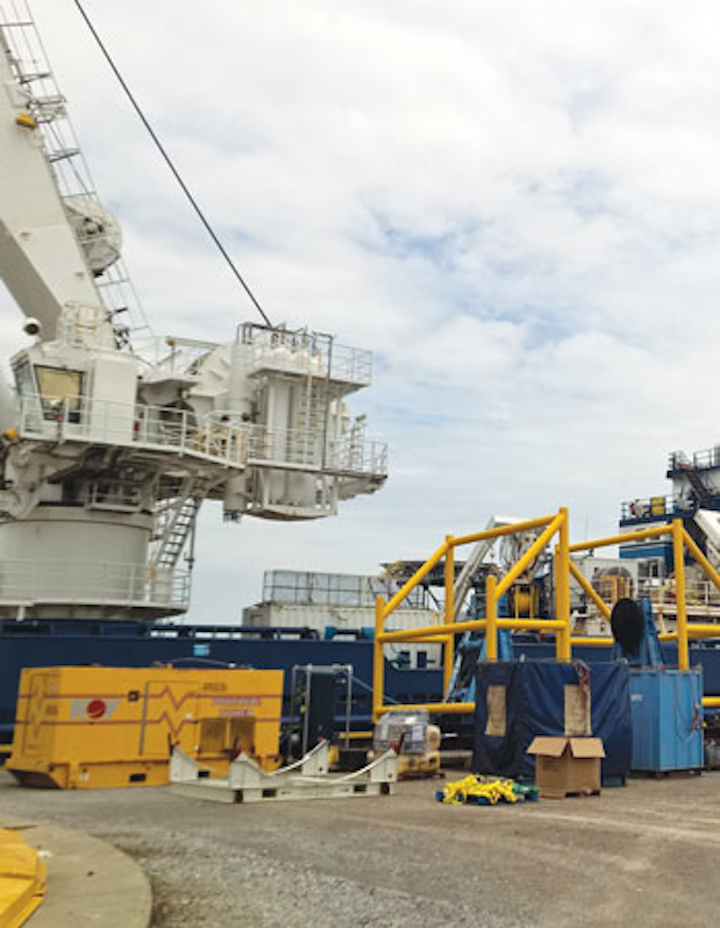 | | | |
| --- | --- | --- |
| | | Sarah Parker Musarra Houston |
Aquatic Engineering & Construction recently confirmed two contracts about a day apart, while also releasing news on its social media that it had prepped a reel drive for load-out in Louisiana for a deepwater GoM tieback campaign.
The company was selected to provide tensioning capabilities to DeepOcean BV on behalf of Subsea 7 for the Pharaonic /PHPC Atoll Main umbilical installation project in Egypt. Aquatic will provide its Dual Tensioner System solution to tension the umbilical during installation.
The 112-km (70-mi) umbilical will be installed at a water depth of 923 m (3,028 ft), extending to a beach tie-in at the West Harbour Terminal, near Port Said, Egypt. Mobilization is scheduled for August from Blyth Northumberland, with an anticipated project duration of 70 days.
The tensioning system will be installed aboard DeepOcean's Maersk Connector vessel. The tensioners will be integrated to allow them to be operated in synchronization with existing deck equipment, including the vessel carousel. The tensioner control cabin will be linked to the existing vessel carousel control room to allow all the equipment to be controlled and monitored from a single location by Aquatic personnel. The dual tensioner solution connects two 50-metric ton tensioners together in series to ensure sufficient track length to the umbilical.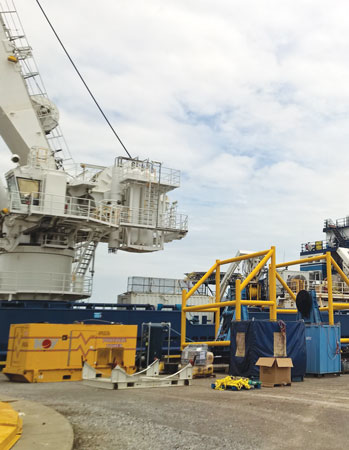 Aquatic Engineering & Construction announced via its corporate social media account that it recently prepped an 80-metric ton (88-ton) reel drive for load-out in Port Fourchon, Louisiana, for a deepwater Gulf of Mexico subsea tieback campaign. (Image courtesy Aquatic)
Recently, Aquatic was also contracted as a follow-up to a previously signed agreement.
In May, the company signed a global framework agreement with Ocean Installer Ltd. covering the provision of engineering services, supply of equipment and personnel, and all necessary tasks to provide solutions to install, replace, and recover semi-rigid products. The contract was announced to run for three years with the option of a one-year extension. Recently, as a follow-up to the agreement, Ocean Installer contracted Aquatic to provide a powered reel system solution to be used on the company's Normand Vision vessel.
Aquatic said it will provide its 400-metric ton drive system. The tower driven system is capable of driving Coflexip, NKT, and Wellstream installation reels. The system will be used with its own power pack and track systems also provided by Aquatic. The complete system allows parallel sets of reels to be installed along the longitudinal length of the vessel.
TechnipFMC to provide interventions offshore Australia
Woodside Energy has awarded TechnipFMC a three-year frame agreement to provide riserless light well intervention (RLWI) and subsea services offshore Western Australia. This could include intervention, installation, and P&A work.
Initially, TechnipFMC will perform installation and RLWI services for theGreater Western Flank Phase 2 development, 175 km (109 mi) northwest of Dampier. The company will install subsea trees and deploy its deepwater RLWI stack for interventions on up to eight subsea wells.
In January, a TechnipFMC subsidiary was contracted to perform RLWI services in the Ichthys field, also offshore Western Australia, with INPEX Operations Australia.
NPCC contracted for Aramco subsea work
Saudi Aramco has contracted NPCC to supply four new platforms and associated submarine pipelines, cables, and tie-ins. These are destined for the Al Safaniya, Zuluf, and Berri oil fields.
NPCC's scope includes engineering, procurement, fabrication, load-out, transportation, installation, hook-up, and pre-commissioning for the four wellhead decks and other facilities. This is the third contract under thelong-term agreement signed last October between Aramco and NPCC.
GE to manage subsea engineering for Cheviot in the North Sea
GE Oil & Gas will work with Alpha Petroleum on the subsea infrastructure for the Cheviot oil field development in the UK northern North Sea. Cheviot contains an estimated 55 MMbbl of oil and 20 MMboe of producible gas.
GE Oil & Gas will be responsible for early engineering, project management, and procurement activities for the project. The company will supply subsea trees, the associated control system, three manifolds, flexible jumpers, flowlines, risers and umbilicals, and will in addition provide subsea construction and installation services, and support commissioning.
GE Energy Financial Services is helping to raise debt financing for the project and could make an investment in the development pending UK government approval for the project, anticipated later this year. Alpha Petroleum says it has been collaborating for more than 12 months with its backer, Petroleum Equity, and GE on the scope of delivery and equipment specifications.
Chief executive Andy Crouch said: "By taking this unconventional, collaborative approach, we have been able to really draw on GE's expertise, enabling us to minimize costs and timescales." GE Oil & Gas Europe CEO Michele Stangarone added: "This represents another very positive example of how the traditional, transactional relationship between industry players is evolving into a partnership approach."
Development will entail drilling 18 firm and five contingent wells, probably through Teekay's Varg FPSO. First oil should follow in 2019 at a rate of around 30,000 b/d.
Statoil starts North Sea Garantiana tieback review
Statoil has commissioned Wood Group to conduct two Norwegian North Sea concept and feasibility studies. One is a topsides concept study to assess possibilities for tie in of Total's Garantiana field to Statoil's Gullfaks B and Visund facilities. The other is a feasibility study for Statoil's Tampen oil pipeline, covering subsea pipelines and risers and topsides modifications. Both contracts are covered by a master services agreement awarded in May 2016 to support the life cycles of Statoil's offshore and onshore facilities.