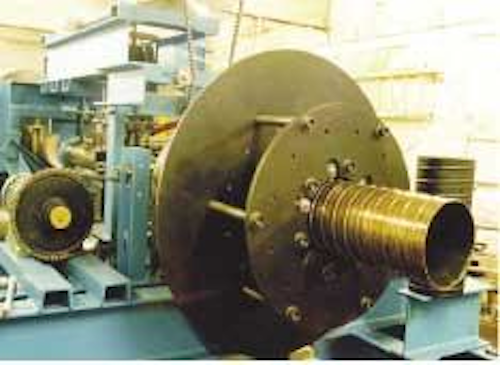 David Robinson
Helical Pipelines
A new high-pressure (X 200 rated) pipeline technology lowers manufacturing costs and enhances corrosion resistance. Scalable to large diameters, the pipe can be applied to a wide range of onshore or offshore applications. Even though the compo-site pipe is suitable for corrosive environments, it is estimated that capex savings averaging 35% are feasible when compared with X 65-based pipelines. Pipelines constructed from this new technology are only one-third the weight and are three times more flexible than an equivalent X 65-based system.
Helipipe, developed by Helical Pipelines, is an all-metal composite that combines a corrosion/abrasion resistant liner with a helically wound high tensile steel strip containing a rib structure to provide superior pressure containment. The structure is bonded together using aerospace grade filmic epoxy provided by Cytec Engineered Materials. A new polypropylene composite tape wrapped system provides exterior corrosion and impact protection. According to the manufacturer, the product, marketed under the trade name CURV, has all the beneficial properties of polypropylene but has increased impact resistance, particularly at low temperatures, and greatly enhanced compressive strength.
The new pipeline product is designed on aerospace principles and combines light weight with high strength that, when combined with the helical rib, imparts superior flexibility. Helipipe composite pipe is constructed from reels of steel and introduces another new innovation to the pipeline industry – continuous on-site manufacture.
null
The Helipipe manufacturing mach-ine has compact dimensions, enabling easy installation on a lay vessel from which pipe can be manufactured and laid as a single process. On-site manufacture removes many of the burdens of conventional pipe construction. It is no longer necessary to transport lengths of heavy, thick steel pipe or store the pipe on site or aboard ship, an increasingly important limiting factor within the industry. The pipe is manufactured continuously and removes the requirement for a welding operation and field joint coating every 12 m.
To complement the technology, a simple jointing system enables the composite pipes' stainless steel liner to be welded onto the flange so that terminations, valves, T joints, and other fittings can be incorporated into the structure by a simple bolting operation. The helical rib allows flanges to be "screwed" into position to give lateral stability. An adhesive bonding operation completes the flange connector attachment to the pipe.
A finite element analysis (FEA) confirmed a burst pressure of 183 bar for a 150-mm diameter pipe with two layers and a wall thickness of 1.4 mm. The pipe was analyzed with hoop pressure, bending, torsion, and axial compression, giving results close to those obtained from classical theory. The report also predicted that the composite would have three times the flexibility of X 65-based pipes.
The high tensile steel wrap is 50% overlapped, so five wraps are required to produce a 10-layer structure.
The main advantage of a composite pipe is that components can be selected and optimized to suit the application, then combined to form the ideal solution. The liner can be selected from a wide range of alloys or even polymer to meet specification. The strength of the outer wrap can be selected from a number of steel products.
Helipipe can be adapted to a range of pipeline applications. Examples of current potential applications are bundles I50 mm (200 bar), dynamic risers 100-450 mm (200 bar), flowlines 100-200 mm (200 bar), export flowlines 200-450 mm (200 bar), trunklines 450-1,000 mm (100 bar) and export static risers 100-450 mm (200 bar). Potential applications include corrosion or abrasion resistance such as sour gas and oil flowlines or export flowlines. Helipipe technology is particularly suited to producing risers for applications in 1,000-3,000 m water depths, as it is very light and more flexible than currently available conventional products. The continuous nature of the product means that pipelines can be laid over long distances in a minimum timescale at a reduced cost.
Helipipe is currently supported by a joint industry project involving the UK's Department of Trade and Industry, BP Exploration Production Technology Group, Subsea 7, Pipeline Induction Heating, Cytec Engi-neered Materials, BP Amoco Fabrics, and Helical Pipelines. Pipeline samples are being tested independently to confirm the FEA study and to verify structural integrity. The technology will be ready for site based trials and further commercialization should follow by 1Q 2004.
For more information, contact the author at envad@aol.com.