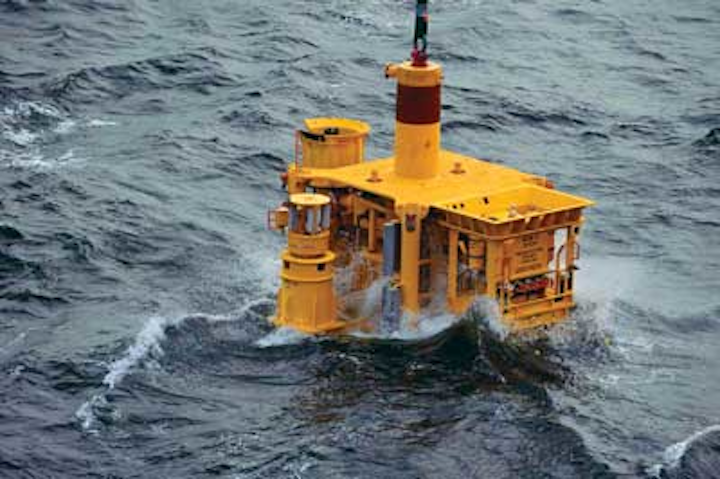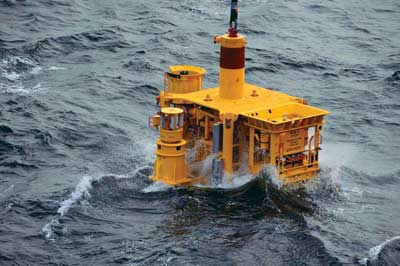 OneSubsea has more than 50 years of subsea tree innovation, including the first subsea tree, the first horizontal SpoolTree, and the first 15k psi subsea tree. (Photos courtesy OneSubsea)

HP/HT solutions are a key focus, says OneSubsea CEO
Bruce Beaubouef
Managing Editor
In May 2013, Cameron and Schlumberger announced the creation of OneSubsea, a company that specializes in the manufacture and development of products, systems, and services for the subsea oil and gas market.
The new company was designed to offer a step change in reservoir recovery for the subsea oil and gas industry through integration and optimization of the entire production system over the life of the field.
Under the terms of the formation agreement, Cameron contributed its existing subsea division and Schlumberger contributed Framo Engineering, as well as its surveillance, flow assurance, and power/controls businesses.
In September 2014, Mike Garding was appointed CEO for OneSubsea. Prior to joining the new joint venture, he had served as president of completions for Schlumberger. Garding began his career with Schlumberger in 1984 as a wireline field engineer in the Gulf of Mexico.
Mike Garding
He has held various management positions since then, including vice president and general manager of engineering, manufacturing and sustaining; director of human resources for North America; and vice president of wireline, North and South America.
Recently,Offshore met with Garding to discuss the company's achievements to date, the challenges he sees for the industry going forward, and the ways in which the new venture can help the offshore oil and gas industry address those challenges.
•••
Offshore: What led to the creation of OneSubsea? Can you elaborate on the market forces, or conditions, that led to the creation of this new company?
Garding: Schlumberger and Cameron have had an excellent working relationship for many years, collaborating on various projects and having sold products to each other. The creation of OneSubsea began with discussions as to how we might work together to optimize the various components of a subsea production system, incorporating critical information from the reservoir and the well in order to improve production and enhance recovery for our clients. We had many ideas and could see a number of opportunities to do this. We discussed various options in order to develop and deliver these ideas. It did not take very long before we came to the realization that the creation of a new company, which brought together the necessary expertise from both Cameron and Schlumberger, would be the best approach and would be unique within our industry.
Offshore: How does the combination of Schlumberger and Cameron offer the subsea market a unique service or capability? What advantages does this type of venture offer subsea operators?
Garding: OneSubsea provides Pore to Process solutions, which are based on our unique approach for optimizing production and enhancing recovery. The Pore to Process approach delivers advantages by integrating expertise, knowledge, and technologies from the reservoir pore space all the way through the well, through the completion, through the production system, and up to a host facility. By collaborating with clients, OneSubsea aims to help them achieve their production, recovery, and financial goals over the life of the field.
Offshore: What has been the biggest technological advantage of the combination?
Garding: The combined expertise, knowledge, and wealth of experience of both parent companies is our distinct advantage. We are able to leverage Cameron's long history of innovation and industry firsts in the subsea market, as well as their industry-leading design capability and manufacturing and aftermarket capabilities. Couple that with Schlumberger's deep understanding of the reservoir, petrotechnical leadership, reservoir and production technology, leading well completions, boosting leadership, and R&D capabilities, and OneSubsea is strongly poised to offer best-in-class subsea solutions for our customers.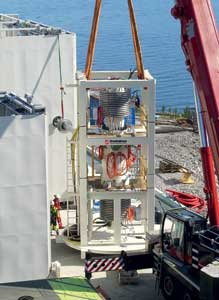 The OneSubsea Multiphase Compressor enables a very compact and cost-effective subsea infrastructure.
Offshore: Where does OneSubsea stand in developing equipment for HP/HT service, i.e. 20,000 psi+ and 350°F+?
Garding: One of the main technology initiatives at OneSubsea is to develop HP/HT solutions. Our parent company Cameron has already developed solutions for drilling and surface wellhead applications for 20,000 psi, 25,000 psi and 30,000 psi, as well as some applications to 450°F. We are using a great deal of what was learned in those developments within the scope of new industry standards to design and qualify these new subsea solutions. The technology effort began in 2013 and is ongoing, with several interested operators that seek this technology in the next five years.
Offshore: How do your subsea tree offerings figure into the HP/HT environment, and where do you see subsea tree development going in the future?
Garding: We have already delivered several 15,000 psi and 250°F+ subsea trees to the market, and we expect to be a leader in delivering some of the early 20,000 psi trees to the industry. We also have unique offerings in boosting and metering, as well as intervention given our alliance with Schlumberger and Helix. They are engaged with us in our new technology development to create a new level of tree features that will reduce rig time and cost, as well as improve functionality for lifting and metering capability.
Offshore: What are the key challenges and issues facing the subsea industry and how are subsea processing solutions addressing these challenges?
Garding: Since its beginning, the subsea industry has continuously been moving into more challenging areas, stretching the boundaries of available technology. Not only does water depth continue to increase, but the produced fluids are becoming more challenging, as are the reservoir conditions with combinations of high pressure and high temperature, and possibly even lower productivities. As a consequence of these factors, the development solutions and base investments tend to become ever more complex and costly. Over the last decade, the cost of subsea developments has exhibited an upward trend, and the lifting cost per barrel is revealing a potentially non-sustainable trend.
The subsea industry as a whole, operators and contractors, is currently engaged in a large number of initiatives to address these issues. Standardization, reuse of existing designs, rationalization of project execution, and more efficient engineering and manufacturing processes are just some of what everybody in the industry is looking into. OneSubsea is no exception, and we are convinced that there is a large potential for improvement in all of these areas. We are also 100% convinced that the only way to overcome these current challenges is through the active use of technology. The industry has a need to reduce costs, but much more importantly we need to increase the recovery rates of old and new oil and gas fields around the world, i.e., get much more return on the invested capital. Increasing the oil recovery rate by about 10% from a field without any significant additional investment in the infrastructure will significantly reduce the average lift cost per barrel over the life of the field.
Many technologies and sciences have a role to play in this, but experience has shown that one of the most effective and easily adaptable methods could be subsea multi-phase boosting. This technology reduces the backpressure on the reservoir and adds energy to the well stream, thereby allowing more of the hydrocarbon to be produced to the surface. With increasing water depth, reservoir depth and tieback distance combined with heavier fluids, this becomes even more effective, resulting in an even higher relative impact on the production and ultimate recovery.
Offshore: What are the key issues with regard to wet gas and multi-phase fluid compression?
Garding: The wet gas multi-phase compressor serves the same function for a gas field as the multi-phase pump does for an oilfield; it is primarily a tool to improve or increase the production and recovery rates. Due to the market mechanisms for gas and the nature of the produced fluid, the potential for long and ultra-long tiebacks directly to shore becomes feasible.
Wet gas compression offers a very compact and robust solution for unprocessed gas compression subsea. The OneSubsea Multiphase Wet Gas Compressor, or multi-phase compressor as we call it, is capable of operating in an envelope of 100% liquid and 100% gas even though optimization is for 0–5% liquid by volume. This capability is what enables a very compact and cost-effective subsea infrastructure. The multi-phase compressor has a lot of common components with our range of very successful multi-phase pumps, and is designed from scratch for subsea applications without marinization of topsides technology. This allows OneSubsea to design for easy installation and intervention using light vessels, the latter being of extreme importance for system uptime. The delivery of gas is often executed on fixed contracts, either as feed for a liquefied natural gas (LNG) plant or trunk line sales, making the aspect of uptime even more important for gas compression than for our highly reliable multi-phase pumps.
Offshore: How do you see the evolution of subsea processing progressing, including separation?
Garding: Subsea separation, to date, has only been applied in a handful of experimental applications and one commercial application, the Total Pazflor project in Angola. OneSubsea, incidentally, has been involved in all of these systems, having supplied the rotating machinery for all of these—subsea multi-phase pumps and high-pressure pumps for reinjection of the separated produced water.
Subsea separation may have a role to play in the debottlenecking of brownfields. It enables tie back of high water cut satellites to mature field centers, which may already be maxed out on water production. It also allows the ability to cope with flow assurance issues, like hydrate prevention and high back pressure on deepwater tiebacks due to high water cut. Certain combinations of extreme oil qualities and gas production could also benefit from subsea processing or separation.
In the interest of minimizing installation and equipment costs, especially when applied in deepwater, we are confident that modular and compact systems will be required; in subsea separation, there is no one size that fits all. Therefore, our strategy is to qualify compact technologies from our parent companies, both of which have considerable experience in this area either as a user or as a leading supplier of topsides separation systems, or from third parties offering a special technical solution.
OneSubsea is equipped with a strong portfolio of proven separation components and modules, including advanced rotating machinery and high-reliability control systems from our expert environment in Celle and Bergen. We are confident that we will be able to offer a unique solution for any challenge presented before us.
Offshore: Is there a practical limit to water depths that can be accommodated with subsea equipment?
Garding: There is no real practical limit, up to 5,000 m (16,404 ft) is achievable; it just takes more work and qualification. There is, however, a limit on drilling technologies. As of now, we do not anticipate there will be many wells drilled over 3,000 m (9,842 ft) until the development of additional technology. Once there is a complete understanding of the drilling technology and well control for depths beyond 3,000 m, we can fully assess what our technology requirements will need to be.
Offshore: Where does the industry stand regarding deepwater intervention capabilities?
Garding: The industry is well-placed to perform riser-based interventions on deepwater wells with less than 10,000 psi pressure; however, most times it involves using a drilling rig as marine support. Where a real difference can be made going forward is by decoupling the drilling rig from the intervention equation and replacing it using a cost-effective vessel as marine support. Additional technology is required to perform cost-effective intervention on a routine basis on high-pressure wells, as well as to further increase the capability of riserless operations to drive down intervention costs. We recently executed the definitive agreements for the non-incorporated alliance with Helix and Schlumberger to focus on bridging these technology gaps and delivering end-to-end, integrated intervention solutions to our customers. This alliance is unique in the industry in that it contains all principle domain competencies encompassed in a subsea well intervention operation. We will draw on these competencies to develop innovative equipment and methodologies, allowing the industry to expand the existing intervention pressure envelope, as well as to enable more services to be performed from these cost-effective intervention vessels.
Offshore: What new technologies or approaches is OneSubsea offering with regard to flow assurance?
Garding: Flow assurance is the basis for specification and, consequently, the design of almost all production hardware and solutions we put on the seafloor. It actually starts at the outer reservoir no-flow boundary and follows the fluid journey through the reservoir, the well, the production gathering system, and through the topsides facilities. Through our parent companies, we have access to state-of-the-art simulation and assessment solutions and workflows that allow us to look at the entire process as one, and not in individual, compartmentalized domains. This allows for the running of upstream petrotechnical evaluations in parallel with production assurance and design processes, and cross checking this with our detailed knowledge about subsea hardware and solutions available.
Offshore: Discuss the pros and cons of electrical versus hydraulic control approaches to subsea equipment.
Garding: The use of electrical motors provides unparalleled advantages in regards to control, real-time feedback, and condition monitoring. Varying the output to the electric motor allows for partial stroke testing and increased power; features not possible with traditional hydraulic actuated valves and chokes. Another advantage is the speed of actuation. For a traditional hydraulic actuated choke installed at increased water depths, a fully open/fully closed cycle can take 20 minutes or more, whereas the use of electric actuated chokes can reduce the cycle time to several seconds if need be. Use of an electric system can continue for fields in extreme water depths, where enhanced availability and functionality are a must, and traditional hydraulic systems will no longer work.
Another positive aspect of an electric system is the short system start-up time. There is no need to pressure up hydraulic lines and/or to wait for accumulators to fill after multiple actuations or even after a total black out. An electric control system is fully operational within several minutes after start-up, in comparison to several hours for traditional hydraulic systems. An electric system is also more environmentally friendly, with zero discharge and no dumping of fluid, whereas with a traditional hydraulic system some control fluid may reach the sea.
As it stands now, the biggest drawback of an electric system is the pricing level. Current pricing levels are higher than for a traditional hydraulic system as a result of the small number built at this time. However, over time, as all-electric systems become more commonplace in the industry, these higher pricing levels should begin to decline.
The industry continues to move further offshore, into deeper waters, in a direction where a more sophisticated system requiring fast and accurate controls needs to be applied to subsea processing. The faster it is, the smaller it can be. By nature, electrical is faster than hydraulic, and in the long run can drive down costs for more complex seabeds. Electrical is the future, providing a more efficient and effective way to get the job done.
Offshore: Operators are increasingly looking to maximize recovery from brownfield projects. How do the OneSubsea offerings figure into these types of projects?
Garding: We are actively working to address this emerging market through our BrownFEED redevelopment service, a unique approach to re-engineering existing developments in order to boost production and extend field life. OneSubsea's Integrated Solutions division provides customers with state-of-the-art technical services for brownfield developments and enhanced asset recovery. The division comprises the best and brightest from the diverse fields of petrotechnical engineering, integrated asset modeling, and production assurance. Subsea multi-phase pumping technology from our processing systems division also plays an important role with boosting pumps that are field-proven to extend the production life of many of these aging fields. Furthermore, the OneSubsea Production Systems division is also consulted and works with both groups in an integrated manner to advise operators on how to maximize recovery from brownfield projects. We have already performed a number of studies for some of our most valuable customers, and that is just the tip of the iceberg.
In addition to boosting, we consider other ways to increase recovery from a brownfield, such as improved oil recovery—water, gas or water alternating gas injection, or chemical injection. Although placing injection facilities on the field is not enough to increase recovery, the key is to understand the reservoir response. OneSubsea has unlimited access to petrotechnical experts and industry-leading software to assist here. We are able to provide full field optimization studies, from pore to process, as well as expertise in needed fields such as geomechanics (very important for deepwater fields) and asphaltene evaluation in the reservoir.
Offshore: As you know, many offshore field development projects fail to produce even 50% of the hydrocarbons in the targeted reservoir. How can OneSubsea help operators increase ultimate recovery?
Garding: As the industry moves toward an ever-increasing need to maximize recovery rates, multi-phase pumps are becoming more and more of a necessity; more than any other technology, they are key to increased recovery rates. At OneSubsea, we are unique when it comes to subsea multi-phase boosting in that we have been working in this field, through our Framo Engineering legacy, since the 1980s. We have installed all currently operating subsea multi-phase pumps in the world today. More than two million running hours have accumulated on the more than 85 seabed pumps delivered. The meantime to failure for these units is statistically in excess of 15 years, an impressive number that very clearly demonstrates the robustness of this technology. Combined with the cost-effective and efficient installation and intervention method, this has proven to be an effective tool to increase production and recovery rates from roughly 30 oil fields worldwide. Multi-phase pumps are a very effective tool to increase oil recovery and reduce the overall cost per barrel, and our experience with this technology makes us a leader in the quest to achieve ultimate recovery.
Offshore: What is OneSubsea's approach to asset integrity?
Garding: Condition monitoring based on real-time data is an integral part of the operational support that we provide for all of our products and systems. The OneSubsea FRIEND Remote Surveillance and Diagnostic System provides valuable diagnostic information that enables proactive support for operational challenges and early detection of potential equipment upsets, thereby avoiding interruptions to production, extending equipment life, reducing operational costs, safeguarding equipment uptime, and reducing unplanned interventions.
Offshore: Which part of your business shows the greatest prospects for growth?
Garding: We see multi-phase subsea boosting/compression and life-of-field services, including brownfield redevelopment efforts and intervention, showing the greatest prospects for growth. The industry has only scratched the surface in its use of energy creating technology on the seafloor. We are seeing incredible results and better than expected reliability with our rotating equipment on the seafloor. As more operators get comfortable with the technology, this will surely be an area of explosive growth for OneSubsea. Additionally, every operator would like to get more out of their existing wells. We are getting pulled into many brownfield activities, and our portfolio of services and products addressing this space has tremendous growth potential.
Offshore: What will be the biggest challenges to subsea oil and gas development in the years ahead?
Garding: Cost reduction and improving recovery factors are the biggest challenges facing subsea oil and gas development in the years ahead. As those in the industry know, these are challenges that have existed for many years, and now more than ever, the industry has a need to reduce costs and increase recovery rates from both mature and new fields. We are working closely with operators to reduce overall development costs by offering more standard products and processes. The adoption of industry and customer specific standards will lead to significant reductions in cost and development time. Additionally, we believe the development of new, cost-effective and efficient technologies – of which OneSubsea finds itself on the cutting-edge – and the active use of these technologies is the only way to attack these challenges; significantly reducing overall investment in field infrastructure, improving recovery rates, and maximizing return on investment. Embracing these innovative technologies will lead the industry to overcoming the financial challenges in subsea developments.