McDermott outlines Amazon J-Lay conversion plans
McDermott has reported its modification plans to convert the pipelay and construction vessel Amazon to an ultra-deepwater J-Lay vessel.
Jul 31st, 2018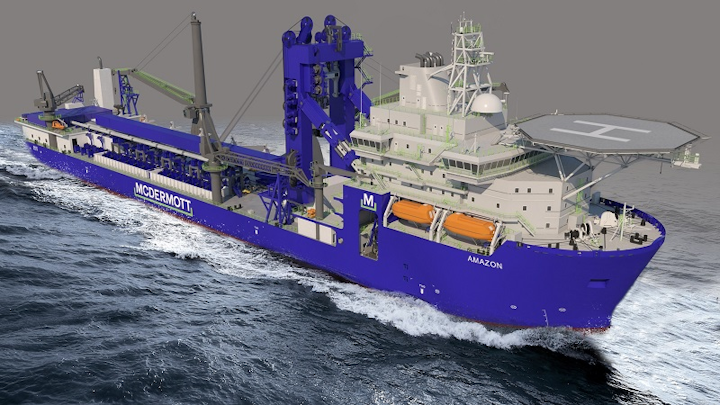 Offshore staff
HOUSTON – McDermott has reported its modification plans to convert the Amazon to an ultra-deepwater J-Lay vessel.
The modifications will consist of removing the existing tower and replacing it with a J-Lay system with 1,500 metric tons (1,653 tons) of dynamic top tension on the tower, which will enable large subsea structures and hex sections of pipelines from 4.5 to 24 in. (11 to 60 cm) to be installed.
The modifications will include an integrated multi-joint facility, where single joints will be welded to form hex joints. The 10,000 metric tons (11,023 tons) of existing cargo space onboard will remove the requirement for onshore facilities to produce the multi-joints, enhancing mobility of the vessel and reducing reliance on shore bases for support.
President and CEODavid Dickson said: "Today's announcement represents our strategic vision for the Amazon to competitively position it as one of the world's best ultra-deepwater vessels.
"Expected to have one of the most efficient J-Lay systems in the world, theAmazon will enable McDermott to pursue major field development projects with rigid pipelay requirements at depths of nearly 3,500 m [11,500 ft]. This is an exceptional opportunity for the company to expand the technical capabilities of our global fleet and address the anticipated growth in deepwater and ultra-deepwater spending."
Royal IHC (IHC) has been selected to design and build the J-Lay system, based on its proprietary design, and will perform overall management of the modification project. The original equipment manufacturers will be used for all modifications to the ship's systems, including an additional five megawatts of power and pipe handling cranes, under the management of IHC.
Alan Marriott, global vice president, Marine Assets & Operations, said: "The extensive use of existing proven technology and process automation, combined with early collaboration with the system designers, means we expect to have a very efficient and cost-effective asset.
"TheAmazon will provide a key enabling asset within the McDermott fleet. The vessel is designed to be self-sufficient, allowing easy transition from project to project. The vessel is expected to provide pull through opportunities for the rest of the McDermott subsea fleet."
Initial engineering began on the project in October 2017 and transitioned into full engineering design in January 2018.
TheAmazon will be delivered to IHC in the Netherlands in August 2019 for a conversion period that is expected to last 10 months. Redelivery is expected in the summer of 2020.
McDermott said that it will pay for the modification project primarily through an increased bareboat charter rate over an extended 12-year term once the modifications are complete. TheAmazon owners have secured an export credit-backed senior loan facility from a group of lenders.
07/31/2018