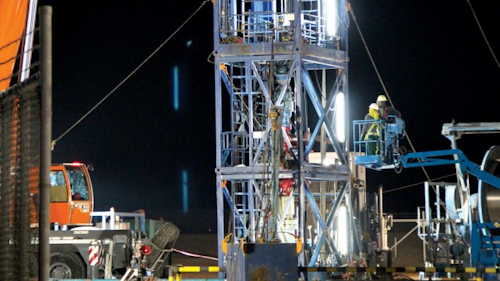 Offshore staff
DHAHRAN, Saudi Arabia – Saudi Aramco has completed an installation and functional test of a Baker Hughes TransCoil rigless-deployed electrical submersible pumping (ESP) system.
The system, which the two parties developed collaboratively, is designed to bring wells into production faster, with lower installation and replacement costs for ESPs.
By eliminating the need for a costly rig to replace the ESP, Aramco adds, it is particularly advantageous in offshore wells where limited rig availability can delay ESP replacement.
Nasir K. Al Naimi, vice president of Petroleum Engineering and Development, said: "With our large ESP installation base, including many ESPs installed in our offshore fields, the ability to rapidly deploy ESPs riglessly provides tremendous cost reduction to our overall operations.
"The TransCoil system is particularly beneficial in our challenging high H2S [hydrogen sulfide] fields as the premium metallurgy TransCoil can significantly extend the ESP operational life in harsh environment wells.
"Collaboratively working withBaker Hughes, we have developed a solution that meets our immediate challenges and enables our long-term vision of one day ESP change-out."
Conventional ESPs require workover rigs for deployment, with the power cables connected from the bottom of the ESP. The TransCoil system, in contrast, can be deployed swiftly with a coiled tubing (CT) unit into already installed production tubing, cutting deployment time from days to hours, Aramco says.
Another feature is an inverted ESP system with the motor connected directly to the powered CT. By eliminating the traditional ESP power cable-to-motor connection, this is said to further improve overall system reliability.
The combination of the power cable and the CT into a cohesive deployment string extends the operating range of the TransCoil system to 12,000 ft (3,658 m), a more efficient solution than existing CT-deployed ESPs that simply pull the power cable through the CT, the company adds.
In addition, the TransCoil nickel alloy outer jacket provides corrosion protection in harsh environments.
Initial trials were performed last month on the onshore Khurais field. Aramco says deployment of the TransCoil system was trouble-free, and the first-time rigless operations proved efficient in reducing installation time by nearly 50% over a rig-based installation.
02/01/2017