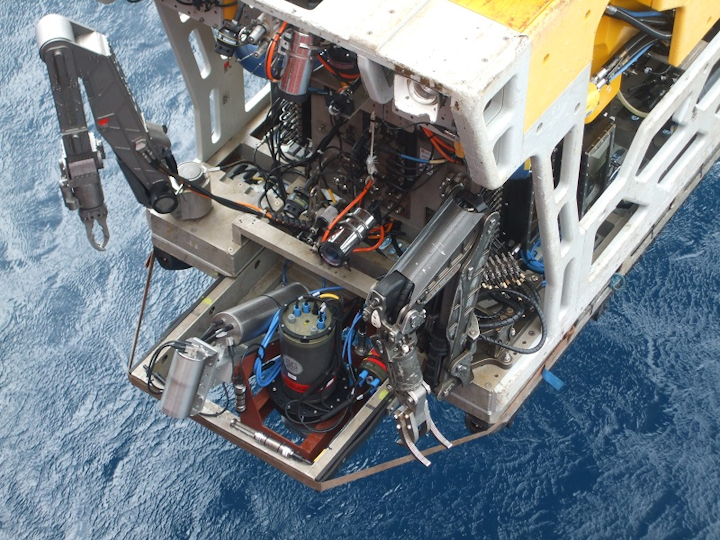 Offshore staff
ABERDEEN and YATELEY, UK - 2G Robotics and Sonardyne International Ltd., UK have entered into a formal agreement to collaborate on the development and promotion of a dynamic underwater laser mapping solution. The companies say this will reduce the time needed to survey seafloor sites and offshore structures.
The new agreement centers on the integration ofSonardyne's acoustically aided inertial navigation system for underwater vehicles, SPRINT-Mapper, with 2G Robotics' ULS-500 PRO dynamic underwater laser scanner.
The companies said that "studies conducted over the past six months have shown that combining the high-resolution afforded by the 2G Robotics' laser scanner with an unprecedented level of practical positioning accuracy produces a complete solution for fast and efficient dynamic laser scanning projects," including pipeline and free span inspections, structural integrity monitoring, and pipeline metrology.
The 2G Robotics ULS-500 PRO laser scanner is fitted to an underwater vehicle to capture point clouds of subsea assets and environments. As the vehicle moves around the site, the SPRINT-Mapper hardware, also fitted to the vehicle, simultaneously collects raw acoustic and inertial navigation data. On completion of the survey, the raw navigational data is post-processed and merged with the laser data to produce a georeferenced 3D point cloud from which centimetric level or better engineering measurements can be taken.
By adopting a dynamic platform such as an ROV navigated using SPRINT-Mapper, the high-resolution laser data is said to be unconstrained by a stationary deployment location. As the underwater vehicle does not have to come into contact with the seabed at the survey site, it can move to scan a target of interest from a variety of perspectives.
Through the agreement, 2G Robotics andSonardyne, as well as their distributors, say they can now offer a complete package for dynamic scanning.
05/09/2017