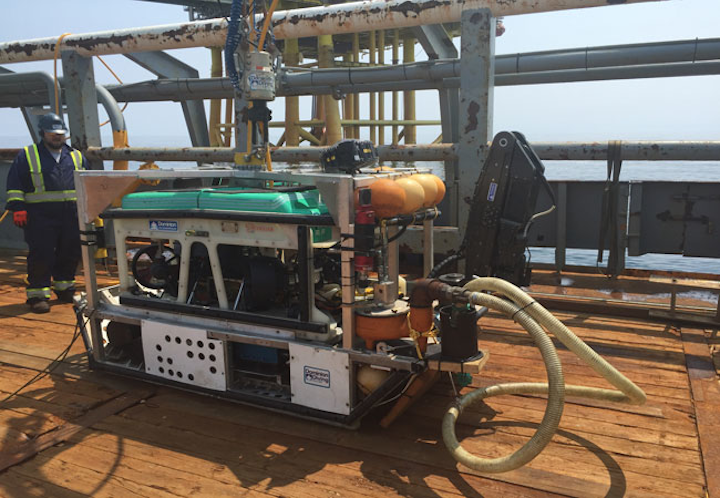 Offshore staff
FAREHAM, UK – Canadian contractor Dominion Diving has adapted its Saab Seaeye Cougar XT light work electric robotic vehicle to improve its capabilities.
The resultant Cougar XT custom version was able to handle a tooling package normally possible only on a much larger hydraulic system.
Dominion president Matthew Lohnes said: "We effectively turned the Cougar into a work class system that could undertake tasks typically needing 100-hp hydraulic tooling and perform three roles in one tooling package."
The program involved profiling a subsea manifold site using multi-beam sonar; operating a trash pump to excavate and clear sand and debris from the valve row; and engaging a torque tool to isolate the manifold and then operate a manipulator to turn paddle valves.
"In building the package we added extra channels to control different survey equipment, and built an enlarged skid to accommodate the tooling which included a Kraft Predator seven-function force feedback manipulator and a torque tool," Lohnes said.
To manage the new 1-ton payload, an additional thruster was fitted to the Cougar XT's six-strong thruster pack.
The resultant system was able to undertake the required tasks while operating successfully in currents of 2.5 knots and working with what supplier Saab Seaeye describes as "exceptional maneuverability in a confined space."
04/18/2017