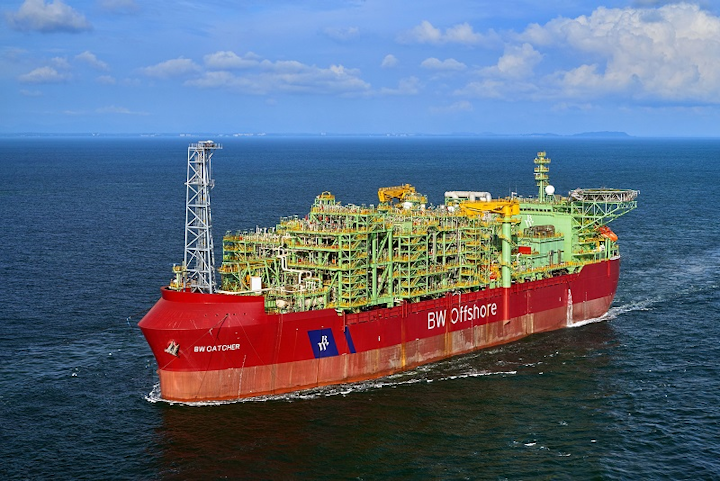 Offshore staff
LONDON – Premier Oil has produced first oil from the Catcher Area in the UK central North Sea.
The company anticipates an initial stabilized production from theCatcher field of around 10,000 b/d. This will subsequently rise as more oil starts flowing from the Varadero and Burgman fields.
A phased approach allows for management of the well stock while commissioning continues of the gas processing modules and full water injection systems on the FPSO, Premier said, adding that production from the Catcher Area should reach roughly 60,000 b/d during the first half of 2018.
This is 20% higher than the figured sanctioned in the original project plans, and follows positive results from development drilling.
Catcher is in block 28/9a, 174 km (108 mi) from Aberdeen in water depths of around 90 m (295 ft). Premier operates in partnership with Cairn Energy, MOL, and Dyas.
Reserves are estimated at 96 MMboe of medium quality (25-31°API) oil.
Development has involved drilling 19 production and water injection wells on the Catcher, Varadero, and Burgman fields tied back to a newbuild leased FPSO, theBW Catcher.
Total capex is likely to be $1.6 billion, 29% lower than at project sanction, thanks to measures such as well optimization, project execution on subsea and drilling activities, and foreign exchange savings.
The FPSO, owned by BW Offshore, is 240 m (787 ft) long, 50 m (164 ft) wide and 27 m (88.6 ft) deep. It weighs more than 56,000 metric tons (61,729 tons), has a storage capacity of 650,000 bbl, and around 120 onboard personnel.
12/27/2017