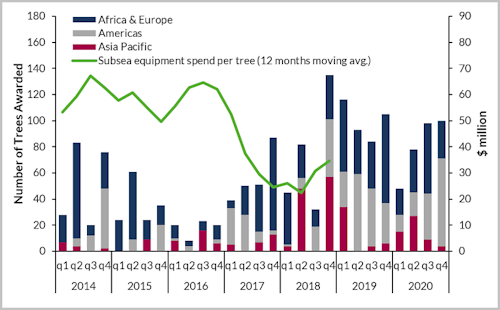 Offshore staff
LONDON – Last year the industry ordered 286 subsea trees, according to Westwood, the highest total since 2013.
However, the growing order book has yet to translate into meaningful revenue growth for the hard-pressed subsea supply chain, said Westwood's Head of Offshore Thom Payne.
Revenues have remained fairly static over the past 24 months due to the transition from higher pre-2014 prices to much lower priced, post-downturn contracts. Westwood's analysis suggests the average spend per subsea tree fell from $63 million in 2014 to $35 million in 4Q 2018, driven by offshore operators' continued focus on capital discipline, project simplification, and standardization.
Their insistence on 'locking in' lower industry costs is reflected in projects such asSea Lion (Falklands), Golfinho (Mozambique) and Liza II (Guyana), where the operators have agreed to engineering, procurement, and construction contracts prior to taking a final investment decision in the hope of securing lower pricing for their subsea infrastructure before the market recovery pushes up costs.
However, the analyst believes that as backlogs continue to build OEMs may start prioritizing margins over volume.
It expects awards for up to 400 subsea trees over the course of 2019, with the focus for future activity on a resurgent Brazil and emergingdeepwater markets such as Guyana, Mozambique, and Senegal.
02/25/2019