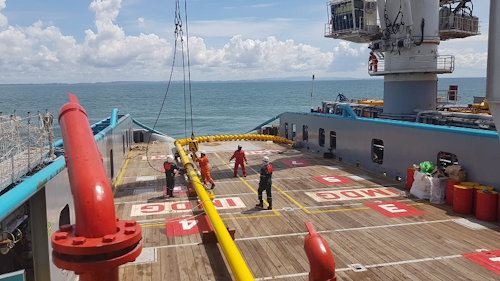 Offshore staff
HOUSTON – Airborne Oil & Gas will collaborate with Símeros Technologies to deliver what they claim will be the first qualified thermoplastic composite pipe (TCP) risers for use in deepwater Brazil.
Last year, Airborne started its qualification of its TCP fully bonded, free-hanging composite risers, with funding from a major operator in the region.
The aim is to qualify the system for dynamic deepwater applications, including for presalt and corrosive conditions.
Airborne claims its design can provide the lowest cost solution for installation of dynamic risers in deepwater applications, while at the same time offering greater flexibility to operators in terms of subsea configuration and the choice of installation vessel.
The company's TCP flowlines and risers can be installed using existing flex-lay and reel-lay vessels in the flexible and free-hanging catenary mode.
The latter configuration, for the riser, can lead to savings on typical FPSO projects through speedier installation and avoidance of the need to use buoyancy modules, said CEO Oliver Kassam.
Símeros designs end-fittings and ancillaries for flexible pipe.
Fabiano Bertoni, the company's director, said: "The qualification program…includes rigorous testing with full monitoring by DNV GL and a clear staircase, leading to qualified TCP risers for hydrocarbon and water and gas service, in deepwater and dynamic applications."
Airborne Oil & Gas is exhibiting at booth #1525.
05/06/2019