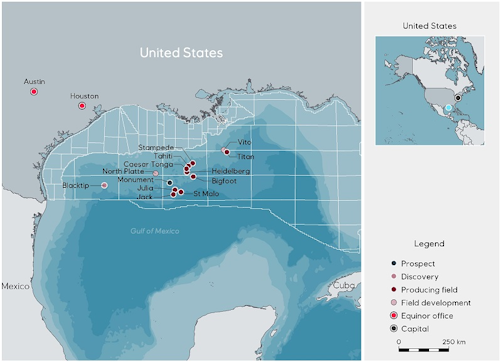 Offshore staff
STAVANGER, Norway – Equinor has exercised its preferential rights to acquire an additional 22.45% interest in the Caesar Tonga oil field from Shell Offshore Inc. for $965 million in cash.
This will increase Equinor's interest from 23.55% to 46.00%. Anadarko remains the operator with a 33.75% interest, and Chevron retains its 20.25% interest.
The Caesar Tonga field is 180 mi (290 km) south-southwest of New Orleans in Green Canyon blocks 683, 726, 727, and 770 in water depths of about 4,921 ft (1,500 m). The company's current share of production from Caesar Tonga is 18,600 boe/d.
"We are pleased to increase our presence in the US, one of our core areas. This is an asset we understand well, and our larger interest will deliver significant additional free cash flow from day one," said Christopher Golden, Equinor's senior vice president for Development and Production International, North America Offshore.
"Deepwater Gulf of Mexico forms an important part of Equinor's portfolio. This deal will strengthen our position in this prolific basin and build on the recent discovery in the Blacktip well," he said.
The transaction will have an effective date of Jan. 1, 2019. The closing of the transaction will be subject to customary consents and approvals.
In addition, this year the company plans to drill the Monument Paleogene prospect in the US Gulf of Mexico.
05/13/2019