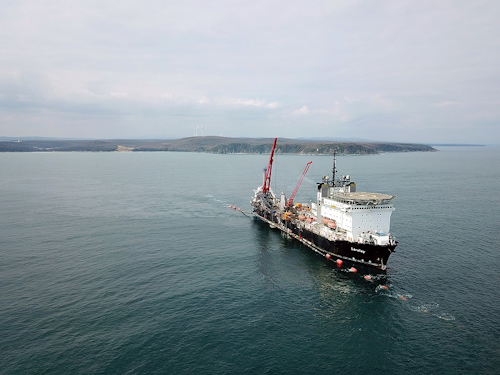 Offshore staff
MOSCOW – The final weld has been completed that connects the offshore and near-shore sections of the TurkStream pipeline system in the Black Sea.
The above water tie-in involved retrieving the nearshore pipeline and offshore pipeline from the seabed, lifting them above water and welding them together.
Total weight lifted for the operation was around 409 tons. Following an inspection of the weld, the pipe was lowered to the seafloor at a depth of 32 m (105 ft).
According to TurkStream operator Gazprom, the activity was conducted on both lines in Russian waters in January and February this year and close to the Turkish coast in March.
ThePioneering Spirit laid the deepwater sections.
The Russkaya compressor station, which will provide the necessary pressure for the gas to cross the Black Sea, and the Anapa landfall, are also complete and on standby.
Once the reception terminal in Kiyikoy has been completed, TurkStream will be ready to commence operations. Natural gas flow should start by the end of 2019.
The first line of the system is dedicated to Turkish consumers, while the second is designated for southern and southeast Europe.
Each line will have annual throughput capacity of 15.75 bcm. South Stream Transport has been managing activities related to the offshore facilities.
04/05/2019