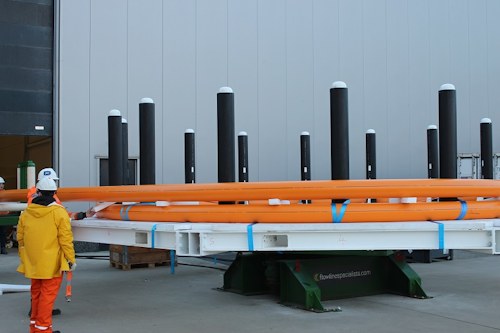 Offshore staff
IJMUIDEN, the Netherlands – Total has contracted Airborne Oil & Gas to supply a thermoplastic composite pipe (TCP) jumper for a deepwater project off West Africa.
The field is around 150 km (93 mi) offshore in water depths of up to 1,600 m (5,249 ft). Airborne won the order after completing a test program of a TCP water injection jumper for Total for permanent subsea applications, in accordance with the DNVGL-ST-F119 standard.
The company will provide a 5.2-in. ID, 370-bar (5,366-psi) design pressure TCP jumper for water injection which will be terminated in-country and installed at the offshore location using a subsea pallet, deployed from a small vessel.
According to Airborne, the jumper will be non-corrosive, lightweight, flexible, and spoolable with a small minimum-bend radius and which can be terminated at any location along the pipe.
This set-up is said to deliver a lower total installed cost through more cost-effective transportation, and removal of the need for metrology.
The TCP jumper can be manufactured and shipped in long continuous lengths, the company added, stored on-site and when required for the project, cut to length and terminated within hours.
01/17/2019