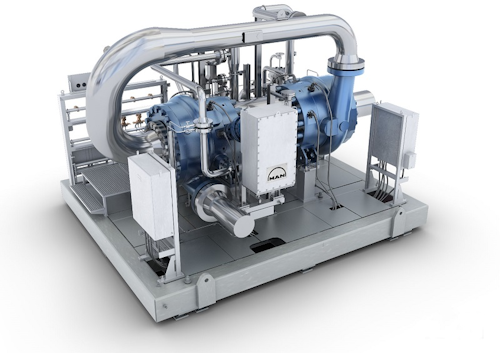 Offshore staff
ZÜRICH, Switzerland – MAN Energy Solutions Switzerland will supply equipment for the planned Balticconnector gas pipeline that will run from Finland across the Baltic Sea to Estonia.
From Ingå in Finland, the pipeline system will continue subsea to Paldiski in Estonia and on via Kiili to Puiatu. The project is co-financed by the European Unions' Connecting Europe Facility.
MAN's order includes two MOPICO (MOtor PIpeline COmpressor) RM40s, each incorporating a MAN M33 motor with a corresponding active magnetic bearing system supplied by MAN subsidiary MECOS.
In addition, MAN is responsible for delivery (scheduled for this summer) and commissioning. The compressor trains are being designed, manufactured, and tested at the company's center in Zürich.
The compressor systems will be installed in Paldiski and Puiatu, which are around 200 km (124 mi) apart. To ensure large volumes of gas can be transported across longer distances, the compressors must be able to raise the pressure in the pipeline and at the same time keep the required pressure level stable.
The MOPICO for Paldiski will compress the natural gas to around 65 bar (943 psi) with the MOPICO for Puitatu then compressing it to 55 bar (798 psi).
03/07/2019