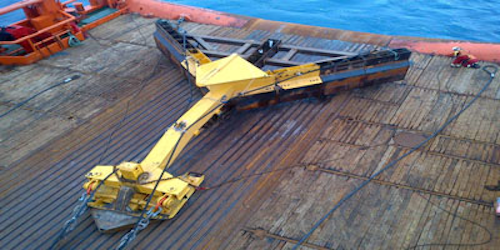 Offshore staff
ABERDEEN, UK – Ecosse Subsea Systems has completed a seabed clearance exercise for Total E&P UK's Laggan-Tormore development west of Shetland.
This involved deployment of the SCAR1 trenching tool to remove up to 1,000 boulders that were delaying cable lay and umbilical installation.
The tool cut a 10-m (33-ft) wide swathe over a 67-km (41.6-mi) route section, displacing boulders up to 2 m (6.5 ft) in diameter, and removing soil to leave a flat seabed area to allow pipelay to start.
According to Ecosse, seabed clearance is normally performed using a "boulder grab" device, but the process can be slow as rocks have to be displaced one at a time due to general reluctance to tackle boulders larger than 0.5 m (1.6 ft) in diameter.
SCAR, originally developed as a subsea plough, was redesigned and fabricated to suit Total's needs for this project. It operated at subsea depths of 640 m (2,100 ft), thought to be a record for this type of equipment, and at peak cleared up to 1,000 m/hr (3,281 ft/hr) of seabed.
10/05/2012