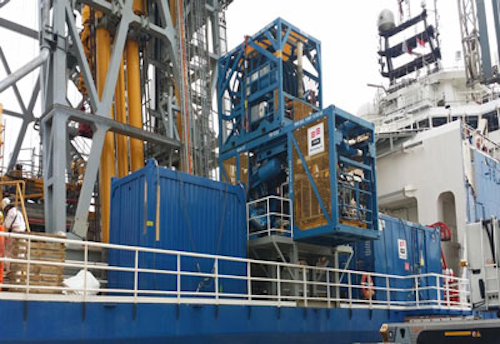 Offshore staff
SOLA, Norway – Shell has contracted IKM Energy Services to provide a riserless top-hole mud circulation system for the Malikai project offshore Sabah.
This will be the first application of IKM's MRR (mud recovery without riser) technology outside the North Sea. IKM says the system has been developed to reduce deck footprint, the number of offshore personnel, and the overall cost of top-hole mud recovery operations.

Shell will employ the drillship Norshore Atlantic to batch drill eight top-holes in a water depth of 475 m (1,558 ft). Drilling fluids will be collected at the wellhead and pumped back to the vessel by means of MRR, enabling use of engineered drilling fluids. This method of top-hole drilling, IKM claims, leads to minimized environmental impact with no discharge of drilling fluids, reduces risk, and brings benefits in terms of logistics.

The contract is between Sarawak Shell/ Sabah Shell Petroleum Co. and IKM Energy Services.
In the Norwegian Sea,Subsea 7 has contracted IKM Testing for subsea pre-commissioning of pipelines and risers for Statoil's Aasta Hansteen project.
IKM will provide flooding, cleaning, gauging, gel-plugging, waxing, pressure testing and dewatering of the production flowlines at the Luva, Haklang, and Snefrid fields in 1,300 m (4,265 ft) water depth, including risers to the Aasta Hansteen spar platform, 300 km (186 mi) west of Bodø. Rich gas from Aasta Hansteen will be sent through the Polarled pipeline to Nyhamna while the condensate will be offloaded by tankers.
09/02/2014