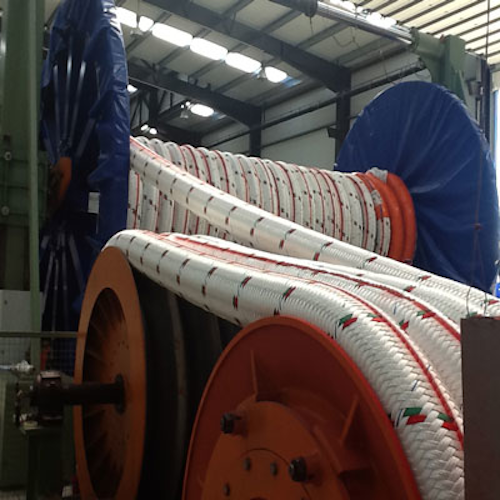 Offshore staff
SNEEK, the Netherlands – The HHITECH consortium (Hyundai Heavy Industries and Technip USA) has contracted Lankhorst Ropes to supply the mooring lines for Statoil's Aasta Hansteen spar platform in the Norwegian Sea.
Lankhorst claims this is the largest-ever single order for deepwater mooring ropes, and possibly the largest for synthetic fiber rope.
The spar, featuring a 198-m (650-ft) long hull, will be in 1,300 m (4,265 ft) of water, 300 km (186 mi) west of Bodø, mid-Norway. It will be connected to 17 polyester mooring lines in groups of six, five, and six lines.
Lankhorst will supply 36 rope lengths (more than 43,000 m/141,076 ft, or ~27 mi in total) of itsGama 98 polyester deepwater mooring rope with minimum breaking strength of 1,905 tons (4200 kips). 
A cut-resistant jacket, based on Dyneema fiber, which is integral with the rope construction, has been designed to minimize potential damage from trawl wire impact.
Lankhorst will manufacture the ropes at its factory inViana do Castelo, Portugal. Delivery is scheduled for 1Q 2015.
01/23/2014