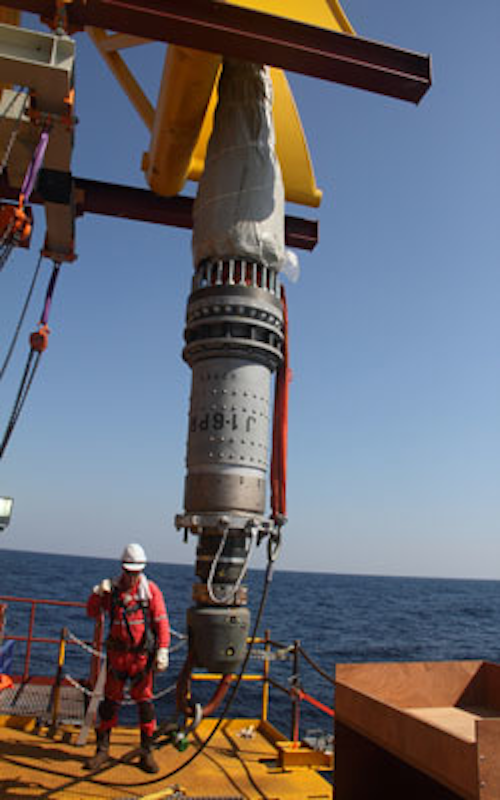 Offshore staff
SINGAPORE – EMAS AMC has contracted First Subsea for diverless bend stiffener connectors for the turret-moored Gaza FSO offshore Libya.
Gaza will replace the existingSloug FSO on Mellitah Oil and Gas' Bouri field, 120 km (74.6 mi) northwest of Tripoli. Installation and hookup is scheduled for 1Q 2015.
First Subsea will supply Type 2 bend stiffener connectors (BSCs) to connect three flexible risers (14.75-in. and 10-in, diameter) and a dynamic umbilical to the new FSO's turret.
The BSC connection comprises a ball and taper connector attached to a bend stiffener, pulled into a pre-machined, compact I-tube which is built into the turret. The self-energizing, self-aligning connector features an automatic release clamp (ARC) that allows diverless and ROV-less riser and umbilical connections.
According to John Shaw, managing director of First Subsea, "It allows installation of risers and umbilicals in a single step, the ARC holding the bend stiffener connector in place while the flexible riser is pulled through."
Bouri's current production facilities include the DP4 central processing platform and the DP3 satellite platform in a water depth of 170 m (558 ft).
EMAS AMC and STX Offshore & Shipbuilding are EPIC contractors for Bouri's new offshore facilities which aside fromGaza include a single-point mooring system, a subsea pipeline with a tie-in to DP4 platform and the FSO, and a power cable from DP4 to the FSO.
01/07/2014