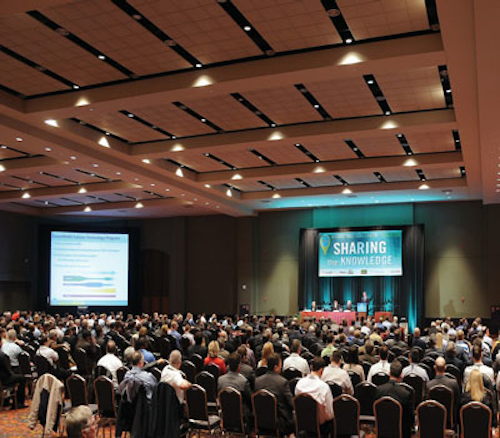 Offshore staff
The Subsea Tieback Forum & Exhibition kicked off to great interest and participation as industry officials and delegates attended the opening reception in the Henry B. Gonzalez Convention Center in San Antonio, Texas.
By late Tuesday, some 2,661 industry officials had registered for this year's event, compared to the 2,479 registrations tallied at the same time last year.
Interest in this year's event has been buoyed by a steadily resurgent subsea market. According to a recent report from Rystad Energy, the subsea market has been growing since 2011, and expenditures this year are forecasted to reach $45 billion. According to this analysis, from 2013, operators' subsea expenditures are forecasted to grow by an annual rate of 15% to $115 billion in 2020.
That interest was evident in the attendance at Wednesday's opening plenary session, and conference planners noted that 554 attendees gathered in Ballroom A to hear the opening remarks and keynote presentations – a record for Subsea Tieback.
The conference kicked off with opening remarks from Jon Sonka, Project Engineering Manager with ExxonMobil Development Co., followed by the keynote presentation offered by Clay Vaughn, also of ExxonMobil Development Co. Vaughn, who is Vice President, Deepwater Projects, offered "A view of subsea developments in 2014 and beyond."
Vaughn was followed by Marilyn E. Tears, Julia Project Manager for ExxonMobil Development Company. She gave attendees an update on the Julia deepwater project in the Gulf of Mexico, and discussed the ways in which the company was building on industry knowledge to successfully complete the tieback project.
The theme of this year's event is "Sharing the Knowledge," and that theme was evident in the array of new technologies and products designed for the subsea market. This year's event features 230 exhibitors in the Henry B. Gonzalez Convention Center, and several exhibitors had their new products on display, in keeping with the theme of the event.
At its booth, EMAS AMC displayed a detailed model of its newbuildLewek Constellation, an ice-classed, high-end, multi-lay offshore construction vessel with ultra-deepwater pipelaying and lifting capabilities, making it an ideal choice for projects requiring a versatile vessel for a diverse scope of work.
EMAS also livened up the opening night festivities with an interactive "Deepwater Subsea Tieback Game," which tested participant's knowledge of the subsea market and pipelay/construction vessel capabilities. If the contest successfully navigated through the game, he or she won a tie (for tieback) with the EMAS logo; or, alternatively, they could win a "Constellation" prize – a shirt with the EMAS logo and a drawing of theLewek Constellation on the back.
FMC Technologies Inc. featured its new high-speed, helico-axial multi-phase subsea boosting system, which it developed in tandem with Sulzer Pumps Ltd. Designed to operate in harsh subsea applications, the helico-axial pump is powered by a 3.2 MW permanent magnet motor and can withstand pressures up to 5,000 psi, say FMC officials. By using permanent magnet motor technology, FMC says the new pump requires less maintenance while offering greater speed, efficiency, and power for operational flexibility in subsea processing.
Elsewhere in the exhibition hall, Emerson Process Management discussed the features and capabilities of its new Roxar subsea multi-phase meter. Emerson officials say that the Roxar Zector technology enables the meter to provide accurate and real-time characterization of flow patterns and provide information never previously available, including multiple flow velocity data and near wall measurements. Company officials say that Roxar is introducing the new class of compact multiphase meters for operators who are looking for production optimization, flow assurance, and improved well testing. The reduced size will allow operators to install the meter on individual wells and in previously inaccessible locations.
Hydro Group Plc, a manufacturer of cables and connectors for subsea, underwater, topside and onshore applications, displayed its new 36KV Dry Mate connector, which it introduced into the offshore market last year. The Aberdeen, Scotland-headquartered group says that its presence at Subsea Tieback is part of its effort to further introduce the 36KV Dry Mate connector, along with its other product offerings, to the US offshore energy market.
Serimax officials discussed the features of Saturnax 09, the company's new multi-process bug and band welding system for premium pipes and tubes. Serimax says that the new technology offers enhanced productivity and quality as a result of its multi-welding capabilities and two independent stick out system. It is also possible to deploy up to four synchronized bugs on pipes more than 22 in.
Exhibitors also displayed new products designed for the flow assurance market. Baker Hughes showcased the capabilities of its FATHOM subsea-certified chemicals, a series of new flow assurance treatments designed to help operators produce reliably in deepwater. Officials at the booth said that the FATHOM certification process helps confirm lowband high-temperature stability as well as high-pressure deliverability. The chemicals undergo stringent design and testing and must meet exacting standards for performance, material and physical compatibility, as well as capillary and umbilical stability. This, in turn, helps provide operators with engineered answers for deepwater applications using either existing or custom solutions that are manufactured to subsea tolerances and compatible with an operator's application materials.
Dow Corning also highlighted its new flow assurance product. The company says its XTI-1003 RTV Silicone Rubber Insulation is designed to help achieve a more reliable, cost-efficient and lower-risk subsea wet insulation system for HP/HT equipment used in deepwater production and tieback systems. They noted that the "pure silicone" technology has potential advantages over syntactic urethanes, epoxies, and silicones to help prevent flowline blockages and provide specified no-touch times for shutdowns.