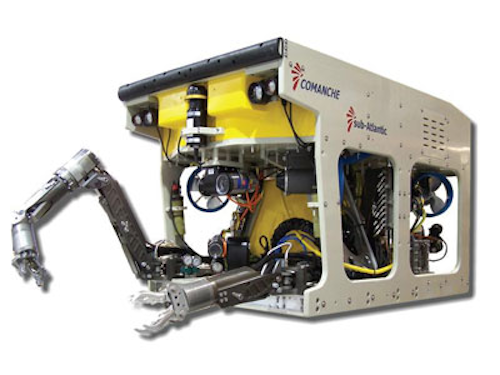 Offshore staff
ROBERT, Louisiana– SeaTrepid International has added two 3,000-m (9,842-ft) Sub-AtlanticComanche light work class ROV to its fleet of 37 observation, mid class, and light work class ROVs. The system includes A-frame launch and recovery systems, 20-hp hydraulic power unit and more than 9,000 ft (2,743 m) of main lift umbilical.
The SeaTrepid Comanche ROV is designed for tasks including:
Construction IRM – cleaning, cutting, jetting, dredging and NDT applications
Drill/Rig/Completion Support
Well Intervention – AX/VX gasket change out, BOP shutdown, hot stab operations, Class 1-4 torque tools
Survey – Pipe and cable tracking, single and dual head multi-beam sonars, sub-bottom profiling, pipe profile sonars, leak sensor.
Bob Christ, SeaTrepid's president and founder, said: "The acquisition of these two 3,000-m Comanches reflects SeaTrepid's commitment to meeting our customer's growing deepwater intervention needs. The Comanche has proven itself to be a dependable and extremely capable ROV system and we are pleased to add this deepwater capability to our current ROV fleet."
4/26/2013