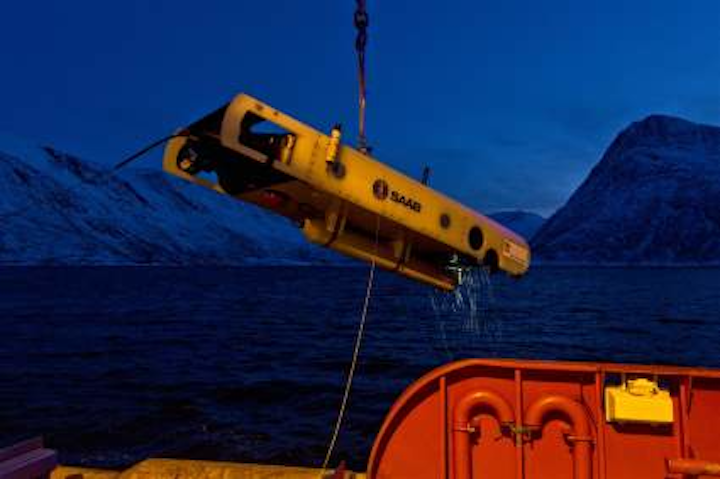 Offshore staff
SANDNES, Norway --Eni Norge and Eni subsidiary Tecnomare have completed the R&D project "CleanSea." One aim was to develop a new type of autonomous inderwater vehicle (AUV), performing sampling as part of a wider program to monitor the marine environment.
"In contrast to traditional AUVs, this robot is equipped with multiple propellers," said Eni Norge subsea engineer Arild Jenssen. "These enable it to stop, hold its position and adjust its movements as required and in response to sensor data.
"A further benefit is that we can control the robot without the aid of cables extending from land or a surface vessel. It is pre-programmed and simply carries out the job it is asked to do."
The AUV, supplied by Saab Seaeye in Sweden, is 3.8 m (2.4 ft) long, 1.4 m (4.6 ft) wide and weighs 1,300 kg (2,866 lb). It can working in water depths of up to 3,000 m (9,842 ft) and has a top speed of 4 knots.
It is equipped with a high resolution video camera and lights, a methane sensor, a leakage detection hydrophone, and a fluorescence sensor to detect hydrocarbons and trace substances. In addition, it will map the sea floor and take water samples – the latter function was tested in Hammerfest harbor, the base in northern Norway supporting Barents Sea developments such as Eni's Goliat.
Eni Norge is also working on a technology to control subsea systems remotely from shore, Jenssen added. "Our aim is to expand the existing network used by remotely operated oil and gas wells with the help of an optical network which transmits data at high speeds using light. This will make it possible to receive live images and data, provided that the vehicle is within range of a transmitter.
"At the moment this technology is at an early experimental stage, but it will open the door for future autonomous robots able to carry out maintenance on remotely controlled fields."
10/31/2013