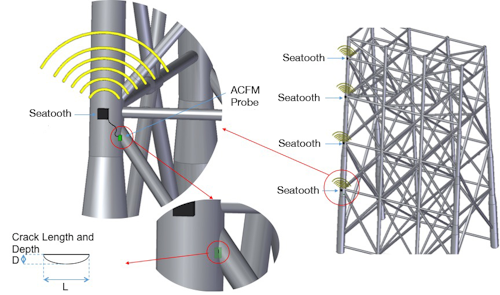 Offshore staff
LIVINGSTON, UK – WFS Technologies and TSC have introduced Seatooth ACFM, a wireless smart NDT monitoring solution aimed at reducing subsea inspection costs.
This combines two established technologies. TSC's ACFM array probe can be installed on offshore structures to monitor growth of surface-breaking cracks.
Seatooth is a subsea wireless communications system designed to provide reliable communications through seawater and the splash zone. It is claimed to be immune to biofouling, surface noise, and turbidity.
The combined product is said to be a non-intrusive, simple to deploy wireless network solution that can be retrofitted to offshore structures and subsea facilities.
Seatooth ACFM units can be configured to take readings as required, from once a minute to once per month. They can also be configured as standalone sensors or within subsea wireless networks.
As standalone devices, information is gathered by an ROV or diver. When configured as a wireless network on offshore platforms, real-time data is streamed wirelessly through the splash zone to an asset management control station located on the platform or onshore.
The systems feature a battery pack to support five to 15 years of operation. DNV, Bureau Veritas, Lloyd's Register, and ABS have all issued approvals.
11/02/2016