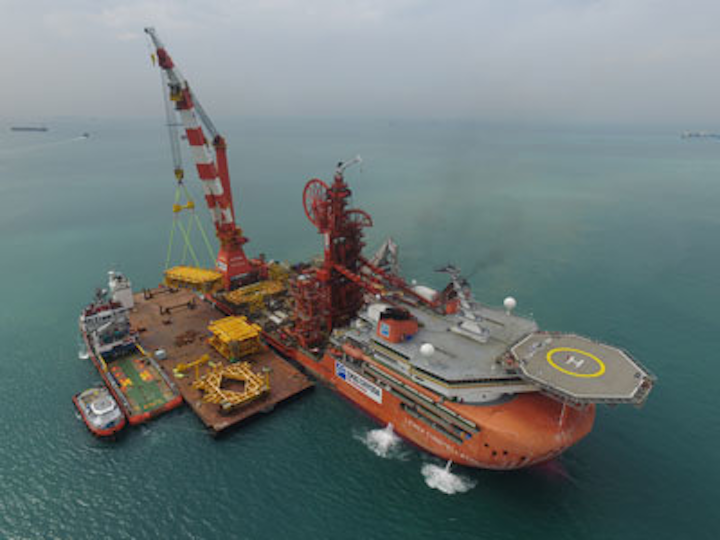 Offshore staff
SAN ANTONIO, Texas– With the EMAS CHIYODA Subsea joint venture expected to be finalized in the upcoming days, EMAS AMC COO Daniel Sack was present in the company's booth at the 2016 Subsea Tieback Forum & Exhibition, offering details on the partnership to Offshore. 
Chiyoda Corp. and Ezra Group announced plans in August 2015 to enter as equal partners into a joint venture involving Ezra's subsea construction division EMAS AMC to expand each other's services.
Sack said that as one of the world's leading engineering, procurement, and construction (EPC) companies, Chiyoda Corp. had been considering entering the subsea construction market before proceeding with EMAS AMC. He explained that the five-year-old subsea division of Ezra Holdings Ltd. has managed to prove itself as a tier one subsea construction contractor in a relatively short period of time through successful jobs like the company recently completed projects forNoble Energy in the Gulf of Mexico, on which the operator presented at the Subsea Tieback Forum.
When EMAS' new DP-3 ice-classed, ultra-deepwater multi-lay construction vesselLewek Constellation hit the Gulf of Mexico to complete its inaugural pipelay work for Noble, it already had a backlog of $500 million.  
The Noble jobs were completed on time and on budget, with EMAS claiming several world records as a result, including the deployment of the heaviest reeled pipe-in-pipe system ever deployed in the world.
Sack said that the EMAS CHIYODA Subsea JV will allow the company to benefit from Chiyoda's strong EPC background while simultaneously allowing Chiyoda to benefit from its subsea construction expertise. It will also allow EMAS to form a stronger presence in regions that Chiyoda, as one of the world's largest LNG players, maintains a strong presence, such as offshore Australia and East Africa.
He said that EMAS was one of the few companies that could offer rigid pipelay, mooring, and flexible/umbilical work in deepwater areas, with the latter component being a factor that especially attracted Chiyoda to EMAS.
In addition, he said that the financial backing will allow the company to participate in major projects as a tier one subsea construction and EPC provider. One of the joint venture's initial areas of focus will beFLNG technology, leveraging the respective strengths of both companies. 
Currently,EMAS AMC is working offshore Australia on the Julimar project for operator Woodside, comprising the Julimar and Brunello fields. The Australian explorer said the two developments will connect to the Wheatstone platform and supply gas to its onshore plant. The Julimar project remains on target to achieve first production in 2H 2016. 
03/28/2016