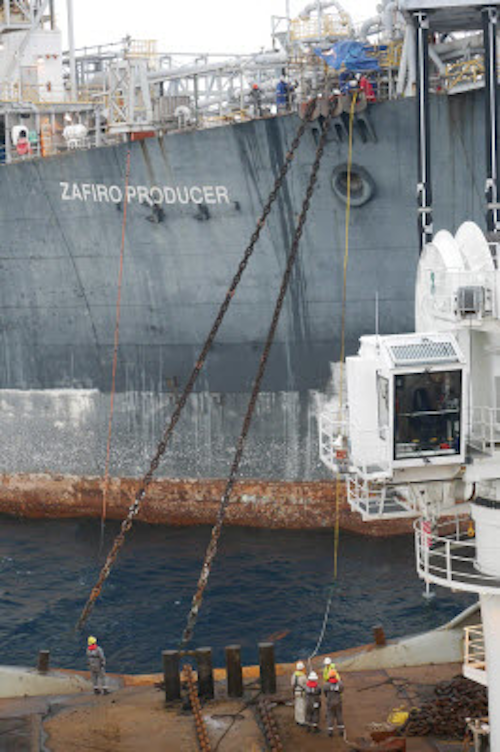 Offshore staff
HOUSTON - InterMoor Inc. has replaced components in an FPU mooring system offshore Equatorial Guinea on schedule.
The original contract covered replacing old mooring chains and wire ropes for eight of the 12 mooring lines along with two drag anchors on Mobil Equatorial Guinea Inc.'s (MEGI's)Zafiro Producer. During the operation, Boskalis contracted InterMoor to replace an additional mooring line.
The engineering work began in October 2014 in Houston and the Netherlands, where the Norwegian anchor handling and construction vesselOlympic Zeus was mobilized. InterMoor completed the installation work on location 64 km (40 mi) west of Malabo, offshore Equatorial Guinea, from the Olympic Zeus.
During the installation, the company inspected all the mooring lines as they were being disconnected from the floating production unit to determine which portion of the line required replacement with new chain and connectors.
The offshore installation was completed in March 2015, and the project will be finalized with all documentation delivered in April 2015. InterMoor had previously worked for MEGI in country, but this was the company's first time working in conjunction with Boskalis.
04/23/2015