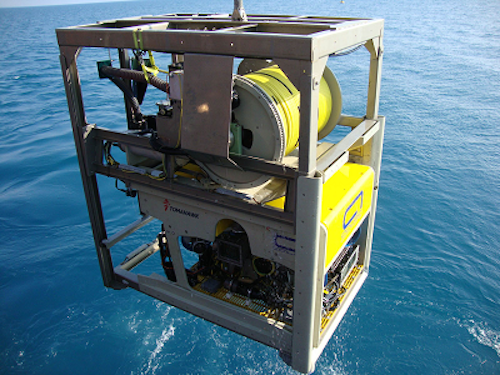 Offshore staff
ABERDEEN, UK–Sub-Atlantic has won a second contract with Italian oil and gas subsea services provider, AALEA Offshore. The contract will see Sub-Atlantic deliver one of its Tomahawk observation ROV systems.
The Tomahawk is configured with intelligent interfaces including an advanced subCAN control and diagnostics system, and is powered by Sub-Atlantic's DC propulsion system which incorporates Statorshield technology. This control, coupled with its propulsion, aims to provide a stable platform which enhances its survey and data collecting capabilities.
It is the second system of its kind that Sub-Atlantic has provided for AALEA, with the first successfully completing a major 100 km (62 mi) pipeline survey in the Strait of Messina.
Ryan Lumsden, global product director at Sub-Atlantic, said: "This is great example of an electric observation class vehicle completing work normally associated with a hydraulic work-class vehicle. The reduced footprint combined with the cost effectiveness of a smaller system reinforces what can be achieved with an observation class system, which is focused and optimized for a particular task."
The ROVs can also perform inspection, survey, and light intervention tasks.
The latest Tomahawk ROV for AALEA will be manufactured at Sub-Atlantic's manufacturing base in Kirkbymoorside, Yorkshire, UK, and is due to be delivered in 3Q 2015.
07/09/2015