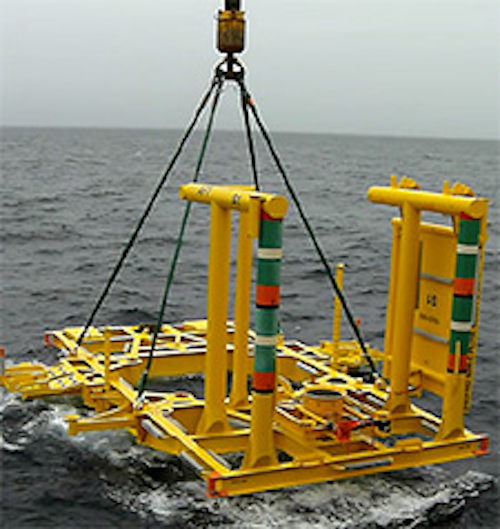 Offshore staff
STAVANGER, Norway – Three subsea templates have been installed ahead of schedule at the Aasta Hansteen field in the Norwegian Sea in 1,300 m (4,265 ft) of water.
Aker Solutions built the templates in Sandnessjøen.
According to operator Statoil, all are of a new design in which the top structure is separated from the base structure. This allows the templates to be installed in deep and rough waters using a smaller installation vessel.
Boa Sub C, which performed the work, has a lifting capacity of 400 metric tons (441 tons).
The six structures comprising the three templates weigh between 120 and 190 metric tons (132 and 209 tons) each. The upper structures rest on the top of the three suction anchors – another new design – also built at Aker Solutions in Sandnessjøen.
Normally Statoil would employ four suction anchors per template, but in this case, one is sufficient.
The suction anchors are 22.5 m (74 ft) high, with a diameter of 7.5 m (24.6 ft) and a weight of 123 metric tons (135 tons) each. They sink around 6 m (19.7 ft) into the seabed under their own weight before being sucked 18 m (59 ft) down until only a couple of meters protrude.
Earlier this month Aasta Hansteen's subsea manifolds, built by Aker Solutions in Egersund, were also installed, and they too are of a new design to suit deeper water/rough weather installations.
Also now in place are the foundation plate for thePolarled pipeline end station and the umbilical riser base.
Subsea 7's vessel Normand Oceanic was next due to install the control cables, provided by Aker Solutions in Moss. Later this summer, installation will get under way of the 17 suction anchors that will moor the spar platform itself, and eight more suction anchors that will hold the risers in place.
Momek in Mo i Rana is supplying all these structures. The risers and pipelines will be installed next year.
06/19/2015