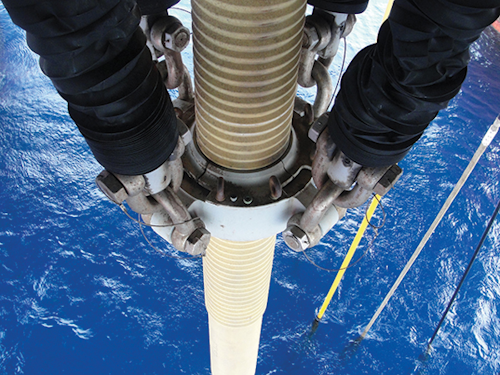 JIP to develop best practice
for top tension risers
2H Offshore has launched a joint industry project (JIP) with Anadarko, BP, and Shell to develop top tension riser (TTR) reassessment and life extension guidance. The main aims of TRACS (tensioned riser assessment for continued service) are to develop a road map for assessing issues related to fitness for service of TTRs and to provide recommendations for mitigation of potential issues.
The JIP will then apply data from case studies supplied by the participants to validate the methodology and provide documented examples for future guidance.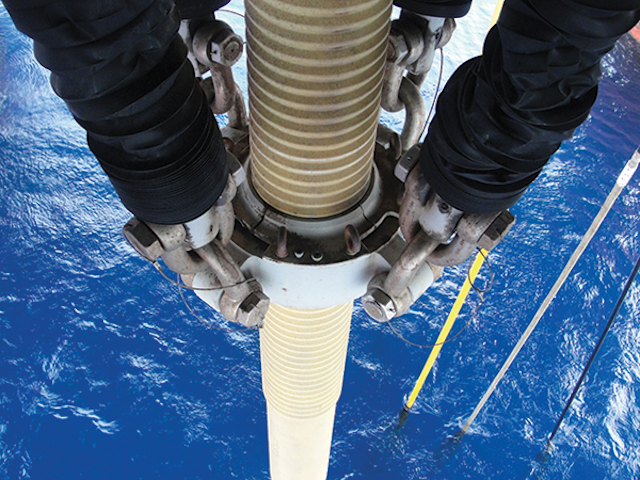 The TRACS JIP aims to develop a road map for assessing issues related to fitness for service of top tension risers and to provide recommendations for mitigation of potential issues. (Courtesy 2H Offshore)
Currently, according to 2H Offshore, there is no single guideline in the US addressing in detail TTR reassessments and life extension programs.
The JIP will adopt both Bureau of Safety and Environmental Enforcement and API frameworks to pursue industry consensus on the analysis and inspection data and documents needed for assessing the potential for extended service life.
Along the way it will address issues such as fatigue, corrosion and change of service, and will put together recommendations for mitigation measures for each issue, taking into account environmental and operational histories.
In addition, the JIP will examine the latest analysis, inspection and monitoring tools to help deliver an accurate assessment of equipment condition.
Sandeep Jesudasen, subsea riser engineering leader at BP, said: "As deepwater facilities age, the industry needs to look at continued service assessment and life extension to facilitate sustained safe production."

TECHNIPFMC NETS PETROBRAS CONTRACT
Petrobras has awarded TechnipFMC an EPCI contract for the Mero 1 presalt field development in 2,100 m (6,890 ft) of water in the Santos basin offshore Brazil. This covers engineering, procurement, construction of all rigid lines, and installation and pre-commissioning of the infield riser and flowline system for interconnecting 13 wells (six producers and seven water alternate gas injectors) to the FPSO. It also includes installation of rigid pipelines (including corrosion-resistant alloy and steel lazy wave risers), flexible risers and flowlines, steel tube umbilicals, and other subsea equipment.
ROV/AUV system proves docking capability
Saab Seaeye has successfully docked its iCON-based Sabertooth AUV/ROV at a deepwater docking station to receive data transfer, assignment instructions, and battery charging. The company claims this is a breakthrough for the offshore market, which has been monitoring developments in remote residency technologies because of the potential operational and financial benefits.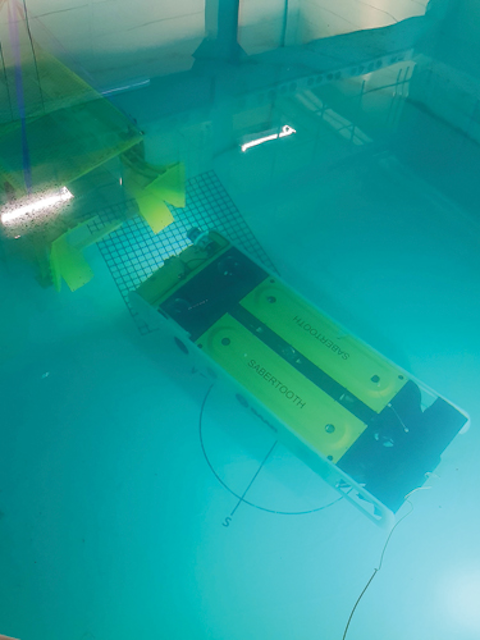 The Sabertooth ROV/AUV in tank trials. (Courtesy Saab Seaeye)
During trials the 3,000-m (9,842-ft) water depth rated Sabertooth, fitted with a Blue Logic 2kW charger/inductive device, was able to dock in a safe and controlled manner, both in the horizontal and vertical plane.
Jan Siesjö, chief engineer at Saab Seaeye, Sweden, said the vehicle was the only one available capable of hovering both in ROV and AUV mode, and of undertaking long- term residency operations in difficult to access locations.
The Sabertooth can be based at a remote location docking station ready to be launched on pre-programmed or human-controlled missions, which include inspection, repair and maintenance, research tasks, and environmental monitoring. At the docking station, tooling packages are stored, batteries recharged, and data transferred via satellite or cable to shore.
Subsea lifting system completes
pre-trial tests
Ecosse IP Ltd.'s latest subsea lifting product, the Ambient Lifter, has completed pre-trial tests in Buckie Harbor, northeast Scotland. This was a follow-up to trials completed last September when it lifted a 5-metric ton load from the seabed. Building on the results, EIP's engineering team scaled up the system by doubling its lifting capacity to 10 metric tons and adding an ROV garage and docking interface. The company plans full harbor trials this month.
The Ambient Lifter at Buckie Harbor during its recent pre-trial tests. (Courtesy Ecosse IP Ltd.)
Dorothy Burke, EIP's managing director, said: "We are delighted The Oil & Gas Technology Centre is supporting our next trials and also look forward to working with Oceaneering and Aleron on the next phases through to commercialization."