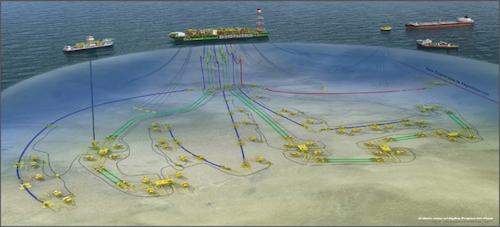 TechnipFMC details Egina's subsea production system
On Dec. 29, 2018, Total began production from the ultra-deepwater Egina oil field, 150 km (93 mi) off Port Harcourt, Nigeria. Located in water depths ranging from 1,400 to 1,750 m (4,593 to 5,741 ft), the field is estimated to contain reserves of 550 MMbbl.
The project is based on a subsea production system connected to Total's largest FPSO to date, the Egina. The 330-m (1,083-ft) long FPSO Egina has a storage capacity of 2.3 MMbbl of oil. According to Total, the field will deliver 200,000 b/d of oil at peak, equivalent to 10% of Nigeria's total oil production.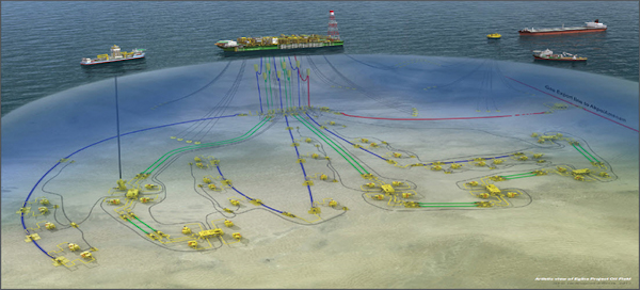 Artistic rendering of the ultra-deepwater Egina oil field offshore Nigeria. (Courtesy Total)
TechnipFMC is responsible for the field's 44-well full subsea production system (SPS) and flexible piping.
In June 2013, Total awarded the company a contract worth more than $1 billion that covered subsea trees and wellheads, manifolds, installation tooling, flowline connection systems, multi-phase meters, and associated control systems. At the time of the order, it was the largest subsea project to date in West Africa.
In July 2013, the company received two contracts to supply flexible piping. They covered the qualification and supply of 12 dynamic flexible jumpers ranging from 3.5 in. to 12.5 in. for oil production, gas lift, water injection and gas export to connect the single top tension risers to the FPSO. Also included were two 20.5-in. unbonded flexible pipes as oil offloading lines connecting the FPSO to the offloading buoy and associated equipment. At the time, these were the largest flexible pipes the company had manufactured to date. In the same month, the company was awarded a contract to supply the steel tube umbilicals.
In June 2016, TechnipFMC opened a subsea services workshop in Onne, Port Harcourt. This support center functioned as the service base, but fabrication also occurred in Norway and Scotland. Engineering and construction for the subsea production system were completed in Nigeria.
The first two of the eventual 44 subsea trees were delivered in April 2016. Two months later, the company marked the first two of Egina's subsea trees to be fully completed in Nigeria.
In October 2017, the company's six manifold modules were installed at Egina. All were manufactured at the Aveon yard in Port Harcourt, with first steel cut in late 2013.
Discovered in 2003 in 1,600 m (5,249 ft) water depth, Egina is the second development on oil mining lease 130 following the Akpo field, which started-up in 2009. Operator Total partners with Nigerian National Petroleum Corp., CNOOC, Sapetro, and Petrobras on the lease.
Shell hires Saipem to enhance Brazilian AUV
Shell has awarded Saipem a license to develop technology for FlatFish, a resident subsea autonomous vehicle designed to perform complex inspections of subsea assets. This should be qualified for commercial application by 2020.
FlatFish is a Brazilian project previously developed over a four-year period by SENAI CIMATEC in partnership with DFKI, with funding from the ANP R&D program and EMBRAPII.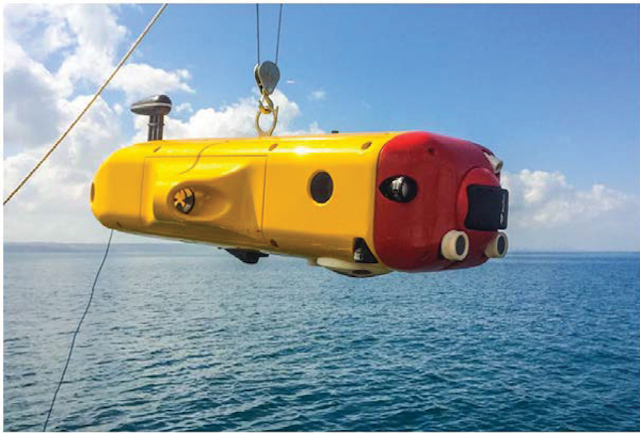 The FlatFish is expected to be qualified for commercial application by 2020. (Courtesy Saipem)
Saipem plans to add capabilities for riser inspection, data harvesting from subsea sensors, contactless monitoring of cathodic protection systems, and a 'flying-hanging garage' for launch/recovery and subsea recharging/reprogramming of the FlatFish from offshore platforms.
These enhancements will be supported by SENAI CIMATEC which, along with Saipem do Brasil, entered the development arrangement with Shell Brasil in December 2018.
Subsea Integration Alliance garners first JOB IN Australia
Esso Australia Pty Ltd. has awarded Subsea Integration Alliance EPCIC contracts for the West Barracouta gas project offshore Australia. This is the first integrated subsea project for Subsea Integration Alliance, a partnership between OneSubsea and Subsea 7, in Australia.
The work scope includes engineering, procurement, construction, and installation of two production wells. The wells are in a water depth of approximately 45 m (148 ft) and will be tied back to the Longford onshore gas plants.
Project management and engineering will be provided by OneSubsea and Subsea 7 from offices in Perth and Melbourne, Australia. Offshore installation activities are scheduled for 2020.
The Subsea 7 scope includes project management, engineering, procurement, construction, and installation of two production wells and a single electrohydraulic umbilical from the Barracouta platform to the West Barracouta drill center.
The OneSubsea scope includes the provision of two vertical monobore on-wellhead production trees, wellheads, controls, and installation and commissioning services. •