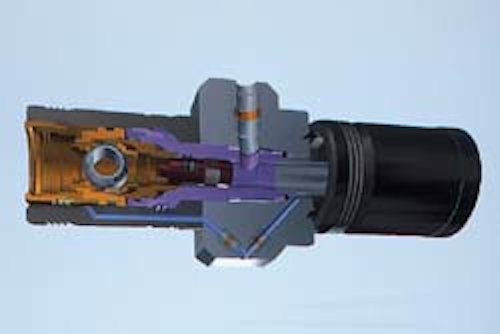 The full bore valve insert safety valve, developed jointly by Expro and FMC.
Since 1980 Expro, a division of the Expro Group, has been developing and operating ball valve safety systems for deepwater applications. Recently, the company has designed a new large bore system for installation and maintenance of subsea wells using horizontal xmas trees.
By design, horizontal trees have no inline safety valves in the production bore. This area is a major concern to operators from an operations and safety standpoint. To solve this problem, Expro developed a full bore safety system consisting of a suite of tools deployed within a drilling marine riser and BOP stack.
The subsea intervention string consists of a series of full bore 7 3/8-in. I.D. valves which are sequenced and certified to operate in conjunction with standard drilling equipment and horizontal subsea xmas trees. The equipment is fully qualified to API 14A standard and exceeds the safety performance criteria currently delivered by regular dual bore xmas trees.
Expro's 7 3/8-in. intervention string commonly consists of five basic modules:
A tree cap lock and seal system which engages the intervention string to the internal profile of the horizontal subsea xmas tree.
A dual ball intervention tree which is the primary safety barrier when working over.
A latch mechanism that can be disconnected should it be necessary to retrieve the workover riser.
A workover riser retainer valve that retains the contents of the workover string to surface for safety and environmental protection.
A riser lubricator valve which allows a portion of the workover riser below the rotary table to be used for long intervention tool strings.
Expro can also deliver a full workover solution by selecting and providing a suitable workover landing string using low cost, standard oil well tubulars. The entire system is rated for up to 10,000 psi operations and can be easily adapted for deepwater applications.
Development of the intervention system follows on from Expro's first venture into the subsea production market. Last year it jointly developed with FMC a full bore safety valve which is placed within the upper profile of FMC's horizontal subsea xmas tree. Features of this ball insert are identical in performance to Expro's intervention tree and allow operators to approach the dual barrier philosophy with more confidence than currently offered by use of dual wireline plugs, the company claims.
Copyright 1995 Offshore. All Rights Reserved.