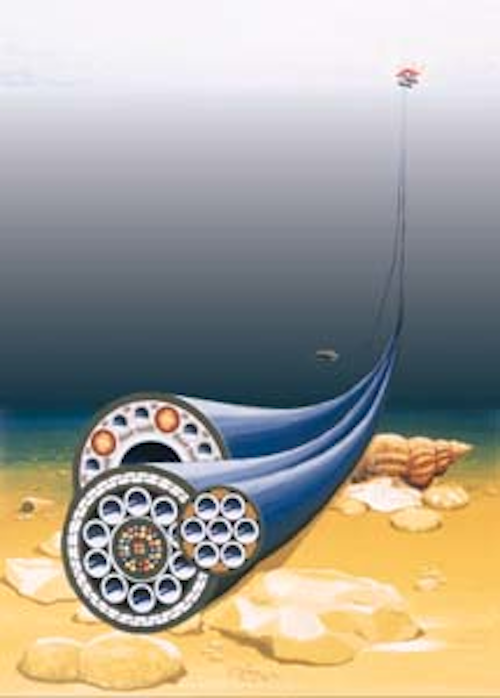 Sandvik super duplex grade gaining favour for long-term reliability subsea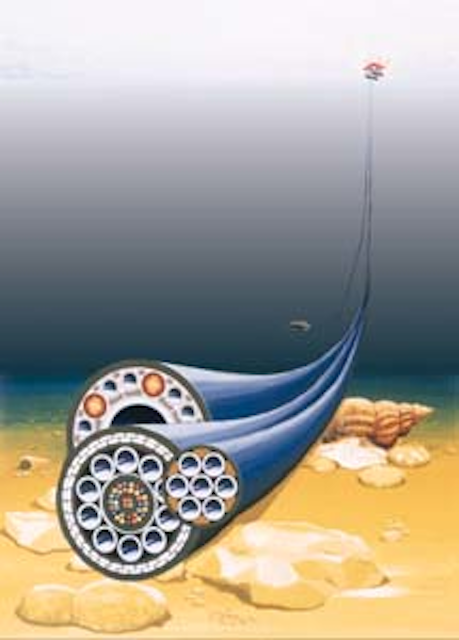 An artistic view of Sandvik steel tube in an underwater umbilical.
Sandvik Steel's eff-orts to establish itself as a leading supplier of steel tube are paying off. Current orders amount to some 300 km of tube for projects in Norway, the UK and the Gulf of Mexico, according to James Shipley, who is responsible for marketing pipe to the oil and gas sector.
Investments by Sandvik include the acquisition and upgrading of a mill in the Czech Republic which now supplies all the company's steel tube for umbilical hydraulic lines, with the extruded tube supplied from the headquarters in Sweden.
Umbilicals are a form of cable which provide the link whereby remote control from a surface or onshore location is exercised over subsea facilities, usually by electric and hydraulic means. They also provide the means for supplying injection fluids to the subsea wells or pipeline, most commonly methanol or glycol.
The role of the steel tube is to provide a channel for the hydraulic and/or injection fluids. In the past, umbilicals have traditionally used thermoplastic hoses for fluid transport. Sandvik's first success was back in 1982, when it supplied 57 km of coiled tubing for remote hydraulic control and methanol injection on Elf Norge's North East Frigg development.
That project proved to be a one-off for steel tube umbilicals. Only in the current decade has the steel tube really come into favour. This is partly the result of the advance of offshore production into ever deeper waters. In these circumstances, thermoplastic hoses are liable to deform.
But even in shallower waters, thermoplastic umbilicals may suffer problems such as chemical attacks on the hose and diffusion of the fluids through the hose wall, and it is notable that more projects in conventional water depths are now turning to steel tubes. This is certainly true of Sandvik's latest order for a Norwegian project, a subsea tie-back to existing infrastructure calling for 130 km of tube.
The company has used two grades of stainless steel for umbilical applications, but the super duplex SAF 2507 is increasingly specified, rather than the SAF 2205, according to Shipley. SAF 2507, which contains higher proportions of chromium, nickel, and molybdenum than SAF 2205, has both the strength and corrosion resistance to perform well in this role.
Interestingly, the strength of SAF 2507 is such that a significantly smaller weight is required to meet the same pressure requirements as SAF 2205. So although it costs more kilo for kilo, the bill for supplying a project is often cheaper, Shipley claims.
Another advantage of SAF 2507's strength, he points out, is that whereas galvanic steel armouring is usually required for thermoplastic umbilicals, it has been left out as surplus to requirements in many recent steel tube projects.
Recently, Sandvik won the steel order for the UK's first steel tube umbilical project, a deepwater application. It is also to supply the steel for a prototype dynamic umbilical application in the Gulf of Mexico, again deepwater. The dynamic umbilical is the umbilical suspended in the water between the surface facility and the seabed. It represents a new challenge, because to date steel tubes have mainly gone in static umbilicals resting on the seabed.
For more information contact James Shipley, Sandvik Steel: telephone +46 26 263988 or fax +46 26 252770.
Copyright 1995 Offshore. All Rights Reserved.