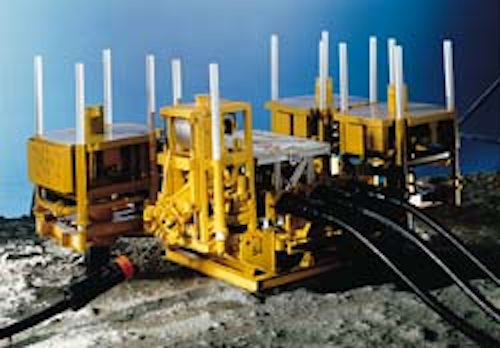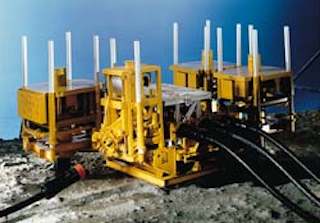 With the development of the Hinge-Over Subsea Template, Kongsberg has reduced template costs by more than half.
At a time when North Sea oil and gas production is benefiting from a combination of technological advance and closer cooperation between oil companies and contractors, Kongsberg Offshore is keen to bring these benefits to potential clients in Indonesia. The company recently signed a NKr 3 billion framwork agreement with Statoil under which it will supply subsea equipment packages, including its hinge-over template, for the Yme Beta East, Gullfaks South/Rimfaks, and Aasgard developments.
Kongsberg has a long association with Statoil, supplying subsea equipment for the Statfjord satellites, Sleipner East and Loke, and Heidrun.
Through the development of standardised equipment it has achieved a dramatic cost reduction. "Over the last three years we have more than halved the cost of the template system," says managing director Tore Halvorsen.
As part of the FMC group, Kongsberg can supply complete subsea packages including wellheads and xmas trees. It can also draw on the support of its parent's worldwide network of offices. It is in the field of subsea projects that Halvorsen sees the best chances for winning business in Indonesia. This is partly due to the presence of Arco, which is planning a number of major subsea developments. The first to come to market - next spring - will be Terang Sirasun, which will call for some 40-60 wells.
Kongsberg is planning to bid for the control system, and along with other vendors has supplied information for the development of the system specifications. "The heart of the control system would come from our main plant, but much of the auxiliary equipment could be supplied locally," says Halvorsen.
The company supplied the control system for Arco's Gawain development in the UK, which came on stream in October. Under a NKr100 million contract, it also supplied 19 control modules for diverless installation in 1,000 metres of water for Petrobras's Albacora II development in Brazil.
Although Indonesia has the reserves to develop a large domestic gas market, Halvorsen sees this happening only gradually. But it is important to invest now, to sign up for the long haul, if you want to be a part of this development, he says.
Kongsberg also has a multiphase meter, the MCF 351 Multicomponent Flow Meter, developed in conjunction with Norske Shell and tested at onshore fields in Oman and Gabon and most recently in the multi-meter trials at Porsgrunn. The market for multiphase meters has developed faster in Malaysia, Halvorsen says. This summer a solar-powered Kongsberg meter was installed on Petronas Caligari's Tembungo Field.
Copyright 1995 Offshore. All Rights Reserved.