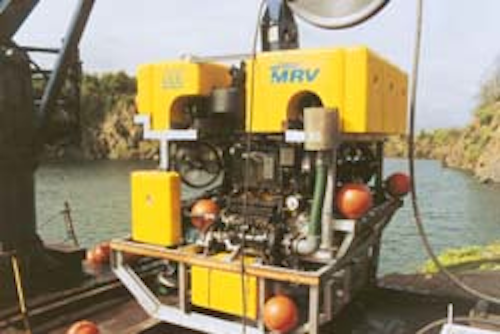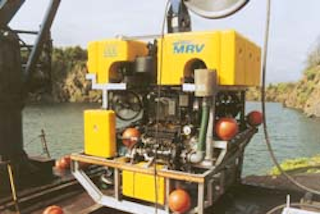 One of HMB's Trojan ROVs, currently on duty at BOL's Britannia Field supporting drilling operations from the platform template.
Dresser Industries' takeover of North Sea Assets this spring has created a new supergroup in ROV inspection and support. It comes at a time when other groups are branching into ROV contracting.
The new operation brings together Sub Sea Offshore (already owned by Dresser) and HMB Subwork (North Sea Assets), a provider of work and eyeball/inspection ROVs. Their pooled fleet of 98 vehicles becomes the largest worldwide, but there are no plans to slim down or shift HMB to Sub Sea's Aberdeen base.
In fact, the plan is to move HMB to larger premises in Great Yarmouth (conditional on two major contracts being secured). This new base would also accommodate technical support and activities from Sub Sea Offshore, including diving support vessels. The aim is to develop a &163;20 million business out of Yarmouth.
HMB was formed in 1979 by engineers with naval and aircraft backgrounds. Ownership passed to British Underwater Engineering, a group of companies that included ROV tooling specialist Slingsby Engineering.
Initially, HMB provided ADS systems for semisub drilling support, mainly in the northern North Sea. In the mid-80s it worked with Slingsby to develop the 50hp work ROV Trojan for deepwater drilling support (Trojans remains a substantial part of its fleet). Then it progressed to offering work class MRVs for jack-up support in the shallow waters of the UK southern sector, and also SeaEye eyeball vehicles.
Operations continued to expand, with branches being set up in Aberdeen, Rotterdam (currently managing all NAM's ROV duties) and, late in 1993, at Stavanger, when the company acquired 100% of Scandive. Joint ventures were also established in Congo and Abu Dhabi.
HMB decided not to set up its own in-house engineering division, leaving that to Slingsby, which for a time also supplied manipulators to Sub Sea Offshore. However, the Dresser takeover was not to everyone's tastes: HMB's managing director left to help spearhead Slingsby Underwater, a new contracting division reportedly aiming to assemble a fleet of 20 ROVs for North Sea project support.
HMB's link with Racal Survey is also in doubt. The two launched a joint venture only this January to support pipeline and platform inspection work throughout Europe, working from the Yarmouth-based ROV support vessel STM Helder. Racal was providing positioning, survey and geophysical equipment, with HMB contributing at least three eyeballs and one work ROV.
A Racal spokesman said that following completion of a series of surveys, the North Sea agreement would end. The two companies' other joint venture, Decca Subwork, formed in Abu Dhabi in 1993, is also under review. Racal has since formed its own Underwater Contractors division in Aberdeen to supply ROV support services, and has been expanding its Asia-Pacific operations following the acquisition of Asiatic Underwater Contractors.
HMB's identity will not be fully subsumed into Sub Sea's until important outstanding contracts are completed - possibly not until 1998. But the merged group is already planning to extend worldwide coverage. Dresser's recent acquisition of Wellstream opens up possibilities in the Gulf of Mexico.
West Africa is seen as a key growth market, as exploration and development there heads deeper. This year Sub Sea handled the world's first ROV-assisted tie-ins for BP's Foinaven flowlines in 550 metres of water.
Copyright 1995 Offshore. All Rights Reserved.