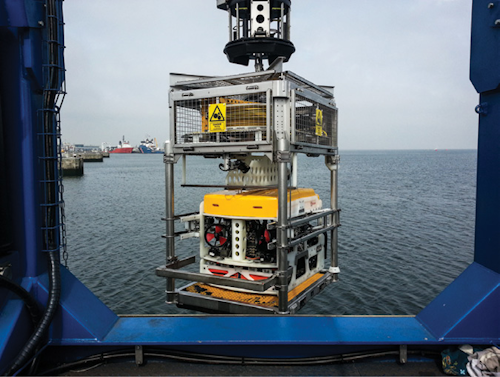 | | | |
| --- | --- | --- |
| | | Jessica Tippee Houston |
Kreuz Subsea has won its largest ever subsea services contract. The company will mobilize five vessels to provide subsea construction works for Indian engineering group Larsen & Toubro (L&T). It will help L&T install all riser clamps, risers, crossing works, tie-ins, subsea trenching and hydro-testing of pipelines under ONGC's Pipeline Replacement Project (PRP4) and Daman field development offshore western India. The vessels, to be deployed at the Mumbai High and Daman fields in the Mumbai Offshore region, will include the DP-2 SURF vesselKreuz Installer, and the diving support and construction work barge Kreuz Supporter.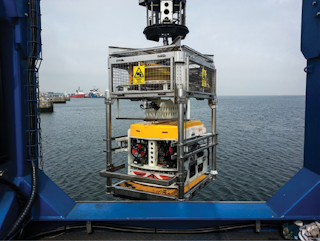 The Seaeye Cougar-XTis an electric ROV suited for light construction projects, pipeline survey and inspection, repair and maintenance to depths of 2,000 m (6,562 ft). (Image courtesy Bluestream)
According to Kreuz Subsea CEO AJ Jain, "The waters of Daman field are known for experiencing very high tidal currents and near zero visibility."
Bluestream increases work-class ROV fleet
Bluestream is expanding its fleet of work-class ROVs to 20 systems. The company has ordered one Seaeye Panther-XT Plus and one Seaeye Cougar XT, both fitted with a tether management system, and operable from hazardous zoned areas on platforms and FPSOs. Both should be ready to start work in the North Sea this month.
Bluestream claims the Panther-XT Plus is the most powerful compact work-class ROV on the market, equipped with 10 powerful thrusters. According to the company, it can undertake precision manipulative tasks while operating in strong currents, and is rated to water depths of up to 1,000 m (3,281 ft).
Aramco introduces multi-purpose AUV
Saudi Aramco has unveiled a torpedo-shaped autonomous underwater vehicle (AUV) during a recent ceremony at the Ju'aymah pier. The AUV is designed to perform offshore surveys to identify seabed clearance and potential debris around offshore platforms. It can also conduct offshore pipeline inspections to determine subsea asset integrity and locate potential leaks. According to Aramco, the vehicle, which cost $2.5 million to construct, can handle duties formerly undertaken by a $50-million, large survey vessel.
In addition, the AUV's modular design allows for interchangeable modifications based on the mission's needs. For example, the sidescan sonar/bathymetric module for geophysical operations can serve as a camera for subsea inspection projects, and as the environmental module for oil leak detection surveys.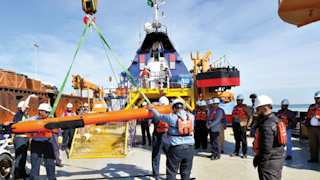 The torpedo-shaped AUV can conduct offshore pipeline inspections to determine subsea asset integrity and locate potential leaks. (Image courtesy Saudi Aramco)
An additional battery module can be added to the assembly, allowing the AUV to extend the length of its mission.
Aramco claims the AUV resembles a shrunken vessel, operable remotely from shore or from a boat controlling the vehicle through Wi-Fi when within reach of its connection limit. When at the required depth, the vehicle travels along its mission's route by means of its Inertial Navigation System.
Simon Squibb, AUV field team leader in Aramco's Hydrographic Survey Unit, said the vehicle's safety features enable it to abort missions and avoid danger with its collision safety systems. Search and recovery is aided via an embedded satellite phone and a pinger locator.
Statoil joins subsea booster JIP
Statoil has agreed to join Aker BP, Lundin Petroleum, and National Oilwell Varco in the DEMO2000 joint industry project, led by Fuglesangs Subsea. The aim is to bring the Omnirise single-phase subsea booster pump to market by early 2019.
According to Fuglesangs Subsea's CEO Alexander Fuglesang, the main problem encountered with subsea pumps to date has been the mechanical shaft seal, responsible for 70% of subsea pump failures. Dynamic shaft seals also require a constant flow of barrier fluid, supplied by topsides hydraulic equipment and delivered through umbilical lines extending over many kilometers.
Another issue is variable-speed drives which add weight and volume topsides. Subsea versions of these drives appear to be equally as bulky, Fuglesang claimed.
The Omnirise system employs a patented Hydromag Drive Unit, described as a combination of a fixed low-speed subsea electric motor, a variable-speed torque converter, and high-performance magnetic coupling.
"The improvements deliver benefits throughout the system," Fuglesang said, "from eliminating the weakest link and reducing topside and subsea equipment, to enabling cost-effective, standardized and highly modular boosting units."
Rystad Energy has estimated that Omnirise could provide capex savings of NOK150 million ($18.5 million) on a single-well boosting installation, compared to conventional boosting systems.
Other benefits claimed for Omnirise are elimination of the risk of barrier fluid leakage eliminated, and reduced opex, with less topsides equipment to maintain. Also, when combined with the proven Seabox water filtration system, Omnirise can be installed as a fully subsea solution.
Oceaneering to provide umbilicals for Johan Castberg
Oceaneering International Inc. has won a contract from Statoil Petroleum AS to supply umbilicals for the Johan Castberg project in the Barents Sea. The contract is for dynamic and static control umbilicals, totaling about 39 km (24 mi) in length, and associated hardware. The control umbilicals are expected to be used to transmit hydraulic control fluid and chemicals, as well as provide the electrical power and fiber-optic requirements to operate and monitor the subsea wells, which are in about 400 m (1,312 ft) of water. The umbilicals are expected to be tied back to an FPSO.
Oceaneering plans to design and manufacture the umbilicals at its facility in Rosyth, Scotland, with delivery scheduled for early 2021.