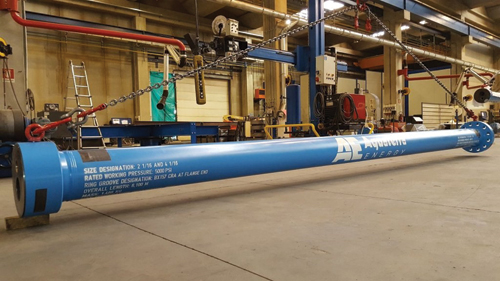 Design simplifies connections for subsea interventions
Ben Cannell
Aquaterra Energy
In regions with intense subsea activity, there is often a requirement for dual bore riser systems and tree running tool (TRT) crossovers to provide access to the production bore and annular bore of the subsea system. And in certain cases, where the wellstream contains a high hydrogen sulfide or carbon dioxide content, there is also a need for a corrosion-resistant wellbore wetted surface to safeguard the system against downhole conditions and to ensure it will last the lifetime of the project.
There is currently no standardized manufacturing process to produce fully forged dual bore risers with a small diameter annular interface (for subsea application). It is often the case that one supplier's dual bore risers will be concentric, while another's are eccentric or with differing OEM connections. In addition, seal faces or end outlets may have different flange or hub connections and will therefore be incompatible. This can cause problems for operators embarking on subsea intervention programs as they must ensure that the hardware provided interfaces correctly with the subsea equipment already in place (riser, TRT, tree system, and wellhead).
Smaller annular and production bores can also make it difficult to perform cladding inside the internal diameter over a long length. Due to the limited ability of robotic boom arms to reach longer and narrower sections inside diameters of pipe, alternate solutions are needed for cladding, along with bespoke weld heads to administer the corrosion resistant material. And, as welding is not a perfect process, defects are likely, in which case a detailed inspection of the weld length will be necessary, or even non-destructive testing.
In many cases, complex cladding or forging defects can manifest near the end of the manufacturing process. This could take weeks to resolve and may result in an inferior final product. Due to the demanding geometry of a small bore pipe, it may prove necessary to excavate and remove the defect and then re-weld, which can cause a breach through the body of the forging. As cladding materials such as high-grade stainless steel Inconel 625 are hard to machine and very expensive, this can be a challenging and costly issue to resolve (typically by removing the defect from the OD, through the wall of the riser, which in turn risks further compromising quality).
A dual bore crossover riser spool. (All photos courtesy Aquaterra Energy)
Well intervention benefits
An alternative to a fully forged and cladded option is a lighter weight, dual bore crossover riser spool that combines the benefits of greatly reduced risk, lead-time and capex, used in well intervention projects to access the annular or production bore.
Aquaterra Energy has completed multiple contracts to supply customized dual bore crossover spool packages for well intervention projects – two were offshore Brazil and another offshore Africa. For Brazil, the requirement was a dual bore crossover spool package for two vessels to perform well interventions by providing an interface crossover between different surface components and terminal heads on the intervention vessel riser.
For each of these projects, the company explored various design, analysis and manufacturing methods in order to satisfy complex requirements. Each of the riser spools had to bridge and close the gap between varying OEM connections and the well intervention control package.
The dual bore risers required for these projects were over 6 m (19.7 ft) in length. Each had varying connection types at either termination end. Deploying a traditional forged solution was ruled out as being too costly, time-consuming and not compatible with the operational requirements or the clients' tight schedule. It would also have meant producing at least two to three sections of lengths with associated flange connections in-between. As this would have introduced additional parts, the package would have been significantly heavier.
A lighter weight, fabricated dual bore crossover riser spool also offers a superior ability to monitor annular pressures than a fully forged option, if required. In addition it is simpler and more cost-effective to maintain or modify the lengths or end connections for future project requirements.
Aquaterra Energy also developed a bespoke fabrication technique to produce the Inconel pressure-containing pipes with an outer structural member. This avoided the need to fully clad the Inconel surface; instead, the company purchased stock Inconel tubes for the production lines and annulus bore, with the protective outer structural pipe made of lower cost carbon steel. The company then devised a solution to engineer the carbon steel flange closure ends and the threaded ends, creating a socketed closure device to allow the Inconel pipe to sit inside. A small amount of cladding ensured a tight tolerance fit on the inside wellbore wetted surface area, with an Inconel closure weld performed on the cladding to Inconel pipe.
The company produced a total of four fabricated joints and encompassing two different designs, in all cases with wellbore wetted faces clad in Inconel 625. This type of project normally takes up to 12 months to commission and deliver (when fully forged and cladded), but due to the clients' pressing requirements, a safe and cost-effective solution was completed within 10 weeks.
In conclusion, the deployment of lighter weight, fabricated dual bore crossover riser spools offers significant financial, safety and time savings for well intervention projects and subsea operations – in particular as demand for longer length, narrow diameter riser spool increases.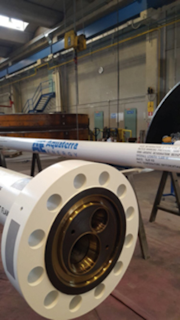 Close up image of the dual bore end outlet. All wellbore wetted surfaces are Inconel clad or made from fabricated Inconel pipe.
For many infrastructure projects subsea, there are various types of OEM equipment (trees, modules, tree running tools, risers, terminal heads), each with complex technical specifications and specific interface requirements. Bridging the gap between the varying connections requires a specially designed crossover riser spool solution.
Recently the company supplied intervention equipment for major operators undertaking subsea operations in projects offshore Brazil and Africa. The solution was a fully forged crossover connection between the OEM's tree running tools and the well intervention company's vessel contractor's dual bore intervention riser. The fully forged solution made sense for this application due to the short length of the spool. The overall length of each of the crossovers was in the region of 1 m (3.3 ft), with special attention paid to thermal expansion, dynamic loading and in-service performance of the riser spool to ensure it met and exceeded the lifetime of the riser. •
The author
Ben Cannell is Business Development and Innovation Director at Aquaterra Energy. He is a Chartered Fellow of the Management Institute (CMgr FCMI) and holds a BSc First Class Honours Degree in Engineering Management from the University of Lincoln. He started his offshore oil and gas career with Schlumberger E Line in 2002 and held various positions covering roles in multiline memory production and cement bond logging, perforating, well control and open hole logging, before joining Aquaterra Energy in 2008 as Project Engineer. He has since served in various roles within the organization, from Project Engineer through to General Manager of Projects. He has led the development of the company's subsea and surface riser systems in recent years and helped develop new products such as the AQC riser quick connector and dual bore risers.