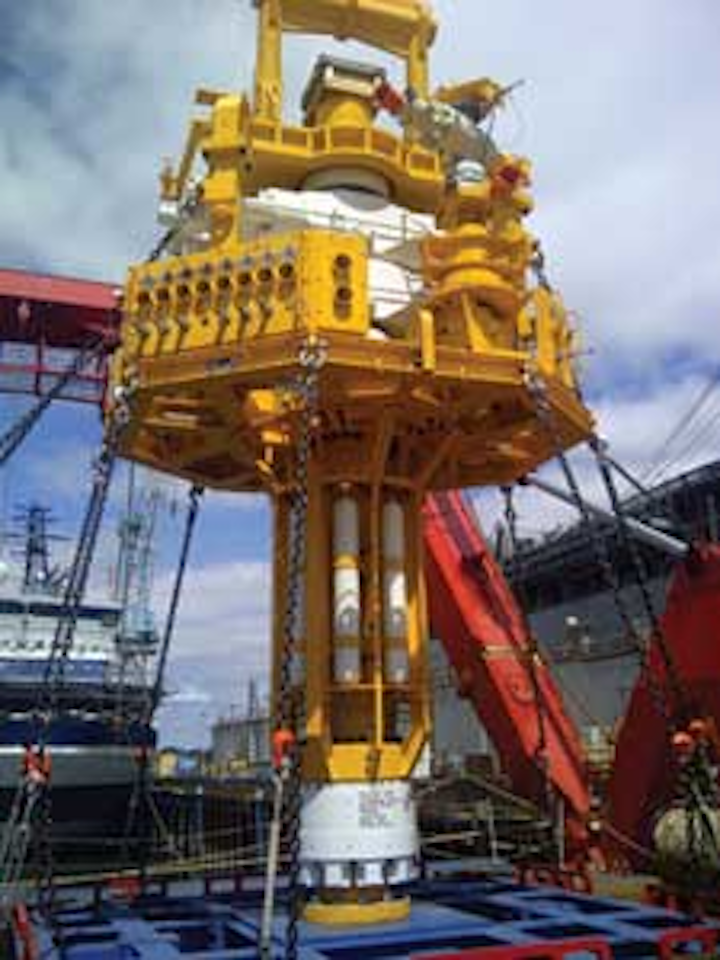 Equipment being staged in active drilling regions
Gene Kliewer
Houston
Industry and government responses to theDeepwater Horizon blowout and subsequent oil spill continue to evolve around the world even as the legal issues continue to be addressed in the courts.
On the regulatory front, for example, Standards Norway this past month issued revisions to the NORSOK Standard D-010 Well Integrity in Drilling and Well Operations that incorporate 450 changes, most of them coming via the Norwegian Oil and Gas Association report on Macondo. In particular, the standards for well barriers are redrawn. The revision final release is targeted for June 2013.
In the Gulf of Mexico outside US waters, Pemex and BP have agreed to share technical information on deepwater well capping equipment. By the agreement, BP will provide technical information on building a global deepwater capping device for Pemex to use in addition to Pemex's own scheme. BP also will hold workshops for Pemex to discuss the equipment and to introduce to Pemex the equipment and service suppliers involved.
BP's global deepwater well capping system is a 100-ton stack rated to 15,000 psi that can operate in 10,000 ft (3,048 m) water depth.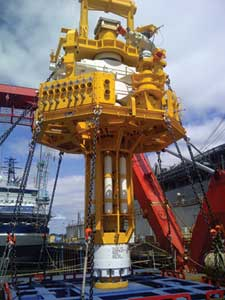 The Shell capping stack system prepares for test deployment.
Offshore Alaska, Shell and the US Bureau of Safety and Environmental Enforcement (BSEE) are at work on a system designed for arctic metocean use. Shell successfully deployed and tested its emergency stack to BSEE's satisfaction in 200 ft (61 m) of water in Puget Sound. However, the containment dome was damaged in handling, which delayed Shell's 2012-2013 exploratory drilling plans. While awaiting repair and testing, Shell is drilling topholes in anticipation of returning to those wells at a later date.
Meanwhile, the US Department of the Interior has started an assessment of the 2012 offshore drilling in the Beaufort and Chukchi seas. The assessment will include a look at Shell's safety management system, oversight of contractors, and ability to meet the standards in place for Arctic operations. The review will examine practices and lessons learned, plus identify challenges going forward.
Part of the study will include investigation into Shell Offshore Co.'s problems with certifying theArctic Challenger containment vessel, deployment of the containment dome, and issues with two drilling rigs, the Noble Discoverer and the Kulluk. The Noble Discoverer had a fire that caused no damage or injury while in port in Alaska. The Kulluk broke free of its tow and ran aground at Sitkalidak Island, Alaska. It has since resumed its trip to Seattle, Washington.
In drilling to date offshore Alaska, BSEE has had oversight of the drilling involved with the tophole sections of one well each in the Chukchi and Beaufort seas.
BSEE also has released a draft Safety Culture Policy Statement regarding offshore operators and contractors. The statement gives BSEE's approach to development of a safety culture and indicates the bureau's safety expectations, but does not contain any regulatory requirements. The bureau says a safety culture will have the following characteristics:
Leadership safety values and actions
Problem identification and resolution
Personal accountability
Work processes that maintain safety
Continuous learning
A safety-conscious environment where workers are free to raise concerns
Respectful work environment
Inquiring attitude.
In late 2012, BSEE convened its first Annual Conference on Domestic and International Standards with a stated goal of starting productive communications with the API standards developers and other standards organizations, standards coordinators, and subject matter experts. Organizations invited included not only the API, but also ASME, IADC, the International Organization for Standardization, the International Oil and Gas Producers Association, the International Regulators' Forum, the Center for Offshore Safety, and various classification societies. The conference is to be a regular event.
BSEE also has $1.2 million to consider spending on research during 2013 into five categories:
Consolidating existing research and identifying gaps relating to how different crude oils react to response options such as dispersant, skimming, and burning
Research into dispersant effectiveness
Temporary storage of recovered oil in arctic conditions
Recovery operations and remediation in low light conditions
Assessment of bioremediation versus dispersants.
Well containment technology
Technology and equipment directed at subsea well containment is available from a number of organizations founded since theDeepwater Horizon event with the purpose of meeting regulatory and practical requirements regarding spill reaction.
The Marine Well Containment Co. is a non-profit organization with Anadarko, Apache, BHP Billiton, BP, Chevron, ConocoPhillips, ExxonMobil, Hess, Shell, and Statoil as members. It is open to all US Gulf of Mexico operators. MWCC capabilities include provision of subsea equipment including risers, dispersant and hydraulic manifolds, and the capping stack itself. The organization also meets the BSEE permitting requirement that operators have a containment system available by continuously maintaining the equipment, generic procedures, dispersant stockpile, and support contracts necessary for incident response, as well as for capturing lessons learned during an event. More than 80 drilling permits have been issued with MWCC support.
This past July, at the request of the US Department of Interior and BSEE, MWCC mobilized its containment system and deployed the capping stack on a simulated well in the GoM. The stack was lowered 6,900 ft (2,103 m) subsea, latched onto a simulated wellhead, and pressure tested to confirm its ability to control a well.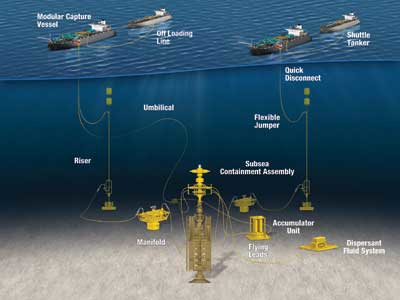 A graphic representation of the expanded containment system, which will be available from MWCC in 2013. The expanded system design includes use of modular capture vessels, modified tankers, existing drillships, and/or extended well test vessels.
MWCC's containment capabilities include plans to cap a well beneath a floating structure, whether TLP or spar.
This year the organization plans to have an expanded containment system in service to meet response requirements for a range of well designs and equipment, flow rates, and weather conditions. Also, the new system expects to accommodate new technologies as they become available. Further, the expanded response system includes a vessel with 700,000 bbl. Storage capacity and the ability to process, store, and offload liquids to shuttle tankers. A newly fabricated subsea containment system will be equipped with a suite of adapters and connectors for use on various interface points, well designs, and equipment.
The Helix Well Containment Group is another entity organized to meet the deepwater subsea blowout response requirements. The Helix group was founded following Helix Energy Solutions Group's involvement in the Macondo blowout control operations with itsQ4000 intervention vessel. At present HWCG can work in water depths to 10,000 ft and capture and process as much as 55,000 b/d of oil and 95 MMcf/d of gas. It has two capping stacks in stock, one rated at 10,000 psi and the other at 15,000 psi. Members of the HWCG include Anadarko, Apache, ATP, BHP Billiton, Century Exploration, Cobalt International Energy, Deep Gulf Energy, Eni, Energy Resource Technology GOM, Hess, LLOG, Marathon, Marubeni, Murphy Oil, Newfield Exploration, Nexen Petroleum, Noble Energy, Plains Exploration & Production, Repsol, Statoil, Stone Energy, Walter Oil & Gas, Woodside, and WT Offshore.
Similar devices and services are available outside the Gulf of Mexico.
Wild Well Control, already in the emergency response field, established its WellCONTAINED Subsea Containment Solution consisting of contingency planning and response from Source Control Emergency Response Planning to field deployment of its capping stack. The stack, staged in Aberdeen, UK, is designed for 10,000 ft water depth. Beyond the capping stack, the system's major components include subsea debris clearing, dispersant, hydraulic power unit, and related controls.
Late in 2012, new safety and environmental protection rules were unveiled in the United Kingdom. At its core, the new directions are to develop and publish guidance regarding critical equipment and well management and design. The Department of Energy and Climate Change published guidance on how UK continental shelf petroleum license holders can demonstrate the financial and technical response capability prior to getting a drilling permit. An oversight group is charged to supervise the implementation of recommendations that still are being handed down and to make sure the regime stays appropriate over the long term. Committee members are DECC, the Health and Safety Executive, and the Maritime and Coastguard Agency.
Oil Spill Prevention and Response Advisory Group has designed a version of the well capping hardware that is stored in northeast Scotland at Oil Spill Response Ltd.'s base. It is designed to connect to typical wells in the North Sea and west of Shetland using common BOPs and lower marine riser packages. The stack is designed to merge with various points on a subsea stack in water depths between 100 m and 3,048 m (328 ft and 10,000 ft). It is capable of handling wells up to 1,034 bar (15,000 psi) and temperatures to 121ºC (250ºF), even in the presence of high H2S content. The 40-ton device is 7.14 m (23 ft) tall and 3.97 m (13 ft) wide for ease of transport. It can flow as much as 75,000 b/d of oil.
Oil Spill Response Ltd. plans to own, store, and maintain four capping stack toolboxes and two subsea dispersant toolboxes with storage sites in Norway, Singapore, and South Africa. If plans hold, it will add Brazil early this year. The capping stack toolboxes will contain two full-bore 15,000 psi stacks and two reduced bore 10,000 psi stacks for use in 3,000 m water depth. OSRL also will hold 5,000 metric tons (5,512 tons) of dispersant in various spots around the world.
Also this year, OSRL plans to develop an Applied Incident Management System course for its members as part of an Incident Command System.
OSRL members include about 45 international oil and gas operators ranging from Addax Petroleum to ONGX to Tullow, and more than 85 companies as associate members.
Offshore Angola, BP successfully tested a deepwater emergency capping stack developed in conjunction with Subsea 7, Oceaneering, FMC, and Cameron.