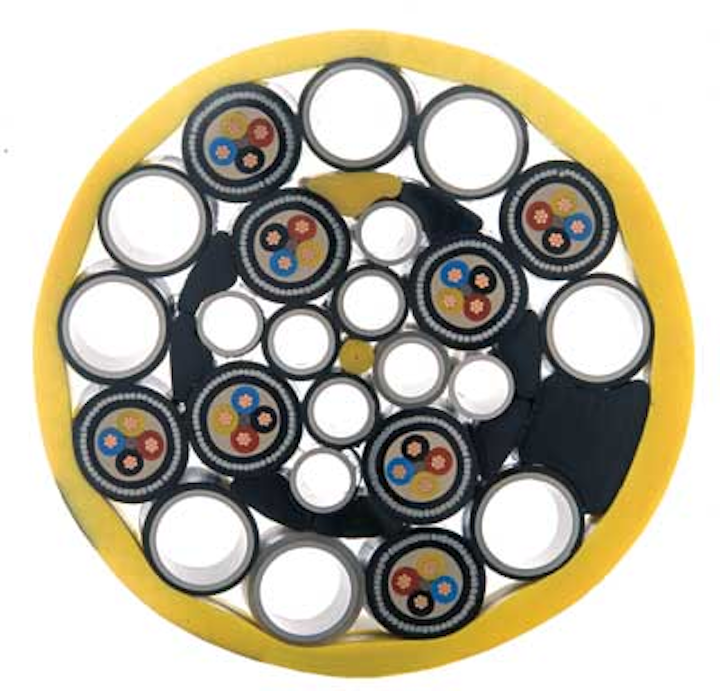 Factory serves most major projects offshore Angola
Sarah Cridland
Technip Umbilical Systems
Umbilicals are custom designed to meet the needs of each specific field development. Traditional designs, including thermoplastic hoses for hydraulic control and chemical injection, have mainly been supplied to the UK North Sea. However, as production moved into deeper waters and extreme environments in the 1990s, the market expanded to include steel tube umbilicals. Development of steel tube service lines for deeper waters enabled the industry to operate fields previously inaccessible to control from the surface.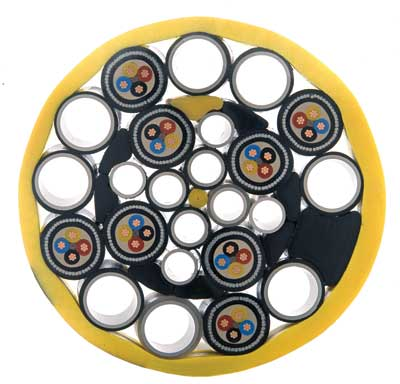 Pazlfor umbilical cross-section.
The umbilicals supplied by Technip for Shell's Perdido development in the Gulf of Mexico are the deepest installed anywhere, at almost 3,000 m (9,842 ft) water depth. More recently, Technip has developed medium voltage power technologies for subsea power applications. Another growth area for steel tube umbilicals has been West Africa, in particular deepwater Angola. Many of the world's largest and most complex umbilical systems have been delivered to projects in this sector.
Track record
In 2002, in response to increasing demand in the region, Technip and Angolan state oil company Sonangol EP agreed to build Africa's first umbilical manufacturing plant, known as Angoflex Ltda. The selected location was Lobito, a port town in Angola's Benguela province, now a growing hub for offshore oil and gas activity. The new facility was opened in 2004, and has since supplied steel tube umbilicals to projects including Dalia, Greater Plutonio, Block 31, Tombua Landana, Lobito Tomboco, Gimboa, Mondo, Batuque, Kissanje East, AB 15, Kizomba, and GIRRI.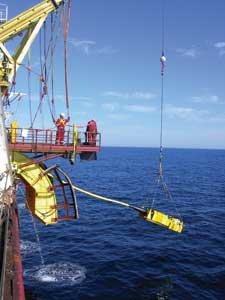 Offshore umbilical installation.
The initial investment provided a fully independent manufacturing facility, with new factory building and offices, steel tube sheathing, helical assembly machine, extruder, process reels, and a Jumbo reel transporter. For many of its projects, Angoflex works in partnership with sister companies DUCO in the UK and DUCO Inc. in the US, which can supply umbilicals in carousels, spooled directly onto installation vessels. One recent example is Total's Pazflor development in block 17.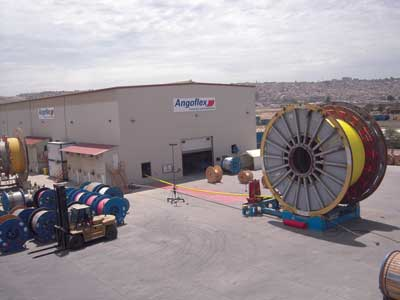 Angoflex umbilical manufacturing facility.
Technip Umbilical Systems performed umbilical design, manufacture, and project management for Pazflor. The scope of the subsea contract, awarded in 2008, was one of the largest and most complex the company had taken on to date, requiring 33 umbilicals of various types and some of the industry's most exacting requirements to date.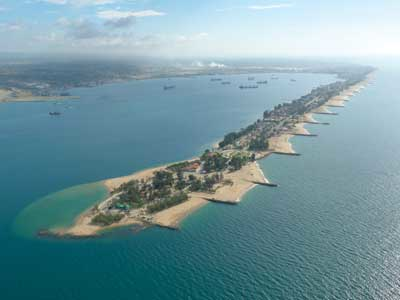 Lobito Bay.
Following initial R&D and engineering, performed in Newcastle, UK, Technip Umbilical Systems (TUS) built and tested three prototypes to demonstrate that the proposed design would perform under demanding deepwater and dynamic conditions. The umbilicals - dynamics, main statics, production statics, water injection and gas injection - were manufactured by TUS in Angola and in Houston. Delivery and installation followed in 2011, helping Total achieve first oil ahead of schedule.
Gearing up for CLOV
In the same year as the Pazflor award, Technip and Sonangol approved a business plan to expand Angoflex by increasing the capacity of its helical assembly machine and adding two large capacity carousels. These would allow umbilicals to be spooled directly to the installation vessel. It would also provide the benefit of having 100% of umbilicals for local projects manufactured in Angola.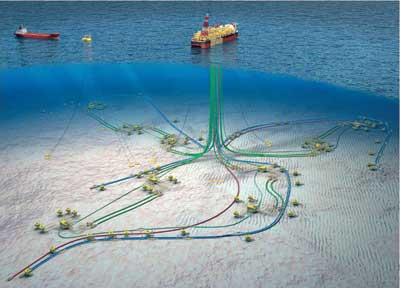 Typical deepwater field layout.
The expanded facility was commissioned in 2012, and is currently working on its first project sourced by 100% local content, for Total's multi-field CLOV development, again in block 17.
The Cravo, Lirio, Orquidea, and Violeta fields are around 150 km (93 mi) from the Angolan coast, in water depths ranging from 1,050-1,400 m (3,445-4,593 ft), and require a total of 34 wells. Angoflex's is supplying 75 km (47 mi) of umbilicals, in 28 lengths. The package includes four dynamic production umbilicals (total length 29 km, or 18 mi); six static production umbilicals (total length 16 km/9.9 mi); and 18 water injection umbilicals (total length 30 km/18.6 mi).
Additionally, Angoflex will provide the pull-in hang-off arrangements, bend stiffeners, bend stiffener latching mechanisms, mid-water arch clamps, subsea termination interfaces, and bend limiters for the dynamic production umbilicals, as well as similar hardware and mud mats for the static production and water injection umbilicals.
The Angoflex team has grown to include Angolan project management and engineering support in addition to manufacturing personnel. It now employs more than 200 staff, and the company achieved two million man-hours without a single lost time incident.
Its strategic position in Angola means that developing markets in other West African countries and off East Africa are easily accessible. Currently it is working on numerous bids for projects in Angola, both directly to major operators and in partnership with Technip.
Technip in Angola itself has three main activities:
Engineering services through Technip Angola Engenharia Limitada, the country's first oil and gas engineering company, formed in May 2000 via a partnership between Sonangol (40%) and Technip (60%). It provides engineering and construction services to offshore and downstream oil and gas activities in West Africa, and promotes the group's subsea capabilities for deepwater developments.
Umbilical manufacturing with Angoflex Limitada, created in March 2002, owned 30% by Sonangol EP and 70% by Technip Group.
A reeled steel pipe spoolbase in Dande, north of Luanda, inaugurated in March 2006. This facility manufactures rigid pipelines for reel-lay installation of deepwater oil and gas productions systems. It has a 600-m (1,968-ft) long jetty, with up to 12 m (39 ft) water depth at the bulkheads, allowing large installation vessels to moor and load pipe for offshore developments.
Angoflex is involved in Technip group's ongoing umbilicals R&D program, with various technologies under development for increasingly challenging environments, deeper waters, and longer tiebacks to offshore facilities and to shore.
The focus is on new types of materials and processes - for example, high strength or non-metallic strength members that provide stiffness and tensile strength without the additional weight that a conventional helically armored umbilical may have. Also, a move toward high tensile aluminum, away from copper electrical conductors, provides a fatigue-resistant load-bearing core for medium voltage cables used in subsea pumping and processing. Additionally, umbilical R&D involves enhancing existing components.
For subsea power supply, Technip has developed aluminum conductors which provide higher strength and fatigue resistance, reducing operational risk. Other mechanical benefits include high corrosion resistance and lighter weight - the density of aluminum is three times less than copper. The new cable design offers comparable electrical performance to copper, while also providing superior mechanical capabilities and enhanced long term service reliability.