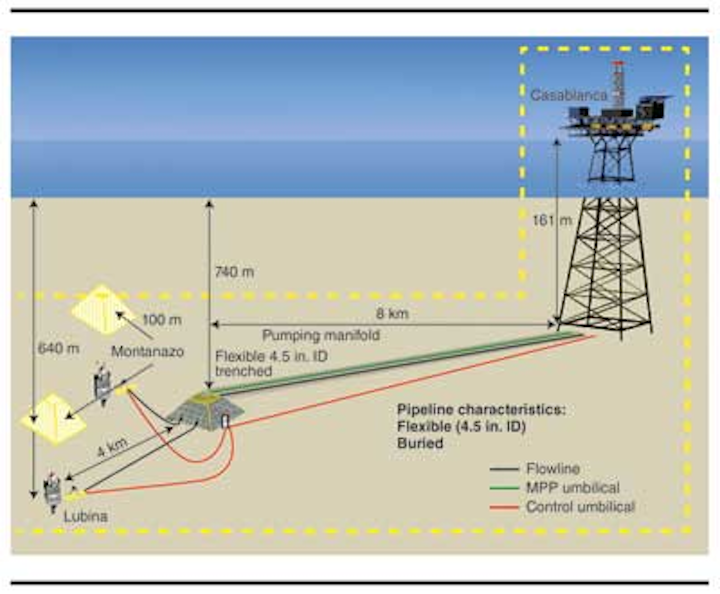 Jeremy Beckman
Editor, Europe
Field development offshore Spain has always been sporadic, and much of the work has been in the Gulf of Valencia off the east coast. During the peak period of the mid-1980s, four separate field centers were in service in this region, two operated by Shell and two by the Spanish company Repsol.
Today, two facilities survive from that era. One, a former oil production platform on the Amposta field, has been converted for gas storage. The sole platform still active for oil production purposes is on Repsol's Casablanca field in the offshore Tarragona/Ebro Delta region. This underwent a recent overhaul to extend its operational life, and to accommodate the latest in a series of subsea tiebacks from satellite discoveries in the area.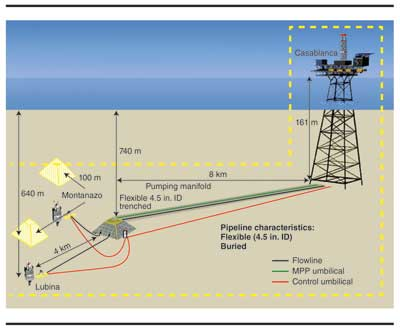 Schematic shows the Casablanca platform and its various subsea satellites.
Repsol started exploration offshore Tarragona in the 1970s, discovering one large field (Casablanca) and a series of much smaller accumulations in Lower Tertiary and Lower Cretaceous intervals, with the main source rock in the overlying Casablanca formation. By the end of the decade there was sufficient oil in place to justify construction of a host platform on the Casablanca field and a 48-km (30-mi), 12-in. subsea export pipeline to the company's refinery in Tarragona. Both were designed by Brown & Root and Tècnicas Reunidas/Initec, and installed in 1981, with a design life at the time of 25 years.
Production started from the main Casablanca field in 1982, later supplemented by contributions from various single-well subsea tiebacks of satellite structures. The platform's eight-legged, 78-m (256-ft) high jacket, installed in 165 m (541 ft) of water, has nine well slots. Its 30 x 64-m (98 x 210-ft) topsides provides full processing, drilling and power generation capabilities, plus accommodations for 65 personnel. Oil production capacity was designed for 60,000 b/d, although this has never been fully used. To date the platform has processed over 161 MMbbl of oil, with a peak production rate in 1983 of 45,000 b/d.
Between the 1980s and the early 2000s, Repsol periodically drilled the same proven plays, looking for further tie-in opportunities to offset depletion from fields in production. A few small discoveries resulted - Boquerón, Rodaballo, and Chipirón - all were tied in swiftly. Other finds appeared sub-economic; however, a 3D seismic survey over the Lubina II concession in 2005 improved imaging and modeling of these structures.
As part of this re-evaluation, two previously sub-economic discoveries from the early 1980s were reclassified as economic. The new information encouraged Repsol to drill in deeper water to develop the Lubina and Montanazo accumulations. Both were brought onstream late in 2012.
Aside from these two fields, the others still in production, although heavily in decline, are Boqueron, Casablanca, Chipirón, and Rodaballo. Lubina and Montanazo will quintuple total throughput to 8,000 b/d. Without them, said Roy Robinson, Repsol's project manager, the company might have considered shutting down both the platform and the support base in Tarragona.
Deepwater tiebacks
In 2009 the company drilled wells on the Montanazo D and Lubina II concessions, 45 km (28 mi) offshore Tarragona. Both Montanazo D-5, in 736 m (2,414 ft) of water, and Lubina-1, in 663 m (2,175 ft) of water, flowed light crude at rates of 3,700-3,800 b/d. The water depth for Montanazo D-5 is a new record for Repsol in the Mediterranean, and surpassed in the entire sea only by Eni's Aquila field off southern Italy which is in 850 m (2,789 ft) of water.
Repsol, 100% owner of Lubina, and its partners in Montanazo, CEPSA and PETROLEUM (Gas Natural Fenosa), opted for a two-well inline tieback to the Casablanca platform. The Montanazo well (and the manifold) is 8 km (5 mi) northeast of Casablanca and Lubina is a further 4 km (2.5 mi) along the same line. At 12 km (7.4 mi), Lubina's is the longest Casablanca tieback to date, eclipsing the 11 km (6.8 mi) for Rodaballo. Aker Solutions was contracted to supply the subsea production systems incorporating its standardized tree design (SCTTM) and associated controls - all were delivered and installed in 2009.
"The subsea connections were supposed to follow in late 2010, early 2011," Robinson said, "however, due to additional environmental studies required by the Spanish authorities, the program ended up delayed by 18 months.
"The installation timing coincided with a shutdown and major upgrade to the platform's drilling, process, and safety systems. We had no less than five major activities going on simultaneously throughout September 2012. One of the things Repsol is most proud of is that all of these activities finished on time and without a single lost time incident."
For the same project, Aker Solutions provided 12 km of steel tube umbilicals, 8 km of subsea power cables, a topside control system (connected to both the new and existing subsea wells), and a tie-in/connection system.
Technip installed the umbilicals and the 12-km flexible pipeline, riser, and jumpers linking the two wells to the platform, using theNormand Pioneer. The same vessel set down the seabed manifold for the subsea pumping system supplied by Framo, which should help extend production from the new satellites by several years. Although this is a standard Framo design, it is the first installation of the type in the Mediterranean. Support activities were performed from the Stork vessel Adams Vision, with Cortez Marine and MODUS providing engineering and trenching services, respectively.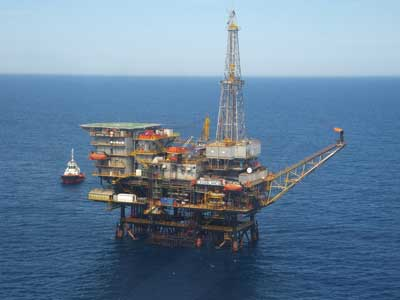 The Casablanca platform was recently recertified for extended service.
Other unusual aspects of the project are the SECC Oil & Gas break away safety connector installed at Lubina, and the trenching of the flowlines and umbilicals for protection from fishing activity in the area.
"This type of SECC connector is a first anywhere," Robinson claimed. "Should the Lubina flowline be displaced, either by trawling or seabed movement, the connector will part before the pipeline without spilling anything to the sea. This is an added layer of protection both to the line (which is trenched) and tree (which has a protective trawl cover). Also, while there are some lines in deepwater that have been trenched for thermal/flow assurance reasons, to my knowledge this is the deepest offshore oil and gas trenching activity for protective purposes, and it was a challenge."
Repsol estimates the productive lives of the new fields at up to 10 years, and the platform and pipeline have been recertified accordingly for a further decade's service following life extension measures.
"Structurally, the platform has not required any strengthening," Robinson said. "During the Lubina/Montanazo program, the topsides were upgraded to meet the highest safety standards, while the jacket has been inspected from top to bottom - she is a fine old lady, and will be safe for many years to come. Overall, the platform is in excellent condition, probably as it was designed to North Sea specifications, whereas the western Mediterranean is a gentler environment."
Following another review of potential prospects in the area, Repsol has committed to acquire a new 3D seismic survey this year. There are known to be similar structures to Lubina and Montanazo, and improved definition could prompt a new phase of exploration and further development drilling.
"Our teams are continually working on the area, searching for new opportunities."•
More Offshore Issue Articles
Offshore Articles Archives
View Oil and Gas Articles on PennEnergy.com