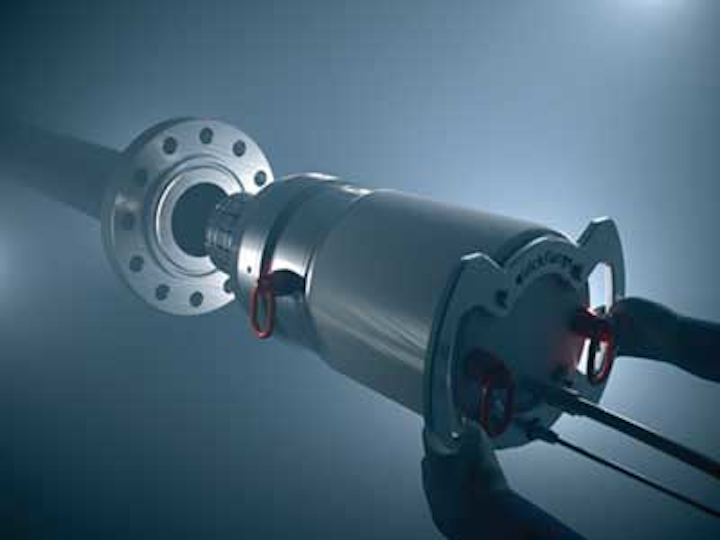 Jessica Tippee
Assistant Editor
The Offshore Technology Conference, the largest gathering of offshore drilling, exploration, production, and environmental professionals, recorded significant growth in attendance and exhibition size at the recent edition at Reliant Park in Houston. The attendance of more than 104,000 was the highest in 30 years and the second highest ever, while 652,185 sq ft (60,590 sq m) of exhibition space was the largest ever.
More than 2,700 companies from 40 countries exhibited products, services, and technologies to boost offshore oil and gas reserves, increase recovery rates, and locate new fields.
Drilling technologies
A number of new products and technologies were featured for the offshore drilling market.
Tesco Corp. (TESCO) introduced its newest top drive, HXI 150t, and its hydraulic compact casing drive system (HCCDS). The HXI 150t top drive has a torque capacity of 24,000 ft/lbs and a pull down capacity of 25,000 lbs, which allows operators the ability to reach total depth in extended-reach and horizontal wells. HCCDS allows circulation, rotation, and reciprocation of the casing to ensure it reaches casing point while improving cement bond and wellbore integrity.
Magma Global launched s-pipe, a small diameter flexible pipe suitable for intervention applications that require a combination of high-pressure, high-temperature, sour-service and fatigue performance. The pipe uses Victrex PEEK thermoplastic polymer and a combination of higher strain fibers to facilitate lightweight and reel-ability for challenging intervention and work-over applications. 5-, 10-, 15-, and 20-ksi versions of s-pipe are available in diameters up to 3-in.
Equalizer International unveiled a new range (SWi) of flange spreading wedges. The tools are claimed to generate spreading force of up to 25 tons. The new range includes a hydraulic (SWi20/25TE), integral hydraulic (SWi20/25TI), and a mechanical (SWi12/14TM) version. Maximum spreading force is up to 60% higher, with a potential 30% increase in spreading distance. All the tools are engineered to minimize risks to the user, the company says, with no finger pinch points on the moving parts. Although the weight has been decreased, there is an additional safety feature in the form of a lanyard.
Expro showcased three new products: the prototype HawkEye V downhole camera, the high-pressure/high-temperature (HP/HT) drillstem testing (DST) BigCat packer, and the Expro Annulus-operated Circulating and Test (ExACT) tool.
HawkEye V is designed to provide cost-effective remediation solutions for complex wellbore flow restrictions, obstacles, and reservoir management. It can operate in temperatures of 300°F (149°C) and provide bi-directional side view rotation/scan (snapshot) in single degree increments.
DST BigCat packer is designed to offer a high strength, single-trip retrievable approach to seal-bore packers in HP/HT well tests. The fully annulus-operated ExACT tool combines downhole shut-in and circulating functionality. It is rated at 15,000 psi (1,034 bar) and temperatures of up to 450°F (232°C). ExACT provides fast-cycling to position the ball and ports in the required position, Expro adds.
Expro also featured its SafeWells well integrity software and Advanced Reservoir Testing (ART) services using a Cableless Telemetry System (CaTS). SafeWells allows well integrity to be monitored in real time, providing a clear overview of asset integrity. CaTS, which can be retrofitted into existing wells, transmits high-quality pressure and temperature data, the company claims, to the surface in real time using the well's casing as a conduit for the signal to transfer along. ART is a special application of CaTS that allows permanently abandoned E&A wells, zones or pilot holes to be converted into long-term monitoring assets.
Subsea
New technologies and products were also on display for the subsea market.
GE Measurement and Control showcased two subsea monitoring and sensing systems. The Acoustic Leak Detection System (ALDS) uses passive, acoustic hydrophones to detect and locate oil and gas leaks subsea by recognizing the difference in noise from the leaks versus sounds from other sources. The company says the system can detect leaks that have low flow or low differential pressure over an area of as much as 500 m (1,640 ft).
The Subsea Multi-Domain Condition Monitoring System combines electric emission monitoring with acoustic hydrophones and is designed for subsea machinery and processes from valves to supporting infrastructure, says GE. In combination with the ALDS, the system does multi-domain analyses with the support of patter recognition and machine learning to identify and display subsea structure, machine, and pipeline data.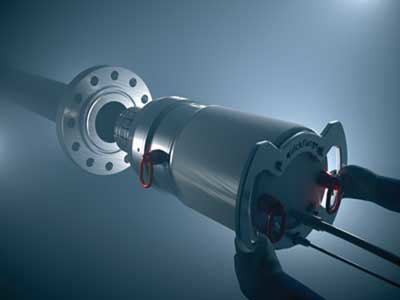 The Quickflange Subsea pipeline repair solution is designed to bring low impact and cost-effective flange-to-pipe connections to subsea operations.
Quickflange introduced its new subsea pipeline repair solution, Quickflange Subsea. Designed to bring low impact, robust, and cost-effective flange-to-pipe connections to subsea operations, the solution is applicable for pipeline sizes of up to 12 in.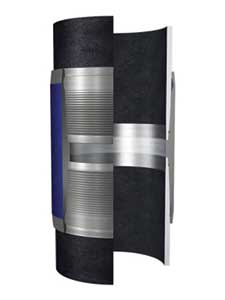 Tenaris's Blue Riser has been designed for use in deepwater top-tensioned risers and high-pressure drilling riser applications.
Tenaris unveiled two new TenarisHydril premium connections for deepwater applications. The company says the TenarisHydril Wedge 623 connection is an improved version of the Wedge 523 semi-flush connection design that features an additional external metal-to-metal seal and offers compression ratings (80-86% efficiency) and torque capacity unmatched in an integral connection. Tenaris's first connection for riser applications, the Blue Riser, has been designed for use in deepwater top-tensioned risers and high-pressure drilling riser applications.
Production and operations
New technologies and products were featured for the offshore production and operations market at this year's OTC.
GE Oil & Gas launched its next-generation SeaONYX BOP surface control system and operator interface. Designed for high-speed, reliable performance in the deepwater drilling environment, the new system incorporates the company's Mark Vle hardware and Proficy software tools.
An advance made by the SeaONYX system's Mark Vle control platform is its inherent design for obsolescence management. GE says the system addresses the industry-wide challenge of ensuring availability, especially for electronic components, for a product expected to operate for 20-plus years. Another feature of the Mark Vle architecture is the ability to "hot swap" certain components while the system is running. When an individual component requires replacement, the rest of the system remains active while it is replaced. The new component will boot up, configure itself and typically come back online in a matter of minutes, increasing system availability.
The SeaONYX human machine interface software is based on the company's WorkstationST and GE Intelligent Platforms' Proficy Cimplicity tools. The interface is designed to integrate the touch screen displays to provide an effective and efficient operator experience and enable the management of all system functions, alarms, and events.
Jotun launched Jotachar JF750, a mesh-free epoxy passive fire protection coating. The company says the technology is the only mesh-free epoxy intumescent coating solution available to the market where jet fire protection is required for safety critical steel structures, divisions, and vessels.
Permasense Ltd. showcased its new long-range corrosion monitoring system which allows retrieval of data from monitoring locations up to 40 km (25 mi) from the gateway location. The permanently installed system combines ultrasonic sensor technology with wireless communication that can operate in extreme environments and inaccessible locations. The company says the system offers an efficient and safe way to monitor the integrity of pipe work to enable better informed decision making and improve operator flexibility.
Spotlight awards
Contractors, vendors, and service and supplies companies introduced a range of new products and technologies, but 15 new, innovative, and proven technologies received the Spotlight on New Technology Award.
Reelwell was recognized for the Reelwell Drilling Method Riserless (RDM-R) system. The system enables drilling in 3,000 m (9,842 ft) water depth from third-generation drilling units due to the reduced weight related to omitting the riser. This is possible because the cuttings are transported to the surface inside the dual drillstring.
FMC Technologies and Sulzer Pumps Ltd. received the award for the new high-speed, helico-axial multi-phase subsea boosting system optimized for subsea applications. This system combines field-proven pump hydraulics from Sulzer Pumps with FMC Technologies' permanent magnet technology from Direct Drive Systems for less maintenance with greater speed, efficiency, and power.
FMC Technologies also won for the condition and performance monitoring surveillance system. The system combines continuous monitoring of sensors and subsea instrumentation with a historic database to identify fault condition and deviations from normal operating conditions.
West Drilling Products was honored for the Continuous Motion Rig, which offers the world's first continuous drilling operation and is also the world's first fully-robotized rig. The rig reduces the overall drilling time up to 50% and facilitates managed pressure drilling.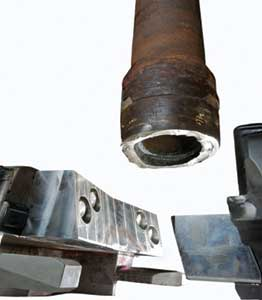 GE Oil & Gas won a Spotlight award for its deepwater BOP Blind Shear Ram, which it says provides an industry-first capability to shear drillpipe tool joints.
GE Oil & Gas received the award for the RamTel Plus system and ROV subsea display panel. The RamTel Plus provides operators with a direct method of determining ram position. The company's ROV display allows the ROV to read stack sensor data, including wellbore temperature and ram position subsea indicators.
GE Oil & Gas also won for the deepwater BOP Blind Shear Ram. It provides an industry-first capability to shear some 65⁄8-in. drillpipe tool joints while achieving a wellbore seal to hold up to 15,000 psi pressure differential.
Welltec won for the Well Cutter which enables efficient drillpipe and casing recovery without explosives. No shavings are generated while a smooth, polished surface remains after the cut and e-line conveyance ensures accurate depth control. The company says the tool offers a safer, faster, more reliable and cost-effective approach to cutting drillpipe and casing.
ABB was recognized for its Onboard DC Grid. The marine technology uses direct current to transport energy to different consumers onboard the vessel. It enables variable speed operation of generator sets, reduced fuel oil consumption, improved emission reduction, reduced maintenance, and new operational modes with a more responsive vessel system.
Superior Energy Services received the award for the complete automated technology systems (CATS), a completion services rig that uses remote-operated or pre-programmed robotics to control various completion components.
Statoil won for the remotely welded retrofit subsea hot tap tee. A remote-controlled hot tap operation consists of a robot welding a T-piece on to the pipe, while gas flows through it. Then a remote-controlled drilling machine will drill holes in the producing pipeline, with no effect on pressure and production.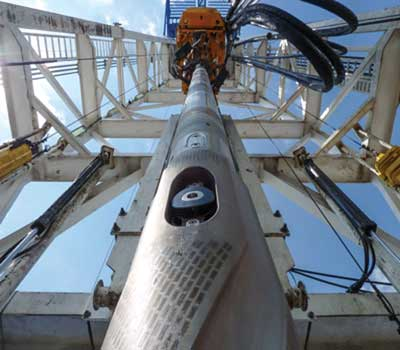 Baker Hughes was recognized for the FASTrak logging-while-drilling fluid analysis sampling and testing service.
Baker Hughes was recognized for the FASTrak logging-while-drilling fluid analysis sampling and testing service which provides knowledge of reservoir fluid properties that enhance critical decision-making about the reservoir. The company says FASTrak addresses the growing need to acquire fluid samples in LWD environments, such as horizontal or extended-reach wells, which result in time and cost savings.
SBM Offshore was honored for the Drilling Riser Trip-Saver, a rail-mounted transport system that relocates a suspended drilling riser with a drilling riser tensioner system and surface BOP in-place. This apparatus and method for drilling multiple subsea wells consecutively, reduces risk by avoiding removal of the suspended drilling riser from the well bay.
Wärtsilä Corp. received the award for the Wärtsilä GasReformer. The system turns VOCs or associated gases that were previously considered as waste into a valuable source of energy. Therefore, it enables self-sustaining power generation for the offshore operation.
ShawCor Ltd. won for Bredero Shaw's Mobile Robotic Cutback System. The end machining technology for insulated pipe replaces manual processes that form the cutback including wire brushing, grinding, and scraping. The company says the new technology is safer, quieter, requires less labor, and produces consistent high-quality cutback profiles while generating recyclable waste.
Dow Oil & Gas was honored for the DOW NEPTUNE advanced subsea flow assurance insulation system. Designed for line pipe, field joint and subsea architecture applications, the system combines thermal properties with the highest temperature performance end-to-end: from -40°C (-40°F) up to 160°C (320°F) during installation and use, at depths of up to 4,000 m (13,123 ft). The Dow Chemical Co. developed the chemistry behind the system with industry coating applicators at Bayou Wasco, a joint venture between The Bayou Companies LLC and Wasco Energy Ltd., Pipeline Induction Heat Ltd., and Trelleborg Offshore.
OTC returns to Reliant Park May 5-8, 2014.