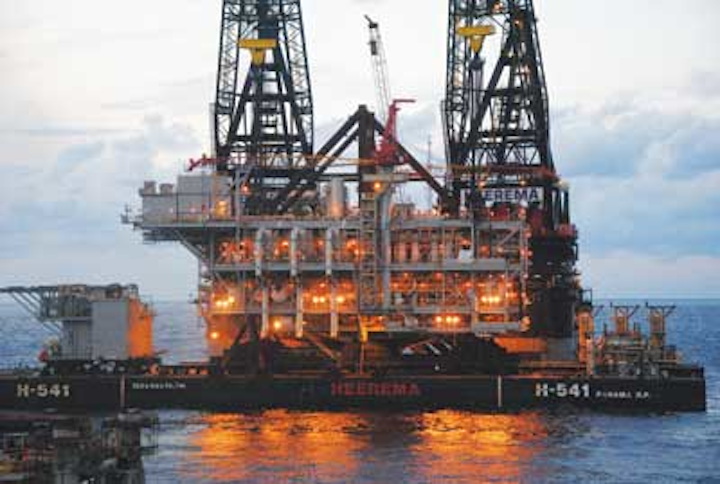 Russell McCulley
Senior Technical Editor
Longest tieback heralds a wave of Mediterranean natural gas projects
The stakes are high with any major offshore project. But few have been as freighted with significance, even urgency, as Noble Energy's Tamar development offshore Israel, which began production in April 2013. At the time of discovery, in 2009, Israel was importing most of its gas, the bulk of it from Egypt; Israel's Mari-B field, which furnished around 40% of Israel's gas usage, was rapidly depleting. The wave of unrest and revolutions that began in 2010 and swept through the Arab world, including Egypt, heightened the vulnerability of Israel's energy supplies to geopolitical forces.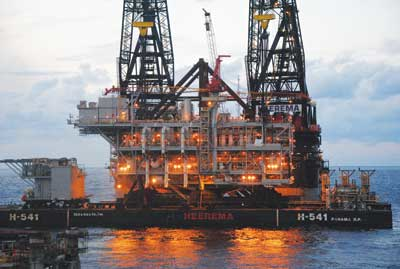 Topsides were installed on the Tamar platform in December 2012. Tamar, possibly the world's longest subsea tieback, marked first production the following April. (Photo courtesy Noble Energy)
A series of Levant basin discoveries in recent years, starting with Tamar-1 in 2009, have dramatically altered that picture, and Israel is now poised to become an exporter of natural gas. Tamar, which Noble operates with 36% interest, is estimated to hold around 10 tcf of gas; Noble's nearby Leviathan discovery could hold as much as 18 tcf.
"The eastern Mediterranean has been a big success story," Noble president and COO David Stover remarked at an analyst meeting in October.
Noble and its partners brought the project onstream just 2.5 years after sanction, at a cost of about $3.25 billion. The initial phase consists of five subsea wells in a hub-and-spoke arrangement in an average water depth of 5,500 ft (1,676 m). The wells are tied back to a platform in 800 ft (244 m) of water via a pair of 16-in. flowlines. Aker Solutions supplied up to 330 km (205 mi) of subsea umbilicals, along with subsea control equipment and a monoethylene glycol (MEG) reclamation unit for the project. OneSubsea (Cameron at that time) delivered the trees and related subsea control equipment. The deck and topsides, designed by Wood Group's Alliance Engineering and installed in December 2012, are capable of processing up to 1.2 bcf/d of natural gas, with peak production estimated to be around 1 bcf/d. The jacket and 11,000-ton topsides were fabricated at the Kiewit Offshore Services yard in Ingleside, Texas.
Allseas conducted pipeline installation using theSolitaire, Audacia, and Calamity Jane vessels. EMAS AMC was selected to install the umbilicals and related subsea equipment. At 150 km (93 mi) from the wells to the Tamar platform, Tamar is one of the longest subsea tiebacks in the world, if not the longest.
Noble announced the Tamar discovery in the Matan license in January 2009. The Tamar-1 well was drilled to a total depth of 16,076 ft (4,900 m), identifying more than 460 ft (140 m) of net pay in three reservoirs -- a "greater than anticipated" find, the company said at the time. "Tamar represents our first exploratory well offshore Israel in more than five years, and we are extremely excited by the results," said Charles Davidson, Noble Energy's chairman and CEO. "This is one of the most significant prospects that we have ever tested and appears to be the largest discovery in the company's history" - a milestone that would soon be eclipsed by the Leviathan discovery.
Further drilling in the area with theAtwood Hunter semisubmersible increased the field's estimated reserves and led to the project's sanction in September 2010. Among the contracts issued was an installation agreement with Delmar Systems for the five subsea trees using the company's Heave Compensated Landing System. Transocean's Sedco Express semisub was used during the subsea construction phase.
The Tamar platform was installed near the Mari-B platform and tied into an existing 30-in. export pipeline that carries gas to the onshore Ashdod receiving terminal. The Tamar project was designed to capitalize on the proximity to the depleted Mari-B reservoir, which could be used to store gas. An upgrade to the Ashdod facility will add compression; further optimization will increase peak capacity to 1.5 bcf/d. In an October 2013 statement, Noble said the compression project was about 30% complete and that drilling was under way at the Tamar SW exploration prospect.
Noble's partners in the Tamar development are Isramco Negev 2 (28.75%), Delek Drilling (15.625%), Avner Oil Exploration (15.625%), and Dor Gas Exploration (4%).
The Tamar discovery was followed in 2009 by Dalit, where Noble has put resource estimates at 0.5 tcf. The Leviathan discovery in late 2010 was the largest deepwater gas discovery of the decade. Further discoveries at Dolphin (2011), Tanin (2012), and Karish (2013) added more than 1.8 tcf to the Levant basin's estimated resources.
Last November, Delek Group announced that Daewoo Shipbuilding & Marine Engineering had been enlisted to carry out front-end engineering and design on a floating LNG system that would serve as a 3.4 MMtpa-capacity export terminal for Tamar, although Noble now says that is unlikely.
In August, the Israeli government passed legislation that will allow the country to offer up to 40% of its gas production for export. At press time, negotiations were still under way that would grant Woodside Petroleum a 30% stake in Leviathan. The Australian operator is considering an FLNG development scheme at its Browse project offshore Western Australia, and would bring some expertise should the partners opt for a floating technology solution in the Eastern Mediterranean, which could hold as much as 40 tcf of recoverable gas reserves, according to the US Energy Information Administration.
In the meantime, the Tamar field has been producing at "nearly 100% uptime," Noble said six months after startup. "We couldn't be more pleased with operations at Tamar and how the field continues to perform," Davidson said.