Åsgard-bound multiphase meter measures flow from four wells
Interfacing for MFI'subsea multiphase meter system. With significant orders to supply projects in Norway and the UK, Multi-Fluid International (MFI) has provided convincing evidence that its multiphase meter is a market leader. Perhaps it is the market leader. As sales manager Bjoern Pedersen puts it, "We are now the world's largest multiphase meter manufacturer."
Apr 1st, 1997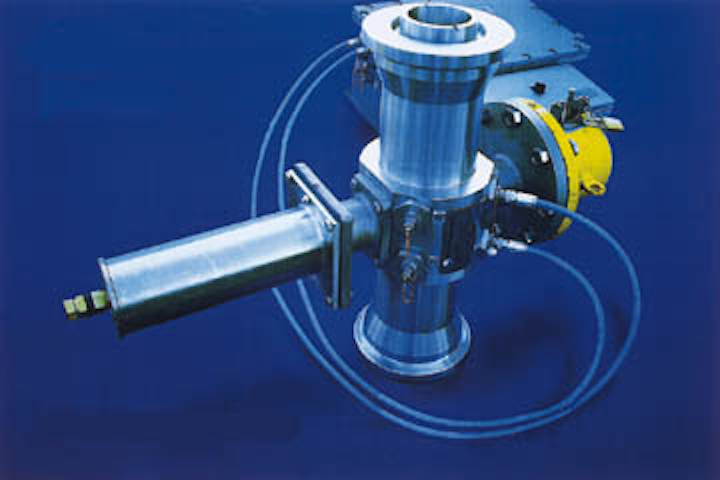 MFI multiphase meters are being supplied to Statoil's Åsgard and Gullfaks satellite projects, and Shell's Gannet.
Perhaps it is the market leader. As sales manager Bjoern Pedersen puts it, "We are now the world's largest multiphase meter manufacturer."
The company has, at least for the time being, surpassed its rivals by winning orders to supply 16 subsea multiphase meters for Statoil's Åsgard, eight topside meters and two subsea meters, with options for a further nine, for Statoil's Gullfaks satellites, and two topside meters for Shell's Gannet.
Pedersen notes that MFI's success followed a series of trials of multiphase meters from both Norwegian and foreign suppliers at Norsk Hydro's Porsgrunn research facility last summer. The trials were intended to verify which units were commercially available rather than comparatively test them, but evidently provided Statoil at least with valuable information ahead of the Åsgard and Gullfaks tenders.
Over in the UK sector, Shell placed its order with MFI after renting meters from the company and one of its Norwegian rivals and testing them on its own Gannet platform.
One of the reasons why the MFI meter is selling well is because it is the smallest and most compact unit on the market, Pedersen says. This is often an important consideration for a retrofitting application, and may be relevant in newbuild situations, for example when it is planned to install multiple units but weight and space availability is at a premium.
The MFI meter consists of a spoolpiece with a length which is six times its diameter, which is installed on the piping system. For a typical application the four-in spoolpiece weighs 140 kg and is 580 mm long.
The meter can be easily installed, whether on a platform or subsea, and is virtually maintenance free, having no moving parts. Only a modem link is required to make it possible to reprogram a remote meter, for example with improved measurement algorithms.
The meter contains three primary devices: a proprietary microwave sensor, a microwave cross-correlation meter, and a gamma densitometer. There is no upstream mixer and no differential pressure device - the latter creates pressure loss, which can reduce the flow if the wellhead flowing pressure is already low - and no sensitive DP transmitter requiring maintenance, Pedersen says.
Microwave technology is used to measure the dielectric properties of the flow, while the gamma ray densitometer measures density. Since the dielectric properties of hydrocarbons and water are very different, and the density of liquids and gas are very different, the proportions of oil, gas and water can be calculated from this information.
The velocity is calculated using microwave sensors and a cross-correlation statistical technique - from it the volumes of the three fractions can also be calculated.
The meter functions over the full 0-100% water cut and over gas fractions up to 98%. It is particularly sensitive to the water cut.
MFI spent 10 years developing the microwave technology, and benefited from both developments in computer science and the industrialisation of microwave components developed for space research and IT purposes.
Its meter can take up to 100 single measurements per second. This is output in the form of two readings a second. Within 20 minutes one meter can measure the flow from four wells - the same time it takes rival meters to measure one well, Pedersen says. All measurements and calculations are performed in the field electronics, so that in the case of the subsea version, only the final results are transferred to the surface, thus minimising data transmission requirements.
The use of a multiphase meter in a topside context can free the test separator to be incorporated in the process train as the water cut grows and with it the volume of fluids to be processed. It can also be used for allocation purposes in the case of satellite reserves with different groups of owners, thus avoiding the need for a new inlet separator.
In the case of the Gullfaks application, the use of multiphase meters has made it possible to overcome the need for two new inlet separators, each with an oil metering station, which would have been an extremely expensive and, from an installation point of view, highly complex solution.
Particularly in a subsea application, the meter's ability to continuously monitor the output of a well gives it a potential which has yet hardly been used. "I believe that in the next phase the information will be used more pro-actively for reservoir and production management," Pedersen says. "Perhaps the next step will be the downhole multiphase meter."
Copyright 1997 Oil & Gas Journal. All Rights Reserved.