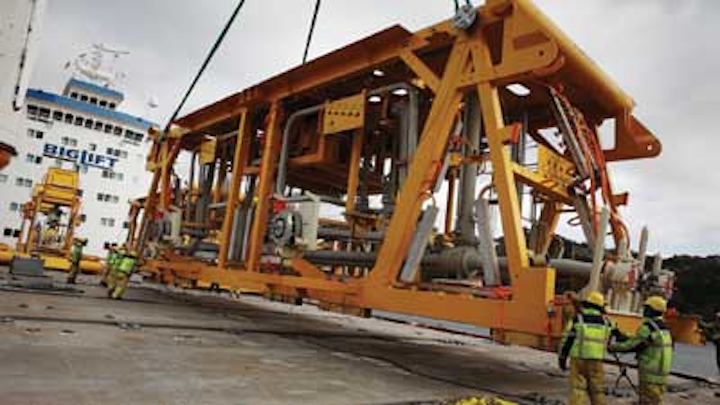 Gene Kliewer • Houston
Subsea 7 S.A has won a SURF contract valued at $175 million from ATP Oil & Gas (UK) Ltd. /Bluewater, the operator on the Cheviot field, 120 km (75 mi) east of Shetland. The Cheviot development will use a moored floating process facility which will import oil and gas from four satellite drill centers. Oil will be exported via shuttle tankers and gas will go to a third-party host facility.
Also at Cheviot, Duco Inc. has won a contract to engineer, project manage, and fabricate four static steel tube umbilicals, four dynamic thermoplastic umbilicals, and a thermoplastic subsea intervention valve umbilcal. Total length is 12 km (7.5 mi) and the umbilicals are to control four drill centers. Duco also will provide the subsea distribution system which includes umbilical termination assemblies, subsea distribution units, 64 hydraulic and electrical flying leads, and other equipment.
Norway approves subsea compression for Åsgard
Development of the Åsgard subsea gas compression was approved in the Storting (Norwegian parliament). The new installation is expected to increase Mikkel and Midgard production by about 280 MMboe. According to plan, Åsgard subsea gas compression will be ready for start-up in the first half of 2015.
"Subsea gas compression is an important step on the road towards our ambition of installing the elements for a subsea plant by 2020. Processing on the seabed could open up areas that are not currently accessible with traditional technology," said Anders Opedal, who leads the project technology and drilling.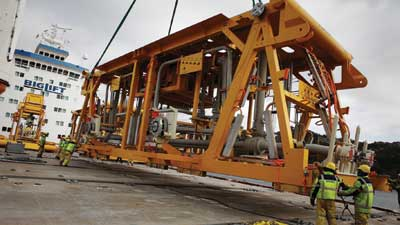 Aker Solutions has sent subsea manifolds and riser bases to Eni Norge's Goliat project in the Barents Sea. Aker's Goliat contract covers engineering, procurement, and construction of a complete subsea production system. Subsea hardware deliveries include eight overtrawlable four-slot subsea templates with manifolds, wellheads system, 24 subsea trees, subsea and topside controls systems, 20 km (12.4 mi) of steel tube umbilicals, work-over equipment, and a tie-in and connection system.
Elsewhere on the Norwegian continental shelf, A/S Norske Shell has named Aker Solutions to supply subsea connections for the Draugen field. Aker will deliver complete tie-in connection systems for production flowlines and umbilicals in the field. Equipment deliveries will be made from 2012 to 2013. Draugen is in block 6407/9 in the Haltenbanken area of the Norwegian Sea, about 140 km (87 mi) from Kristiansund, Norway, at a sea depth of 250 m (820 ft).
Subsea equipment advances
Subsea Vision has taken delivery of a Saab Seaeye Cougar XT Compact, the low profile ROV specially designed for working in high current areas and where access is restricted. Subsea Vision's immediate target market for the Cougar XT Compact is the North Sea oil and gas industry. Saab Seaeye says the ROV comes with six thrusters: four vectored horizontal and two vertical, each with velocity feedback for control in all directions, and interfaced to a control system and solid-state gyro for enhanced azimuth stability.
First Subsea has used its automatic release clamp connector for bend stiffeners to successfully attach six Technip bend stiffeners to risers for theGlas Dowr FPSO in Kitan oil field. The ARC technology connected 2 in. gas lift risers, and 6-in. production risers to the FPSO's I-Tubes. Kitan is in the Joint Petroleum Development Area of the Timor Sea administered by Timor-Leste and Australia. Kitan is operated by Eni (40%) in permit JPDA 06-105, with INPEX Timor Sea, Ltd. (35%) and Talisman Resources (JPDA 06-105) Pty Ltd. (25%) as joint venture partners.
Marathon to expand subsea drill centers in Alvheim
Marathon Oil Norge AS has awarded Technip a contract for on-going expansion of the subsea drill centers at Kneler B and Volund in the Alvheim area in the North Sea. The water depth is around 120 m (394 ft) and the subsea work will be done using ROVs and divers.