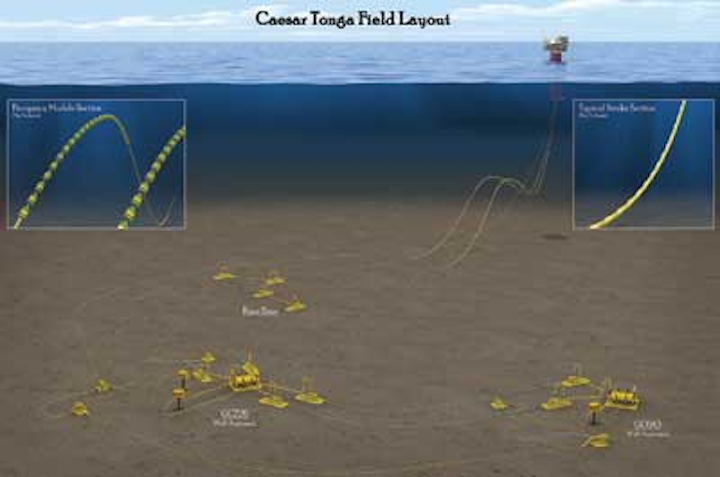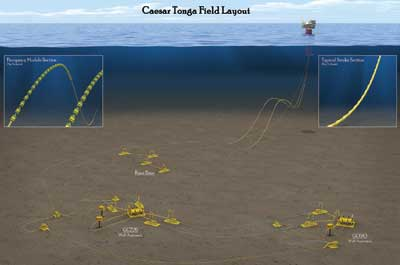 This rendering shows the Caesar/Tonga field layout from the subsea wells to the Constitution spar. This is the first application of steel lazy wave riser technology in the Gulf of Mexico.
Anadarko Petroleum Corp. has first oil from the Caesar/Tonga subsea production installation in deepwater Gulf of Mexico's Green Canyon. Production is expected to rise to 45,000 boe/d from the first three subsea wells. A fourth development well is anticipated this year as part of Phase 1.
Production flows to Anadarko's Constitution spar in 5,000 ft (1,524 m) of water in Green Canyon block 680. Anadarko modified the topsides of the Constitution to accommodate production from the Caesar/Tonga area, approximately 10 mi (16 km) to the east. Also this marks the first-ever use of lazy-wave steel risers in the GoM.
Anadarko operates the Caesar/Tonga with a 33.75% working interest. Co-owners are Statoil Gulf of Mexico LLC (23.55% working interest), Shell Offshore Inc. (22.45% working interest), and Chevron U.S.A. Inc. (20.25% working interest).
Anadarko says that by using the hub-and-spoke exploration and development plan and incorporating the existing spar, it saved $1 billion compared to the alternatives.
Statoil contracts marine operations for Åsgard
Technip Norway will install the control and power umbilicals, structures, diverless tie-ins, and connections for the world's first seabed gas compression facility. The contract from Statoil is for NOK 1.2 billion ($211.2 million). The work is scheduled during 2013 and 2014. The compression equipment will be in 340 m (1,115 ft) water depth.
Åsgard seabed gas compression is expected to increase recovery from Mikkel and Midgard. In 2011, Statoil and its Åsgard partners decided to use seabed gas compression to recover the large volumes still remaining in the field. Åsgard seabed gas compression will start up in 2015 and have an investment frame of approximately NOK 15 billion ($2.64 billion).
"This is just the beginning," predicts senior vice president for technology excellence, Siri Espedal Kindem. "Technological advances such as seabed compression enable the extraction of oil and gas in places where it would not otherwise have been profitable. We are thus taking responsibility for increased recovery on the Norwegian continental shelf."
Partners on the Åsgard are Petoro AS (35.69%), Statoil (operator, 34.57%), Eni Norge AS (14.82%), Total E&P Norge AS (7.68%), and ExxonMobil Development Norway (7.24%).
In other Åsgard work, Aker Solutions has contracted Expro Connectors & Measurements to supply high-voltage subsea connectors for Schneider Electric's order from Aker Solution to design and implement a seabed controls power distribution unit for the Åsgard compression station. Design and construction of the CPDU includes studies into availability, thermal and mechanical, operational safety, and electromagnetic compatibility.
Expro's SpecTRON 5 and SpecTRON 10 systems will power the subsea pump systems of the Åsgard SSGC project.
Contract value is $11.5 million.
Blackbird onstream ahead of schedule
Nexen says its UK central North Sea Blackbird production came onstream seven weeks ahead of schedule in November as a tieback to the Ettrick field FPSO. Production at that point was roughly 5,000 boe/d.
Earlier this year, Nexen completed the Telford TAC tieback to the Scott platform in the same sector.
The company adds that fabrication has started on facilities for its newly launched Golden Eagle development, using many of the team managed construction of its Buzzard platforms. Work is on time and on budget, and Nexen expects first production from Golden Eagle in late 2014. The complex will have throughput capacity of 70,000 boe/d.
More Offshore Issue Articles
Offshore Articles Archives
View Oil and Gas Articles on PennEnergy.com