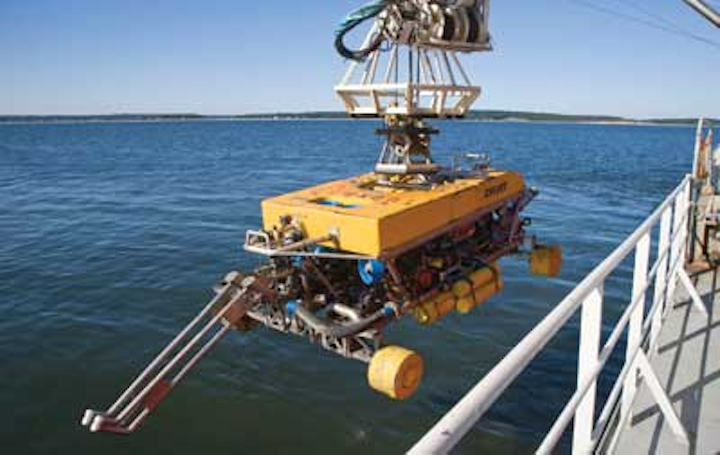 Trond Steinskog
Nexans
Subsea power cables, umbilicals, pipelines, and flowlines must be protected against impact from trawling activities, anchors, heavy dropped objects, and ocean currents.
The best way to safeguard this infrastructure, if local conditions allow, is to create a trench to bury the cable or umbilical and to backfill it totally with seabed material. This provides protection while holding the cable firmly in place. Safe and efficient trenching operations call for ROVs that can adapt to the seabed conditions (hard or soft silt) and bury cables and umbilicals to their required depth.
Capjet
The Nexans Capjet trenching system has been designed to trench power and fiber-optic cables, umbilicals, and pipelines into the seabed at depths down to 1,500 m (4,921 ft). It uses a high power water-jet system to create a trench, provide simultaneous backfilling, and propel the trenching machine.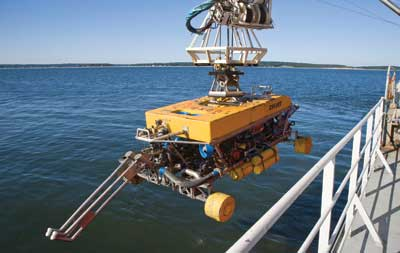 Nexans Capjet trenching system being lifted for deployment.
In operation, Capjet is maneuvered into position above the cable or umbilical to be trenched. It moves along the route using two "swords" to fluidize the seabed material beneath the cable, creating the trench. The cable then falls into the trench by its own weight and the fluidized material settles on top of the umbilical as back filling after the machine has passed. Typically, the cable or umbilical will be buried to a depth down to 3 m (9.8 ft), depending on soil conditions.
The cable does not pass through the machine, and no forces are directly applied to it – there is therefore no risk that it will be damaged during the trenching process. The system is capable of trenching in most clay and sandy soil conditions and to date has been used to trench a total of over 8,000 km (4,971 mi) of cables, umbilicals, and pipelines.
Depending on conditions, 10 m (33 ft) of cable or pipeline can be trenched per minute. After the soil is fluidized and the cable has sunk into place it takes around five to 10 minutes for the seabed to settle back onto the cable.
Capjet can start and stop trenching operations at any point along the cable route. If harder seabed materials are encountered, the system can be adjusted to step up its performance by adding pumping capacity and propulsion forces. In areas where it is necessary to trench through rock, the system can be adapted to replace the water jetting swords with hydraulically-powered diamond tipped rock-cutting tools. This process is relatively quick and the system is adapted onboard the vessel that is controlling it.
Typically, the Capjet is operated in conjunction with Nexans' own cable laying vessels. However, it can be supplied with purpose-built launch and recovery systems (LARS) for operation from vessels of opportunity. The LARS incorporates electrical umbilical winches with heave compensation and constant tension features.
Energie Baden-Wurttemberg (EnBW) has used the Capjet trenching system to protect the high-voltage subsea power export cables for Baltic 1, Germany's first commercial offshore wind farm. This comprises 21 wind turbines with a total capacity of 48 MW, and is located around 16 km (9.9 mi) offshore from the German coast. Electricity generated by the wind farm is connected to the onshore grid by three 170 kV AC cables that make landfall close to the city of Rostock.
Because of the relatively shallow waters in this part of the Baltic Sea (typically 16-19 m) it is vital that the power export cables are protected against damage by sea anchors and fishing activities. In December 2010, Nexans worked on a four-week contract to protect a total length of some 50 km (31 mi) of cables by burying them into the seabed to a depth of around 1.5 m (4.9 ft).
Spider
Nexans' "Spider" terrain dredger/subsea intervention system was originally developed to excavate the escarpment area on the Ormen Lange field development off western Norway. Here, a 35o slope required pre-dredging in a 30o slope.
The Spider is one of very few ROVs capable of leveling seabed in deepwaters. It combines powered tracks with an articulated walking leg system, enabling it to function on uneven subsea terrain with up to 35o slope. In the stiff-to-hard seabed, the system dredged substantial masses successfully in 2005 at the Ormen Lange location, flattening out the jagged edges of the escarpment.
Spider works by smoothing the seabed in one particular area using a combination of water jetting and suction to remove large volumes of soil. This is done using a dredging head on an extendable arm to cover the operational area. A telescopic tool arm can also be equipped with purpose-designed dredging heads, cutting tools, and other intervention tooling.
Many of the system's features are derived from the Capjet technology, however the wheels/legs, telescopic arm, and slewing are developments of a forest harvester system.
More Offshore Issue Articles
Offshore Articles Archives
View Oil and Gas Articles on PennEnergy.com