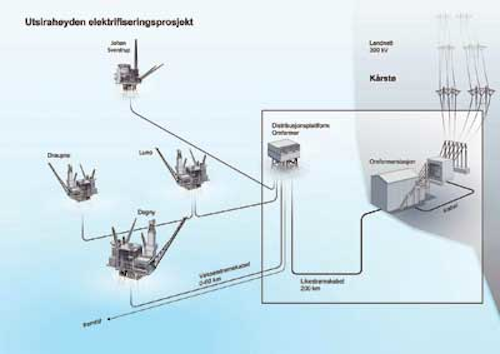 Technip has won a contract from Exxon Mobil Corp. to supply subsea equipment for the Hadrian South natural gas project in 7,500 ft (2,300 m) of water in the Gulf of Mexico. The project is a subsea tieback to Anadarko's planned spar at Lucius.
Technip will supply project management, procurement, and installation of two 7-mi (11 ¼-km) long flowlines and associated jumpers; installation of a 9-mi (14 1/2 -km) long umbilical, associated foundation and flying leads; and pre-commissioning.
Technip in Houston will execute the contract. The flowlines will be welded at Technip's spoolbase in Mobile, Alabama. TheDeep Blue, a deepwater pipelay vessel from the Technip fleet, will install the subsea equipment in 2013.
Drilling in early 2010 encountered oil and natural gas at Hadrian North in KC919. That find extends into KC918 and has more than 550 ft (168 m) of net oil pay and a minor amount of gas in high-quality Pliocene and Upper Miocene sandstone reservoirs.
ExxonMobil found 200 ft (61 m) of natural gas Pliocene plan at its Hadrian South prospect in Keathley Canyon block 964 in 2009.
Pemex contracts Cal Dive for subsea pipeline installation
Pemex Exploración y Producción has contracted Cal Dive International Inc. for the installation of a 20-in (50.8-cm) subsea pipeline in 73 m (240 ft) water depth. The $46-million contract is for work in Abkatun Pol Chuc field and is expected to begin in 2Q 2012.
"We are pleased to announce our second win in Mexico for 2012," said Quinn Hébert. "Mexico is shaping up to be a very active market in 2012 as expected. So far we have been awarded contracts in Mexico with aggregate expected revenue in 2012 of approximately $70 million compared to revenues generated from Mexico projects in 2011 of approximately $30 million."
The first Pemex contract with Cal Dive is for installation of an 8-in subsea pipeline in Abkatun field in 47 m (154 ft) water depth. The $27-million project is scheduled to begin in April 2012.
Technip to tackle Tubular Bells in GoM for Hess
Hess Corp. has awarded Technip a contract for development of the Tubular Bells field in 4,500 ft (1,370 m) of water in the Gulf of Mexico. The contract covers the design, engineering, fabrication, and subsea installation of more than 28 mi (45 km) of flowlines, steel catenary risers, pipeline end terminations, piles, and structures.
Offshore installation is scheduled to be completed with Technip's Deep Blue pipelay vessel, during the first half of 2013.
Subsea Tieback Foundation raises support at Forum
The Subsea Tieback Foundation had three fundraising events in association with the Subsea Tieback Forum & Exhibition in Galveston, Texas, March 6-8. The golf tournament, sporting clays, and three-gun shoot contributed to the Foundation's goal of introducing the subsea industry to students, promoting the pursuance of careers in the industry, and providing scholarships for students who studyOffshore programs in engineering, transportation, science, and business.
The Subsea Tieback Foundation's mission is to inform, educate, and introduce careers in the oil and gas industry specific toOffshore and subsea disciplines. It is a non-profit charitable corporation that accepts direct private and corporate donations to further this mission. Those participating in managing the Foundation take no salaries or profits out of the proceeds.
The STF has six board of directors members representing operators, supply companies, engineering companies, and PennWell, In addition to committees handling the fundraising events, the STF also has an Education Committee. The Education Committee can provide speakers to individual school classes and organizations to introduce real-world subsea engineering to students. It also conducts a Career Day.
"This is one opportunity for (the technical subsea community) to give back to the industry," said Don Wells, STF chairman and senior subsea engineering advisor for E&P facilities at Hess Corp. "STF hopes to reach students at various stages of study to get them interested in oil and gas careers. This also can help broaden the demographic makeup of the industry with younger professionals. The board welcomes any contributions from companies and individuals."
More information and contact data are available atwww.SubseaTiebackFoundation.org.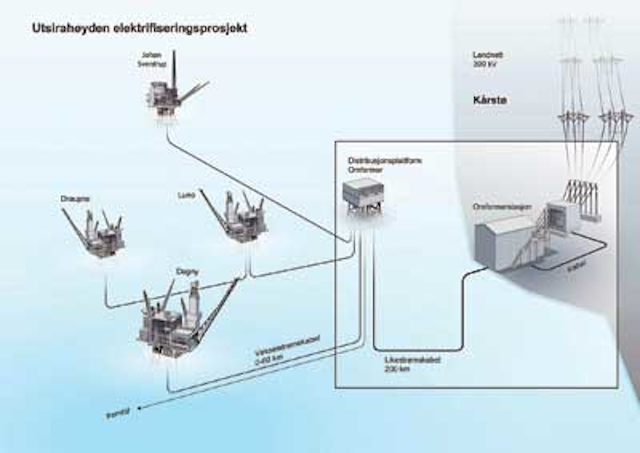 Supply of electricity from land toOffshore fields is under study in Norway. A study into setting up a hub for electrical supply from land to the Johan Sverdrup, Dabny, Draupne, and Luno fields in the North Sea is under way by the operators and license holders. The study was initiated by Norway's Ministry of Petroleum and Energy. Statoil will head the program. Work will comprise technical studies, such as concept planning, as well as commercial solutions for the electrification of the fields on the Utsira High. The intention is to create a framework for potentially setting up a company or partnership to own and operate the facilities that will feed the receiving platforms with power. The study will take in an Offshore distribution platform near Johan Sverdrup to receive DC cables from land and AC cables on to the receiving platforms. An analysis of the power situation at the potential land-based connection points will also form part of the study. There will be the additional requirement for converters and transformers on the distribution platform and on land. AC cables will also be necessary and the existing switching station will need to be extended for connection to the grid network. A concept will be selected, and the investment decision made, at the earliest in the fourth quarter of this year.
MoreOffshore Issue Articles
Offshore Articles Archives
View Oil and Gas Articles on PennEnergy.com