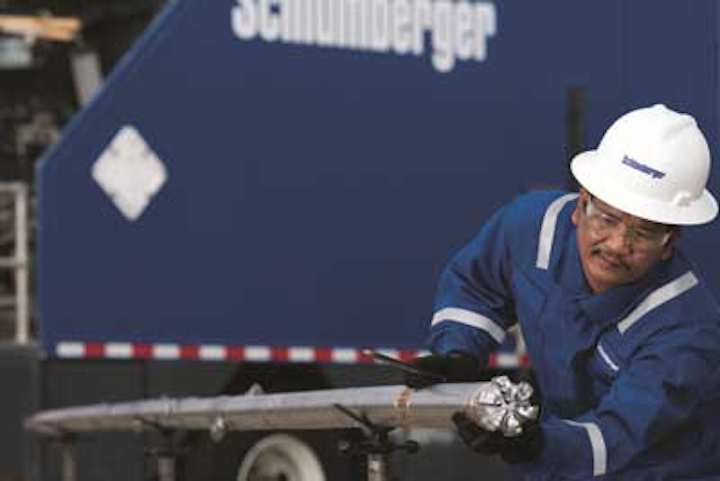 Dick Ghiselin • Special Correspondent
These days,Offshore readers can choose among several events focused on the offshore industry including exploration, drilling and production, marine construction and subsea technology. One of the biggest, Offshore Northern Seas (ONS), just concluded in Stavanger.
Of course, ONS is but one of a global menu of offshore-focused technical conferences and exhibitions, many of which are produced byOffshore's parent company, PennWell.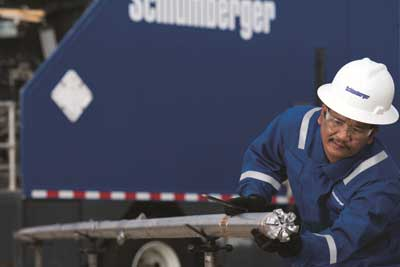 Introduced at ONS, Schlumberger's ReSOLVE wireline intervention service can be applied without a rig or coiled tubing unit.
Bigger ideas
Technical conferences and exhibitions give operators a chance to compare similar solutions from several vendors and to make mental short-lists of those they want to contact later for more substantive discussions. Many suppliers deliberately choose industry events to launch exciting new technology. One ONS debut that struck me as particularly interesting was the ReSOLVE instrumented wireline intervention service from Schlumberger. The service allows operators to perform most well intervention services without a rig, or even a coiled tubing unit, saving many thousands of dollars. With its ability to set or retrieve plugs, packers, and patches using its linear actuating capability, along with its ability to shift frac sleeves or downhole flow control devices, the system provides a unique non-explosive wireline-deployable intervention service. In addition, to bidirectional axial forces its milling tool can supply high torque to mill up fish, frac plugs or any mill-able hardware that typically requires a rig or at least a coiled-tubing unit.
Bigger infrastructure
Recently, there has been a preponderance of subsea technology at the large offshore shows as suppliers vie to present themselves as viable contenders for the burgeoning deepwater drilling and development market. Exhibits range from small, but vital, water-tight connectors to huge subsea trees or production processing modules. Support for subsea field development comes from companies such as Siemens who revealed at ONS its Subsea Power Grid capable of supplying 72 kV high-voltage power to an entire field at water depths to 10,000 ft (3,048 m). With power, comes intelligence, as the data monitoring providers take advantage of reliable seabed power to equip wells with downhole and subsea sensors, controls, and valve actuators.
Bigger bang for the buck
In ultra-deepwater well completions, we have learned of massive perforating operations spanning hundreds of feet of productive intervals. The technology to perform such jobs is unique, and must be 100% reliable.
However, its use can reduce risk by orders of magnitude. Operators of Lower Tertiary trend wells have succeeded in completing multiple, large, widely separated productive intervals. One recent Gulf of Mexico job involved the simultaneous detonation of 14,400 high explosive charges.
Bigger discoveries
Pemex may have wakened a sleeping giant in its recently announced deepwater Perdido Fold Belt discovery. Located in 8,200 ft (2,500 m) of water, the Trion 1 discovery well is estimated to tap a 400 MMbbl reservoir. Light oil production, rather than gas, is a welcome change from previous Pemex deepwater attempts. However, experts caution that production from the new discovery may be years away while the country struggles to resolve the technical issues surrounding ultra-deepwater field development. Nevertheless, the discovery could be a harbinger of hope for the company's liquid hydrocarbon production that has experienced steady declines for several years. The discovery was drilled using the Mexican-ownedBicentenario semisubmersible rig to evaluate Pemex's Oligocene and Eocene plays.
Bigger food for thought
Elsewhere in this issue, we discuss the growing casing drilling business. Despite its beginnings in the late 19th century, the technology has evolved from vertical land development wells to highly directional offshore wells that can be drilled more economically and more safely than ever before. It is almost inconceivable that a list of the 14 most desirable attributes of casing drilling was published first in 1926. Today's capabilities are a tribute to the vision and persistence of the industry in that 86 years later, these attributes have been more than realized.
Three of the most recent technological developments that have expanded the number of suitable applications for casing drilling and have extended its range are discussed. A number of majors, independents, and national oil companies are leading the successful application of casing drilling to solve well construction problems in an effective and elegant way.
Bigger things on deck?
Upcoming global offshore conferences include Topsides, Subsea Tieback, Deepwater Operations, Offshore West Africa, Offshore Asia, Offshore Middle East, and PetroWorld India. Now that you see the value of focused offshore industry events, the next big thing in offshore technology isOffshore's Deep Offshore Technology Conference and Exhibition in Perth, Australia, on Nov. 27. Why not book your trip today?